Author:  Pete
Location:  Black Rock Desert, Nevada
Drove from Charlevoix down to Detroit to fly out to Nevada for the epic festival Burning Man.  Went downstate a few days early to see my buddy Mike and Jessie.  Mikey is in the planning stages of opening a brewery, so we went sampling at a local taproom with fifty beers on tap.
We ordered food and ran flights of beers to test out the competition.  Only made it through twenty-four of them, much to our everlasting dismay.
Spent some time at Mikey's.  We harvested hops from his garden for a few hours, and then Miranda harvested hair from both sides of my head.  We were on our way to Burning Man (the big BM…. ha!) and needed to put on a little more flair than normal, so we decided that a mohawk would be in order.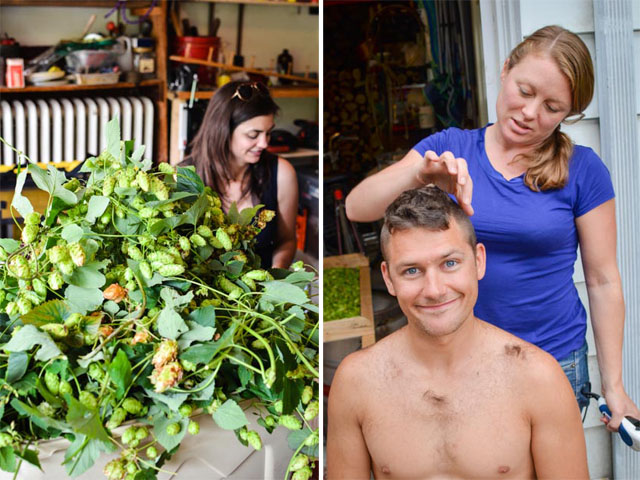 In the wee hours of the morning we drove to the Detroit airport and caught our plane to Reno.  Stopped in Dallas and at our gate, we could immediately see which travelers were bound not just for Reno, but for The Burn.  Made us pretty excited to get there, which was good.  After a full summer, our tails were a little draggy.  We were really ready to just get started on our sailing adventure, and hadn't had time to get fully stoked about the BM trip, so it was nice to get fired up.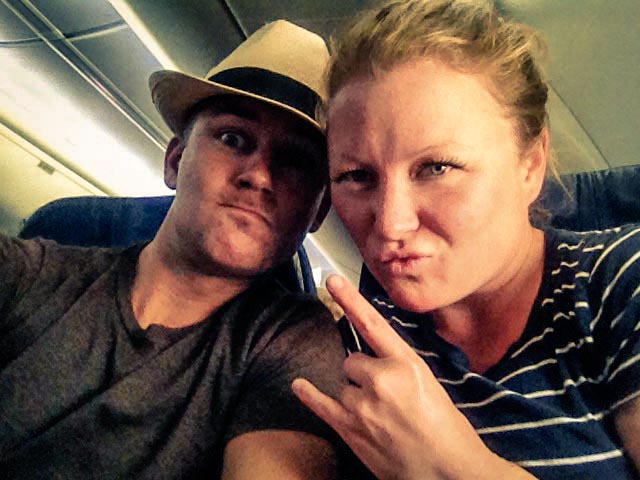 Flew parallel to the rolling foothills.  Looked a lot like Chile!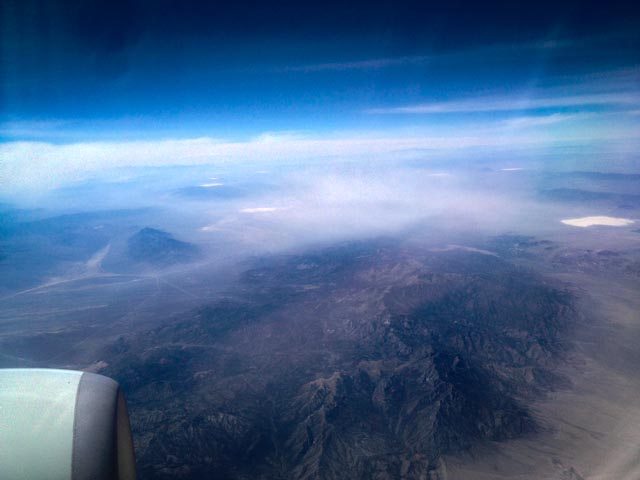 Upon landing in beautiful, sunny Reno, an obvious fellow burner causally said, "Well that was a quick flight, too bad Burning Man is closed."  We thought he was just being a jerk, but there really had been a heavy rainfall that turned the roads to muck.  All transport in was closed for the day.  So we found ourselves a nice casino hotel in town and set about being productive.  We got a few final gear touches and dyed Miranda's hair to match the demeanor of the event, sassy.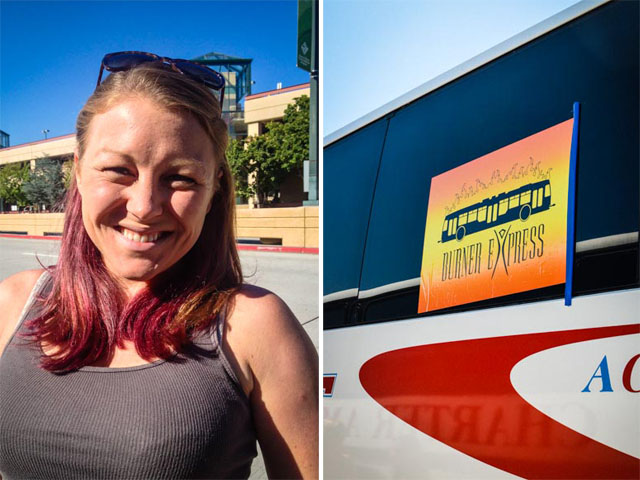 Waited in line the next day and then boarded a bus bound for the desert with revelers already in full party swing.  Drove out and out and out.  The foothills faded to humps in the sand, then to flat, dry, ancient lakebed.  We bypassed the line with the Burner Express bus, highly recommended, and soon drove into one of the 'plazas' in Black Rock City.  We rang the bell, rolled in the dust, and yelled some tribal citation and we were at Burning Man.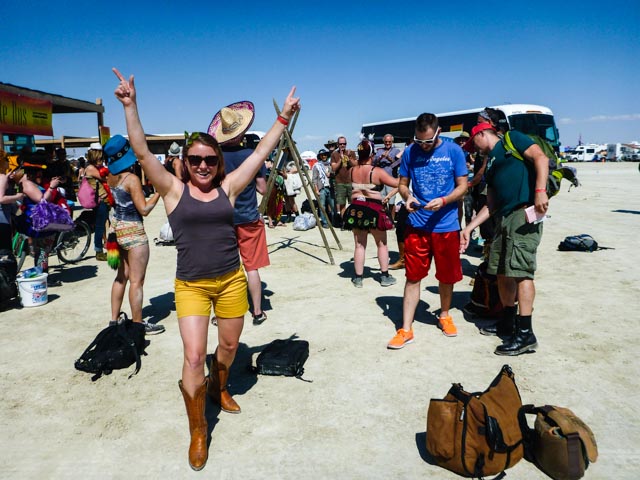 There's enough literature on Burning Man, but here's the basics.  It's an festival of art, music, and freedom of expression in the Black Rock desert.  This year 66,000 people made up the temporary city called Black Rock City, where radical self-expression is stressed, and leave no trace is practiced religiously.  There are immense sculptures erected in the desert, and molar-jarring bass pumped through the air.  It's HOT during the day, and cold at night.  Temperature swings unlike I've experienced.  Some people come for the art, some to find inner peace and community, but most come just to party like banshees.  To get an idea of the seriousness of the 'leave no trace' policy, here's the difference from before the party starts, and then during.  (images courtesy of google earth)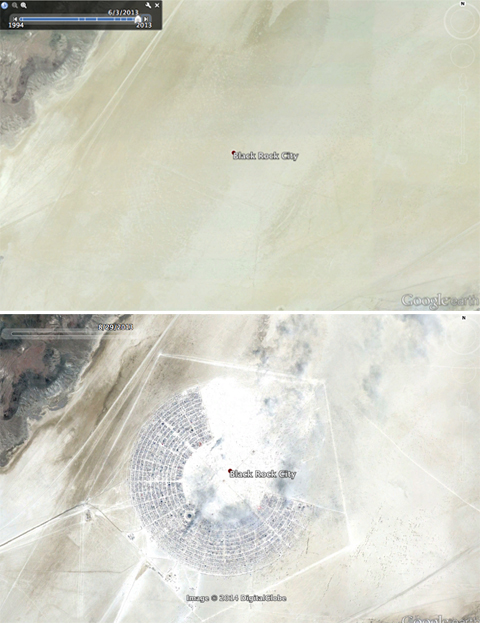 Not sure how to describe the whole deal without showing it, so here are some shots of the desert city.  It's set up as a partial circle around an open area centered on a ~150 foot wooden effigy of a man.  People ride bikes around visiting camps that give out pickles, snow cones, and lots and lots of booze.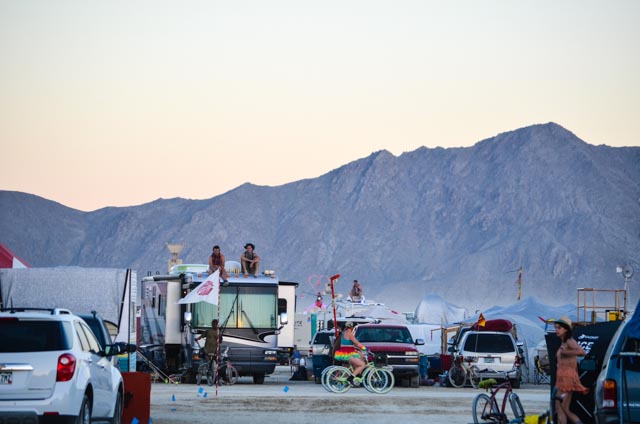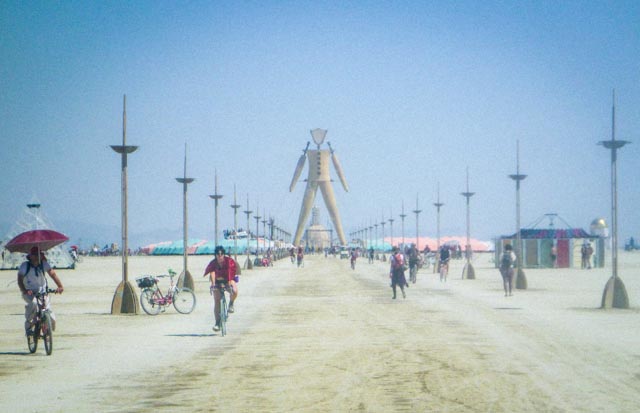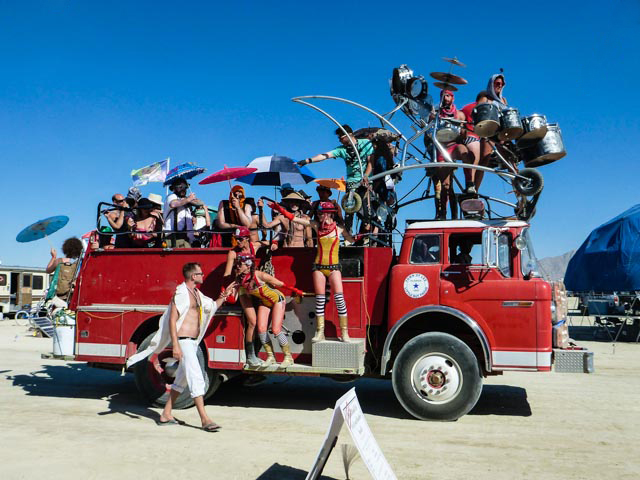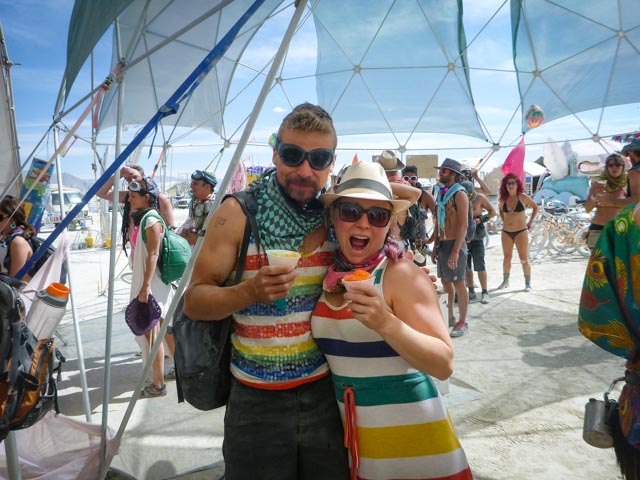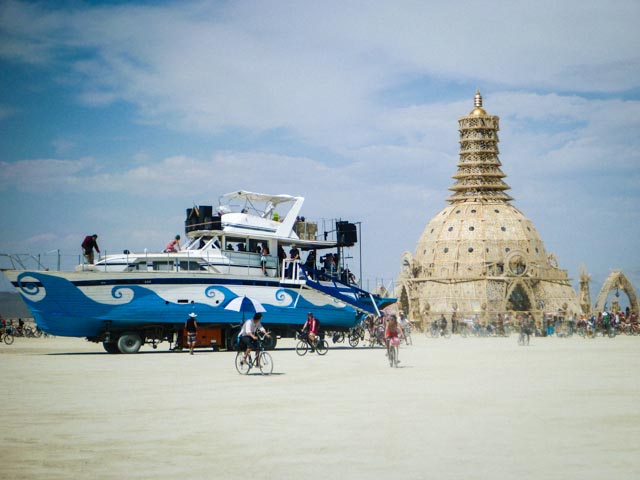 By night, the place explodes into a sea of neon lights and music as DJs pound out dance music from each and every corner of the city from dusk until dawn.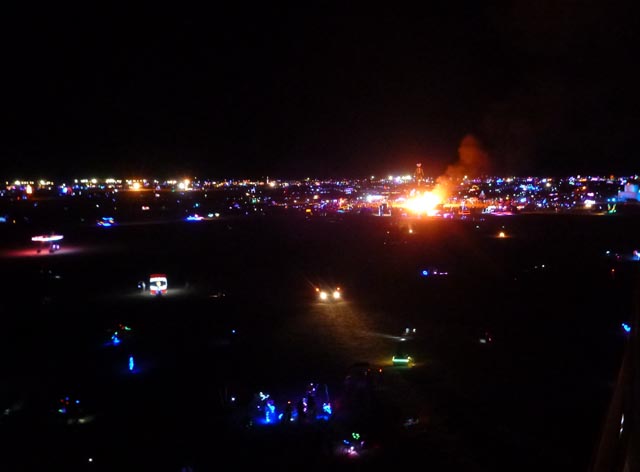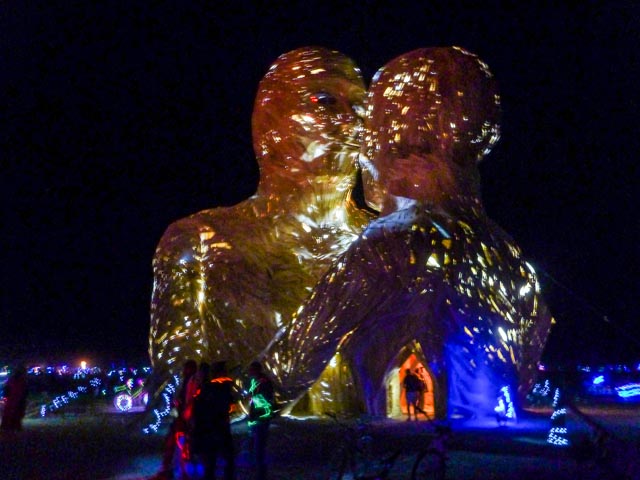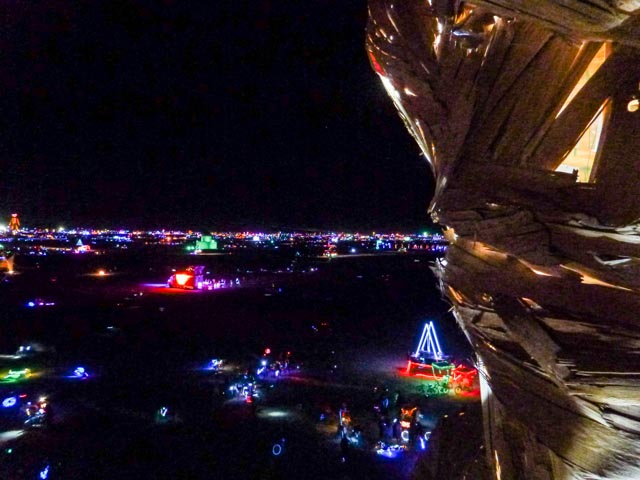 Miranda and I were excited to go to experience all of the ridiculous fun Burning Man had to offer, but also to spend some time with my sisters and their husbands.  It was our first big sibling outing all together.  Chelsea and Dave are old BM salts, now the orchestrators of the Absofuckinlution camp, which brought in 14 barrels of good Seattle beer to give out.  Liza and Felix were Burning Man virgins like us, which made for a serendipitous mixture of family with lots of advice and experience at the BM and others who were just as fresh and wide-eyed to the event as we were.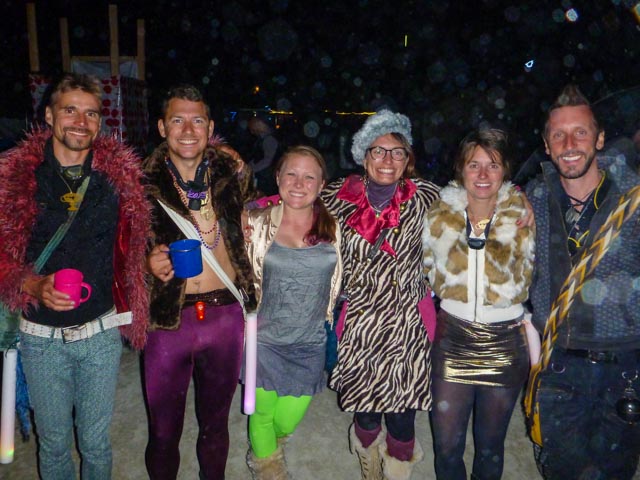 On Saturday night everyone gathers at nightfall for the big burn of The Man.  There's a safe ring so the burning structure doesn't fall on anyone, and designated 'tacklers' to intercept any crazies trying to run into the pyre.  Boy are there crazies.  People whoop it up and get rowdy.  The man goes off with a bang and fireworks throughout the burn.  It's stunning.  Eventually the skin of the man burns off and the skeleton is left burning until the structure collapses spectacularly.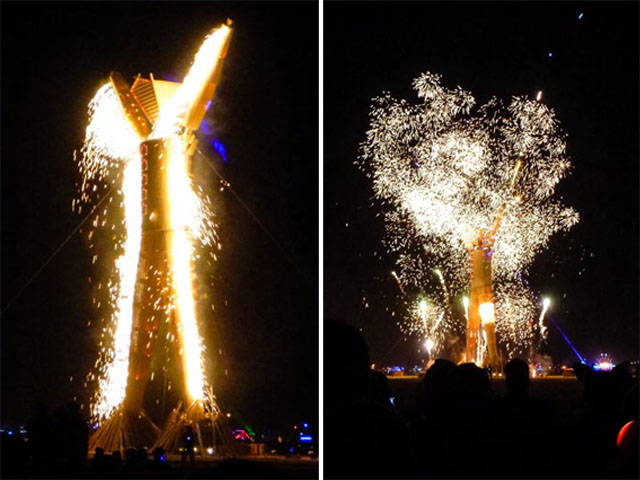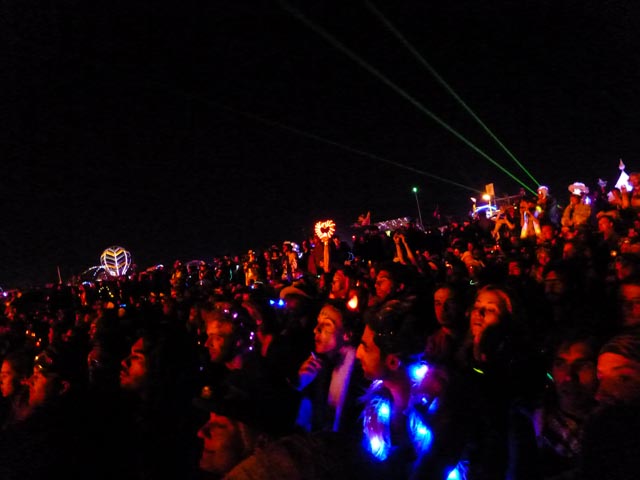 Some years it apparently takes longer than others.  People party all night.  And all the next day.  It's really impressive and daunting how little everyone sleeps throughout the week.  On burn night we danced all night and into the morning.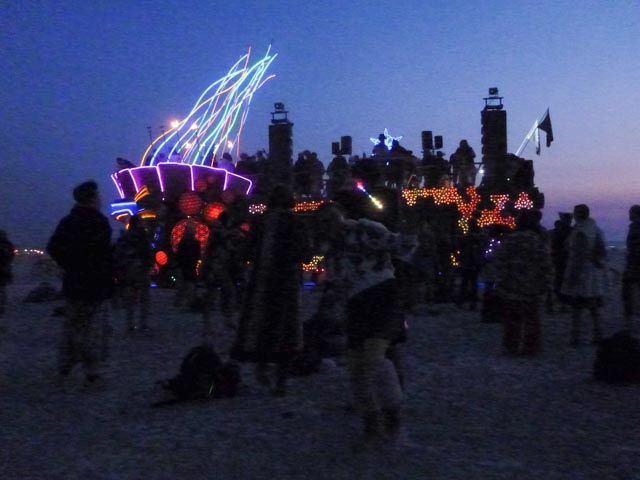 The next night is similar.  Sixty thousand people congregate in a huge ring around the temple where all week sojourners have spent time reflecting, meditating, and healing.  However, this night is different in that the sixty thousand are silent.  The temple is lit and burns into raging banners of flame and no one says a damn word.  Some weep.  Some console.  Everyone is reflecting on the week, the month, the years.  It's pretty powerful.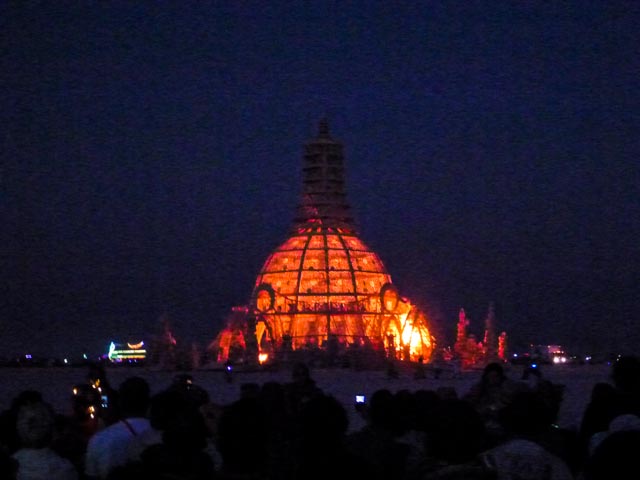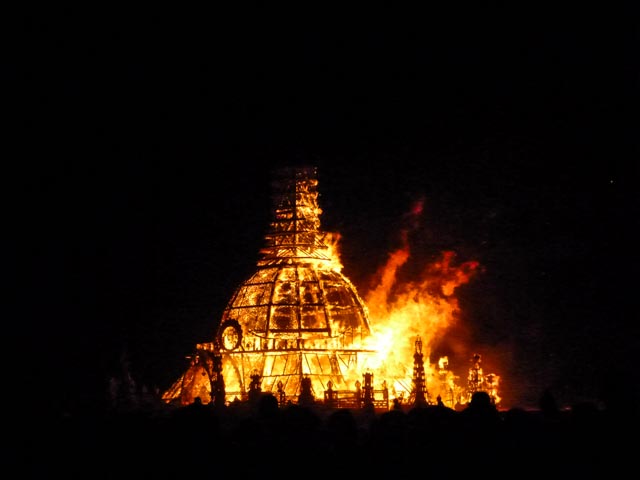 We did our own post-burn reflection with our family, feeling especially lucky to be bonded to such a fabulous six-sum of sibling loveliness.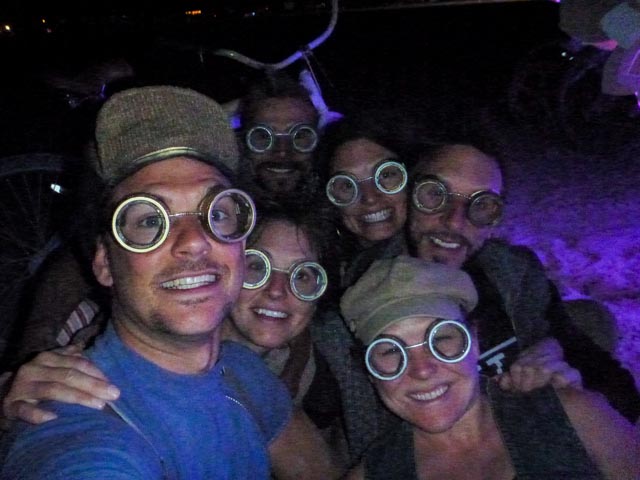 Then there are a few days of clean up for most before the exodus from Black Rock City.  Others are stationed in the desert, willfully, for a month making sure the ancient lake bed is returned to its natural state without traces of human, wild or otherwise, impact.  We helped tear down the structure that had been our shelter from the elements for a week in the desert then took off in a U-Haul with a fellow Burner who was kind enough to give us a lift to Reno.  There were only two seats in the truck, so I sat on a duffel bag jump seat in the middle. 
We all breathed a little sigh of relief that we had made it through.  The road back was pretty packed, but not nearly as terrible as it can be.  A quick overnight in Reno, three flights to Detroit, an overnight at Mikey's, a five hour drive, and we were home.  Fairly quick and painless, huh?