Experience a day-in-the-life aboard Tayrona as we island hop in the Yasawa island chain in Fiji.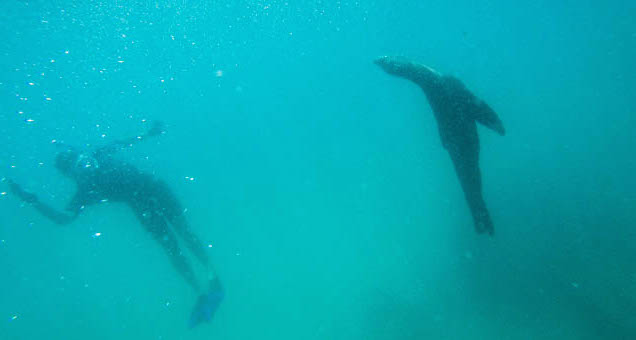 Author: Pete
Location: Isabela, Galapagos
Date:  March 29, 2015
Spent the last couple of days mostly prepping for the push to the Marquesas.  It's a long way, some 3000 miles, but should be fairly comfortable at this time of year.  We just need to provision up!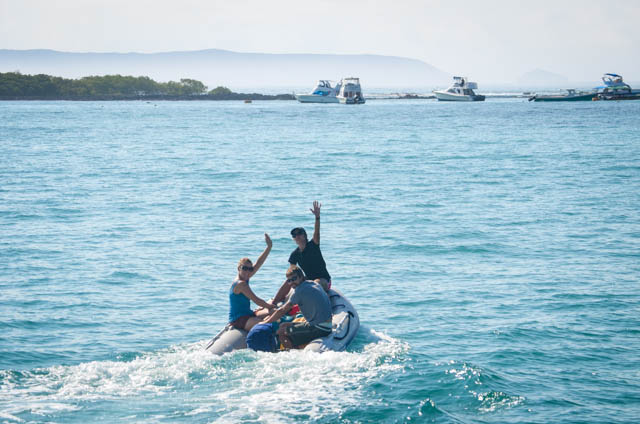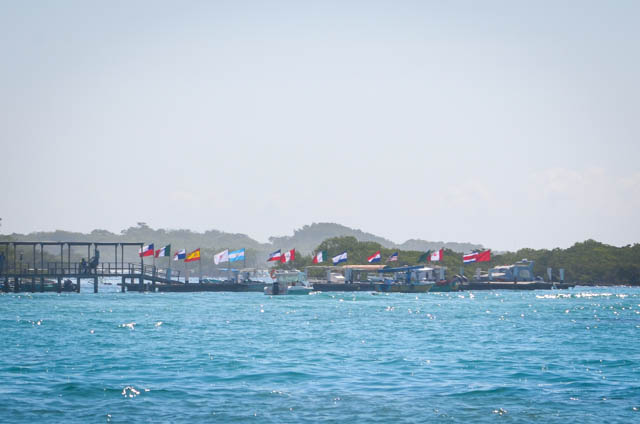 I put in a new thermostat on the port engine.  Its fuel consumption is a little higher than the starboard.  Wendy is always running in Belinda's shadow.  I know it runs a lot cooler than it should, so it sounded like a thermostat problem.  We'll see how it performs.  In our 85 hours of motoring since our last tank top up, the port tank used 20 gallons of diesel and the starboard only 13.  Maybe we were just going in circles.
I also got the gas generator up and running.  It's been a saga, starting with tearing it apart in the Bahamas, bringing it to a mechanic in Cartagena, and then several hours wiring and rewiring the output through a German battery charger.  Finally got all the systems to cooperate and we can charge at ~13 amps.  There's only been a few times where we really needed it to charge batteries instead of running the diesels.  We may need it more on this passage as the following winds won't run the wind generator as efficiently.  Felix also opened up the towing generator and cleaned up the guts.  I rewired its inputs and maybe we'll get some juice out of him as well.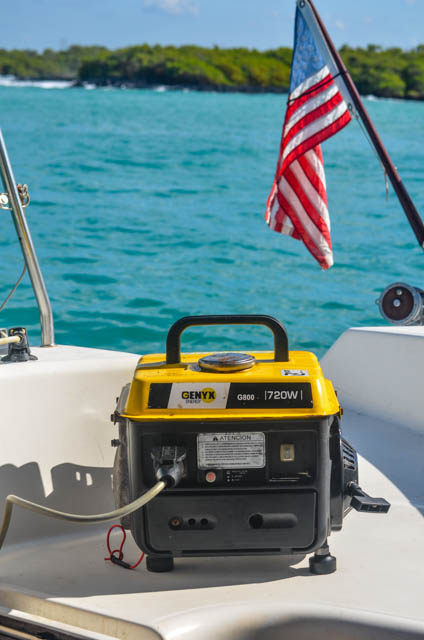 We were invited by friends to join a loose group of boats that were heading out about the same time we are interested in leaving.  We got together on Wavelength, our friends Mark and Eileen's boat to discuss plans with the other captains and crew.  So we will be one boat out of five leaving within a few days of each other.  We have a radio net set up, so we'll be in contact with each other every day via SSB radio.  We'll also be emailing our position updates to the blog as we go via the radio as well.  It's too slow for pictures, so you'll have to use your imagination.
Our flotilla consists of:
Tayrona – Midwest – Pete, Miranda, Liza, Felix
Wavelength – Vancouver – Mark and Eileen
Talula Ruby – England – Paul, Andi, Pedro, Scott, Carl
Centime – Maine – Dennis and Heidi
Endorphine – Scotland – Colin, Izi, and Terry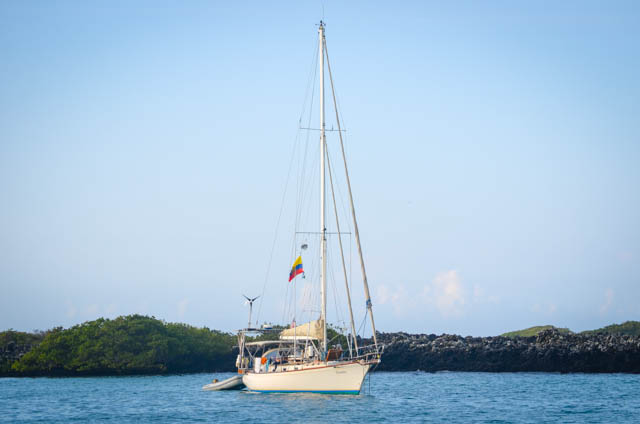 We're the only cat in the bunch, but the sailors on the other boats have oceans of experience and really nice boats, so I'm sure we'll be the ones trying to keep up!  So we're pretty excited about that.  It's nice to have safety in numbers.  We will also try to be in contact via radio with the Pacific Puddle Jump, an organization that keeps track of the boats crossing the Pacific every year.
Our friends Dirk and Gretchen pulled in a few days ago from their Panama to Galapagos crossing.  They're legit sailors on a gorgeous wooden ketch, no refrigeration, rowing dinghy.  They're the real deal.  They waited in Las Perlas off Panama for a week for good wind and made it across in six days, albeit they did have a day's head start leaving from the islands and not Panama City.  We got together on our boat for dinner and drinks and related stories of our crossings and the goings on of the Galapagos.  They'll be following us to the Marquesas, just not for a few weeks.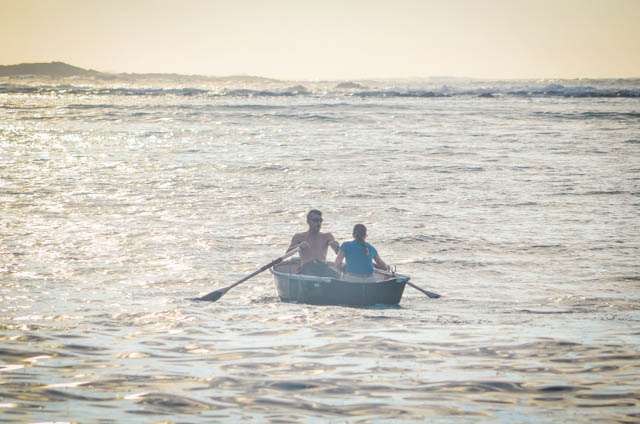 We took on 50 gallons of diesel and 5 of gasoline in our jerry jugs.  It's not straight forward on the Galapagos.  Diesel at the gas station is subsidized and costs about $2/gallon, which is illegal for non-Ecuadoreans to purchase.  Thus, you have to send if paperwork with an agent (ours is J.C. Desoto), wait four days, and then get your fuel, at $4/gallon.  Not the end of the world, but definitely a rigamarole.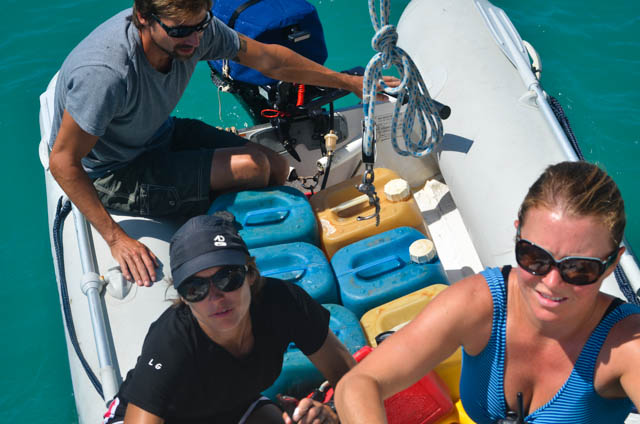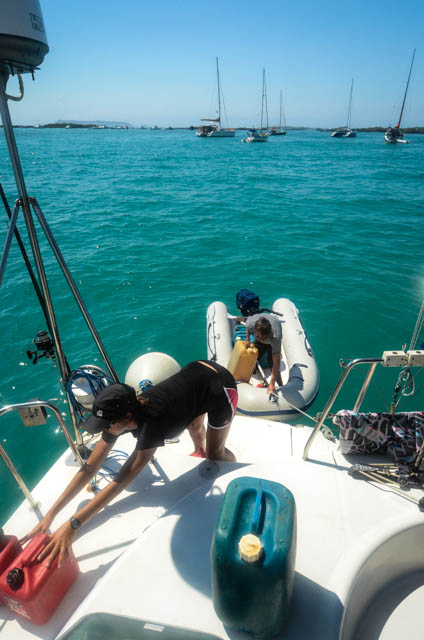 Fresh produce is flown in on Saturdays at noon to the Galapagos.  It only hits the market on Isabela at 5:00.  So in we went to pick out our haul of fruit and veggies for the push.  We didn't find pineapples in the prolific abundance that we did in the Panama City market.  We still made out alright though.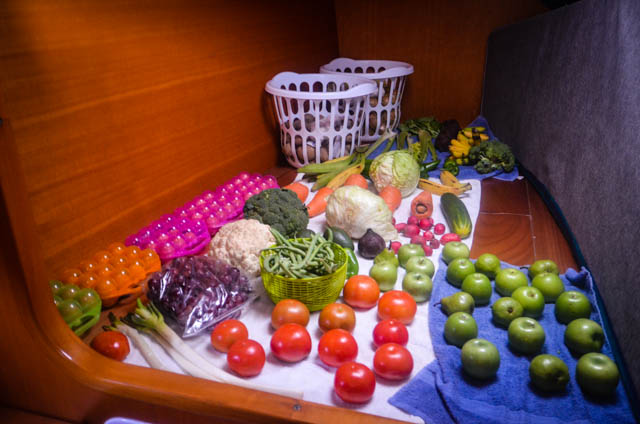 In all the preparatory steps to get out of here and back onto the high seas we did sneak in some time to do some more snorkeling.  Had a pass by a white tipped reef shark, played with a sea lion, swooping and spinning underwater.  I couldn't keep up with him, but it was sure fun to play.  Then we chased a penguin down with the dinghy on the way home!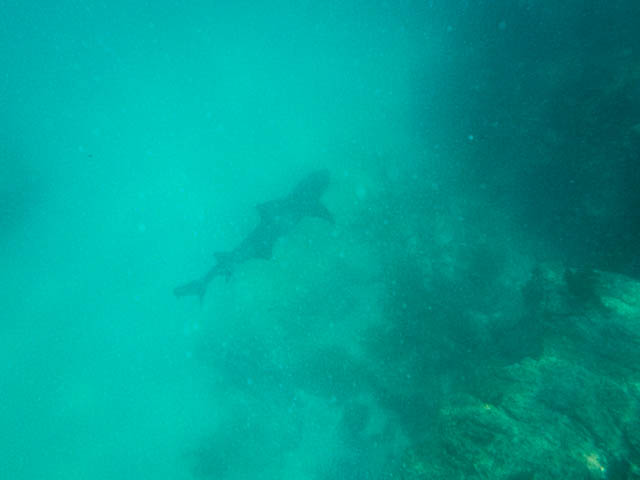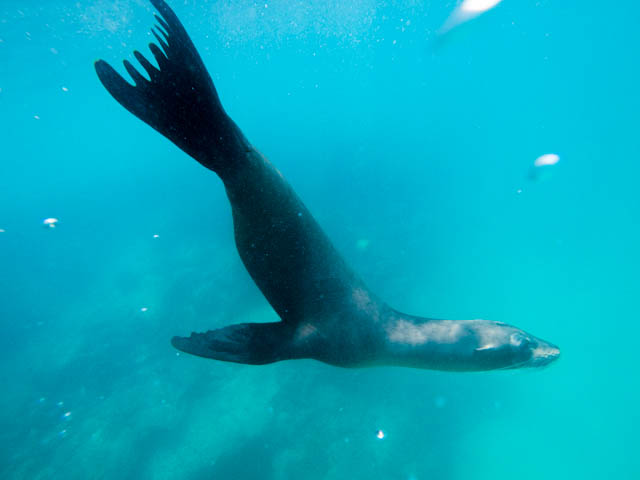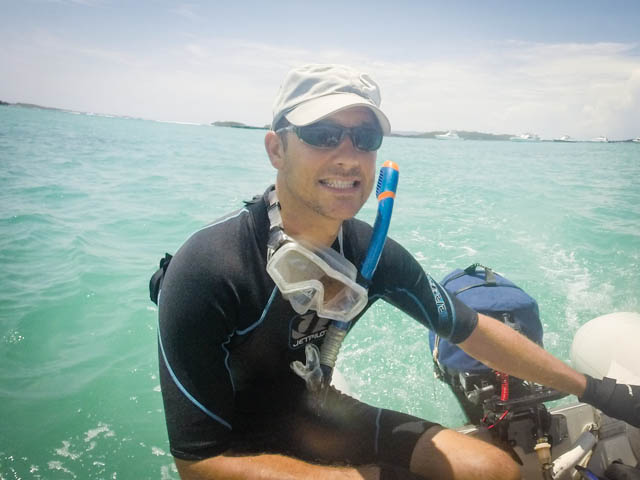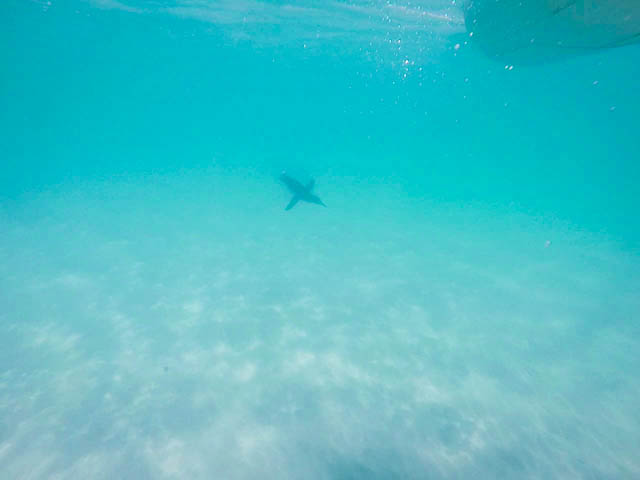 Now just a few odds and ends to wrap up before we head out!  Sounds like tomorrow (Monday) we'll be shoving off in the morning.  We will likely be in the Marquesas anywhere from April 17th to April 30th!  We'll keep you posted!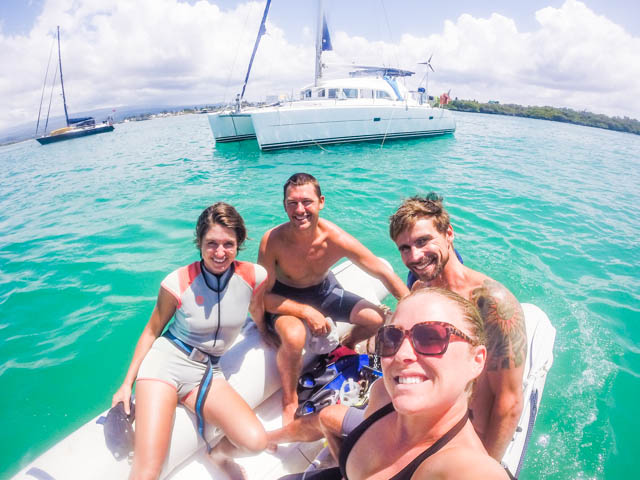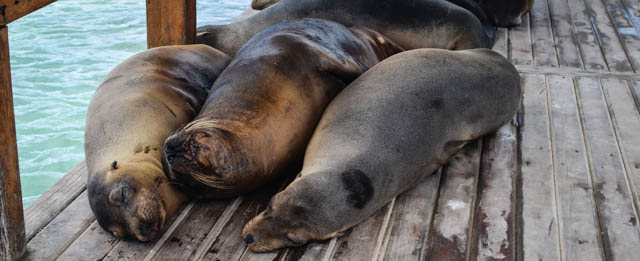 Author: Pete
Location: Isla Isabela, Galapagos
First days on the Galapagos Islands!
After pulling into the tight anchorage on Isabella we LAYED anchor happily in soft, grippy sand. It was strange to have other boats, lights, odd sounds, and smells of the earth wafting from the land. We slept like babies in the quiet anchorage.
In the morning we woke and called our agent, JC Desoto, on channel 67. He's a popular guy, seemingly working in all things cruiser related. He's always zipping around town on his folding bike with a handheld radio on his him or at his ear. He's the guy you want to know in town.
He answered our radio call and I went in to meet him at the dock by dinghy after putting the engine back on the boat. Then I came back to Tayrona because I'd forgotten the paperwork in my excitement to get to shore after TEN days on the boat. (In my defense, I thought he was coming out to us on Tayrona. False.)
He took our information, told us to sit tight until later that afternoon when we'd be visited by three officials. I felt like I was Scrooge, expecting the three ghosts of Christmas "when the bell tolls one!" They arrived rather un-ethereally in an overloaded dinghy. They, however were only the pre-preliminary cohort. They took of our data, told us to stay on the boat until later when a larger contingency was coming. Later a second, more official group, the preliminary cohort, arrived, took more of our data and then told us to stay on the boat until tomorrow when another, larger and more important contingency would be coming. We stayed on the boat until they left, then scampered around town for a few hours until dark. Rebels! Walking around the town felt like gold. We hadn't walked more than 38 feet in any one direction for over a week!  First steps off the boat and we found these guys to be our welcoming crew: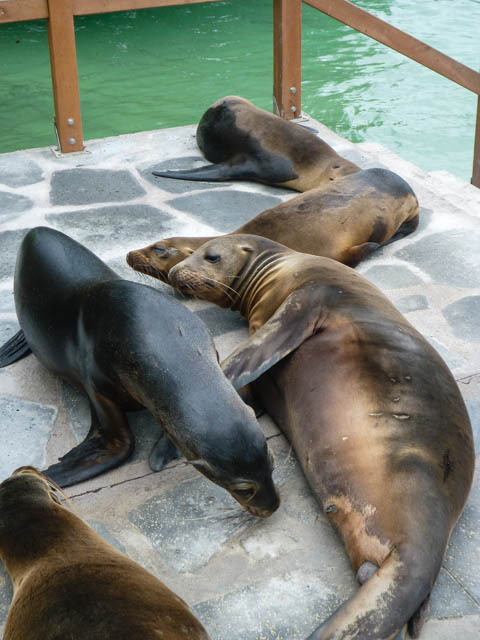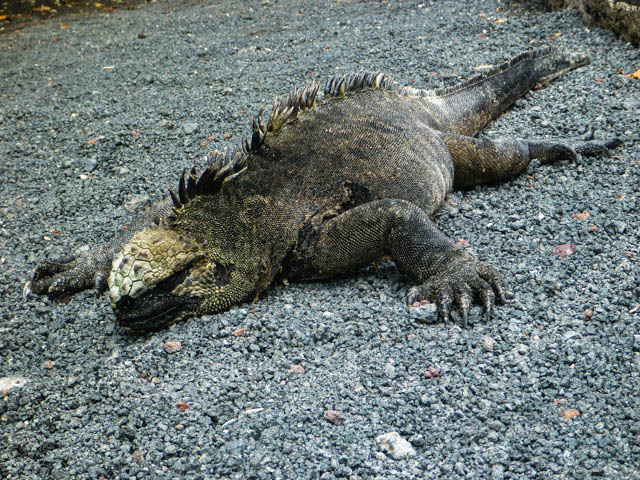 In the morning the final, larger contingency arrived for the full paper-workout. We passed inspection, signed all our forms, paid JC the $1300 we owed him for all the visas, paperwork and such.
Then we officially went to shore! In to town we went! Found a great bakery, Delicias, and walked out to the Giant Tortoise breeding center at the end of a long boardwalk through mangrove swamp.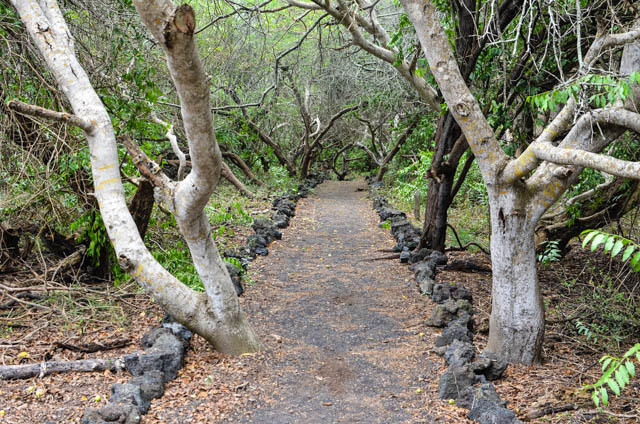 The center takes tortoises from the wild that are having difficulty breeding in the wild and gives them a more conducive environment. You know, mood lighting, Berry White on the radio, all the wild greens you can eat. No, in all seriousness, the tortoises struggle not only with introduced species (cats, donkeys, goats, dogs, rats) destroying their young, but also the sheer size of the island. They're so slow moving, and there is so much terrain that they have a difficult time finding one another to mate!
Here's a great Radio Lab podcast about the steps taken by the Galapagos to control the goat population. Involves helicopters and machine guns. Really, take a listen when you're cleaning the house. It's interesting. http://www.radiolab.org/story/galapagos/
So there are covered cages with 0-1 year old tortoises. They're covered so cats, birds, and rats can't get to them. Then the dinner plate sized 1-3 year olds are outside. The 3-6 year tortoises are manhole cover sized, and are reintroduced into the wild until they are 25-30 years old and can reproduce. In my head there's some nagging parents saying, "Yah not allowed to date until ya 30!"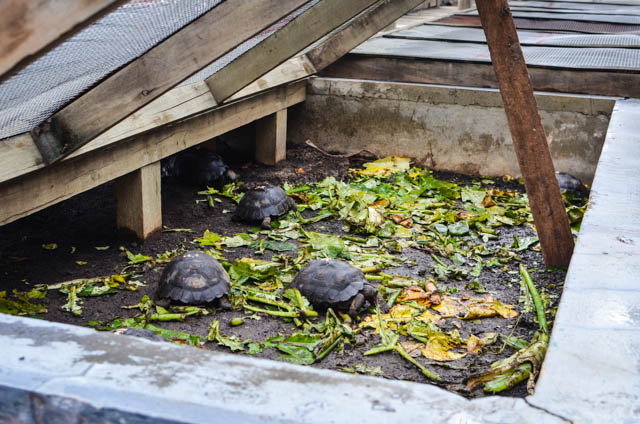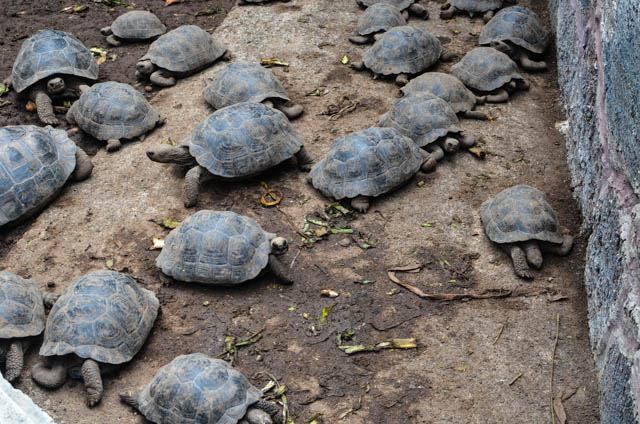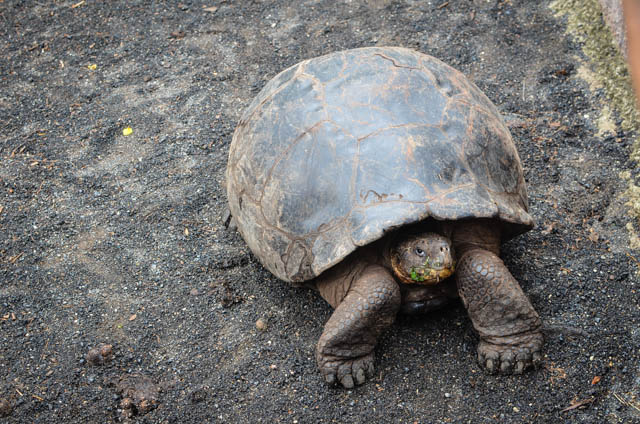 And then there's the mating pen. Adult tortoises roaming a good sized love nest until they breed, and tourists watching the magic. Cool. The clank and grunt loudly during the whole thing. The tortoises, not the tourists. It's hard for me to imagine where the females store a clutch of 30 eggs in their shell during gestation.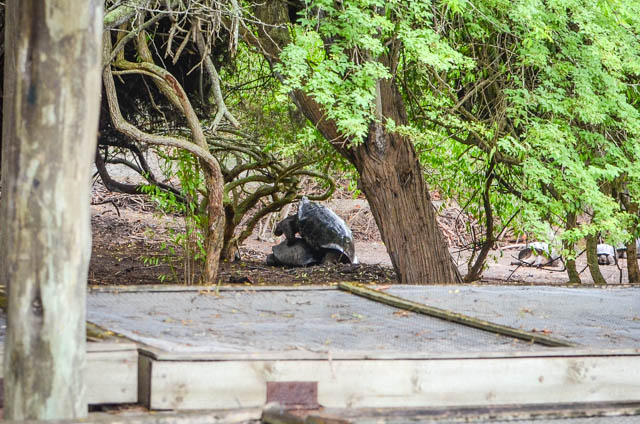 Yesterday we hiked up Sierra Negra, one of Isabelas volcanic craters. It was an early start and we were being jostled along in a open-sided chiva up the mountain before our eyelids were fully opened. I think we came in with the dinghy and they picked us up from there, but I can't be sure. We poured out of the chiva, eager to see if our legs still worked. Up the packed dirt trail we trudged through the green, lush foliage.  Look, Darwin's finches!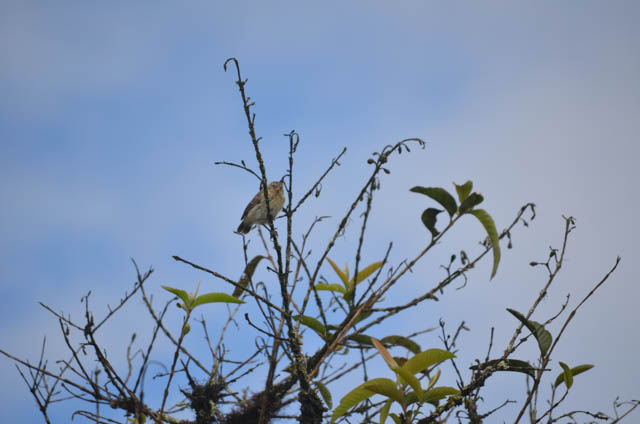 The intensity of the earthly smells was intoxicating. The first couple of kilometers were uphill and our legs were remembering their former selves when we reached the rim of the caldera. The collapsed volcanic cone left a 12 km wide crater that occasionally filled with lava when flare ups cracked the surface and oozed molten rock out. We hiked along the rim with a gorgeous panoramic view of the steep, green cliffs ending abruptly with charred rocky plateau that stretched into the distance.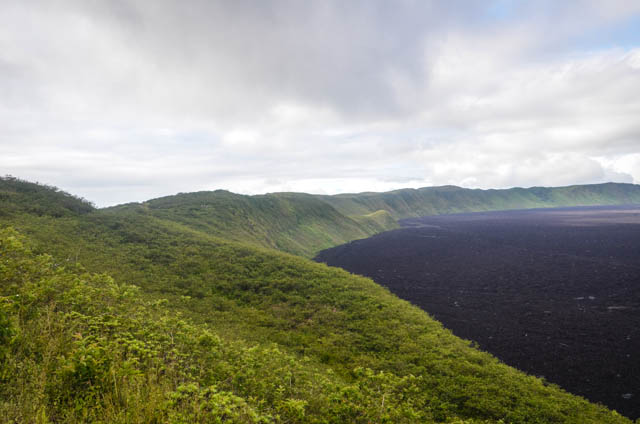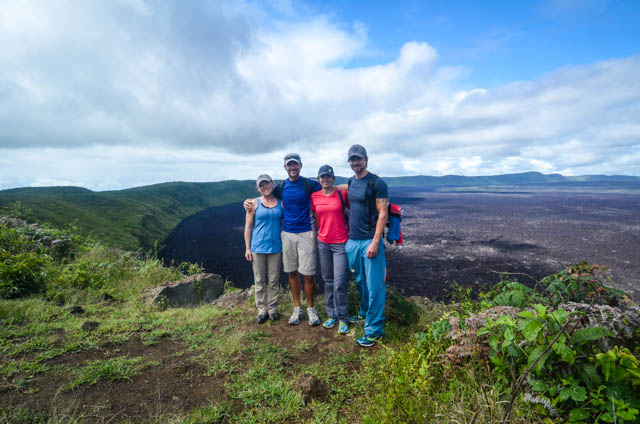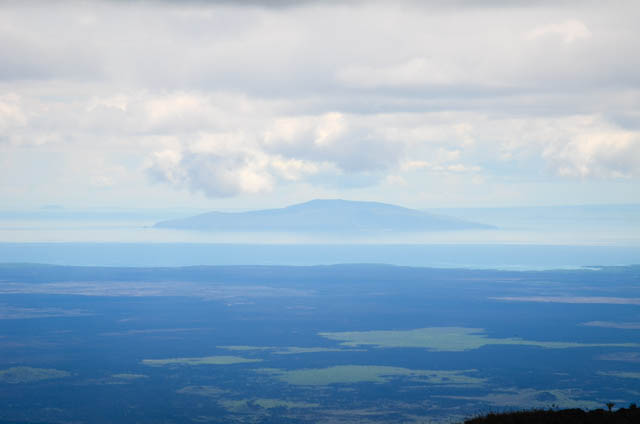 Along our hike we encountered this big guy lounging in the path like he owned the place. A giant tortoise in his natural habitat! We were psyched to be in the presence of this chunker that would well outlive us. Gives credit to the slow life.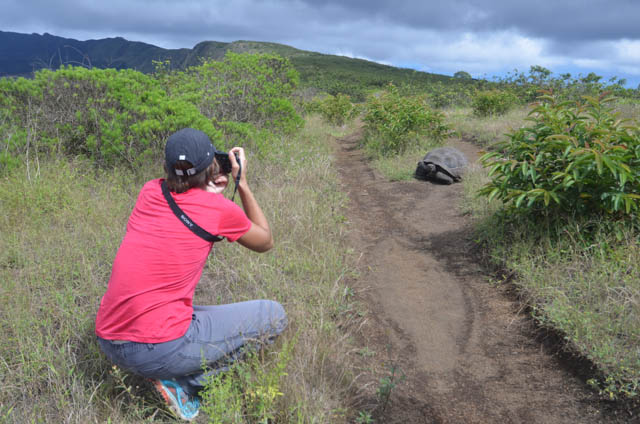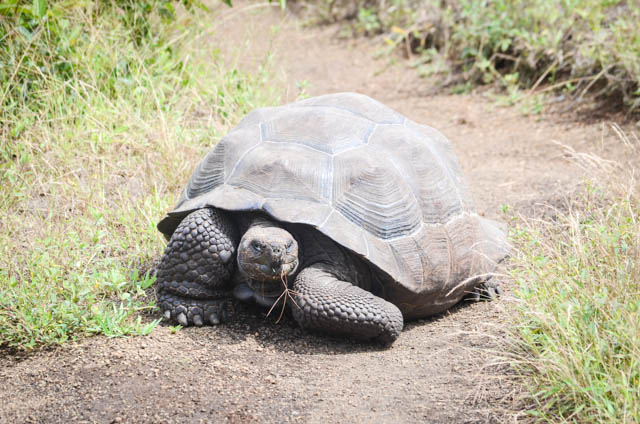 This morning Liza and Felix took off for Isla Santa Cruz to do some exploring and surfing. They tried to surf here, but were welcomed into the waves by a shark's silhouette cutting lengthwise through a barrel. They bailed and went to a different island in search of non-lethal surfing, and now Miranda and I are again alone on the boat. Nice. It's been consistent weather here, sunny mornings and cool, rainy afternoons. I'll take it.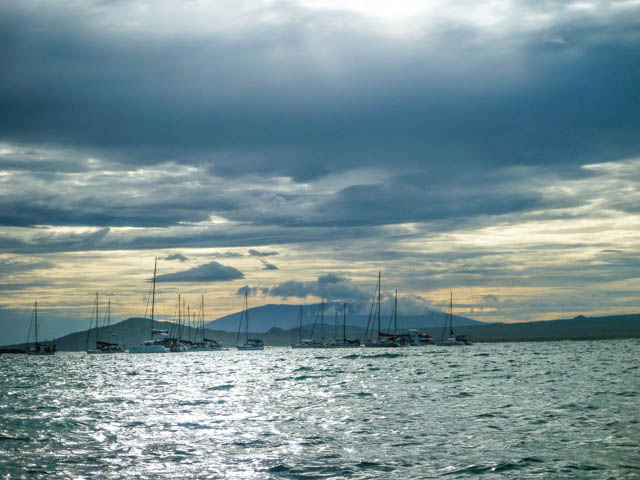 More later from Tayrona.