Author: Pete
Location: Tahuata, Marquesas
Date: May 2nd – 5th, 2015
Sailed into the morning light heading back to Tahuata, just south of Hiva Oa. Skirted the dark western shore of the island until we reached the southern most bay called Hanatefau. The hint of a town could be seen on the southern banks, but on the north side the steep green walls dominated the landscape. Only one tiny shack populated the banks. On our way into the bay we were welcomed with spinner dolphins putting on a show, including their tiny 3 foot long babies, jumping and spinning too. Pretty damn cute.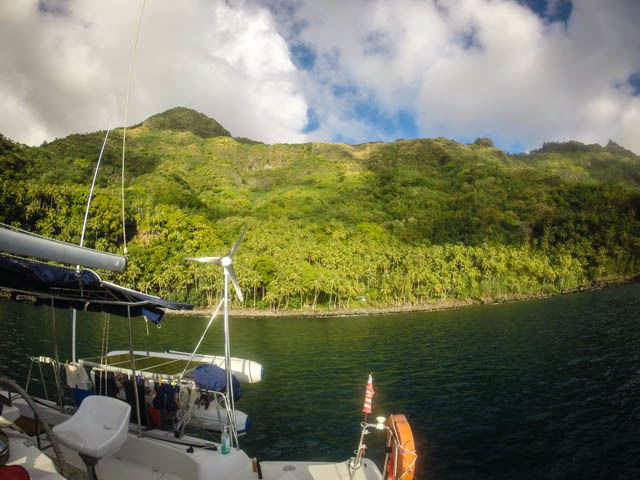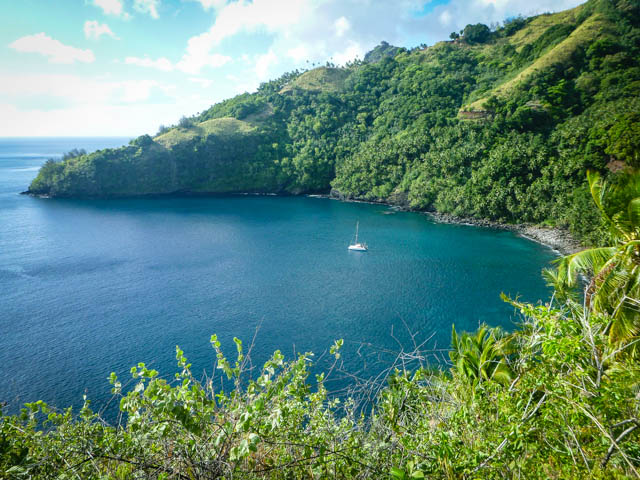 We anchored in clear sand in about 35 feet of water, a little close to the boulder strewn shore with the surge coming in. We all jumped in the water to see the dolphins. A silky shark was in their ranks and they were protective of their babies, so they didn't stay too long to play. Once they took off for deeper waters we snorkeled along the rocky shore.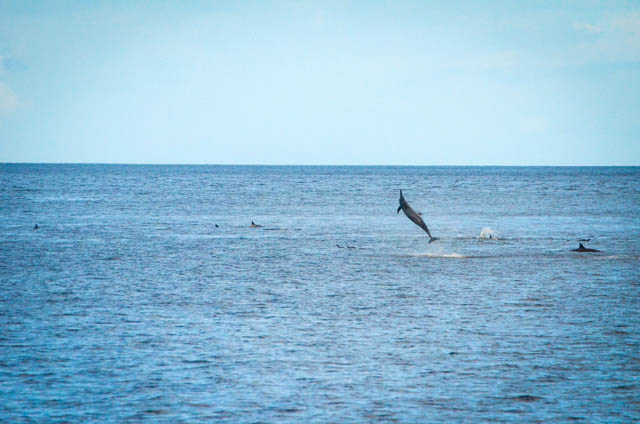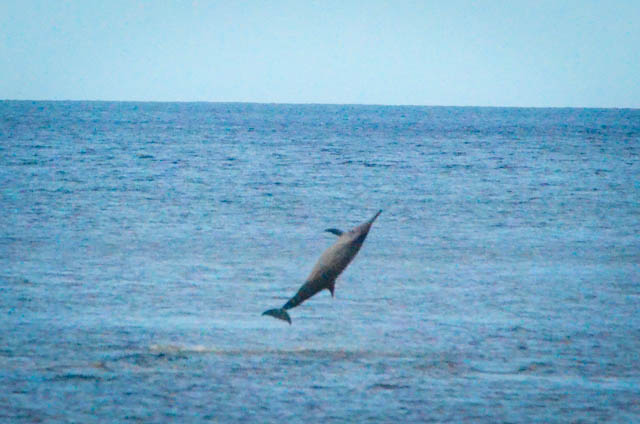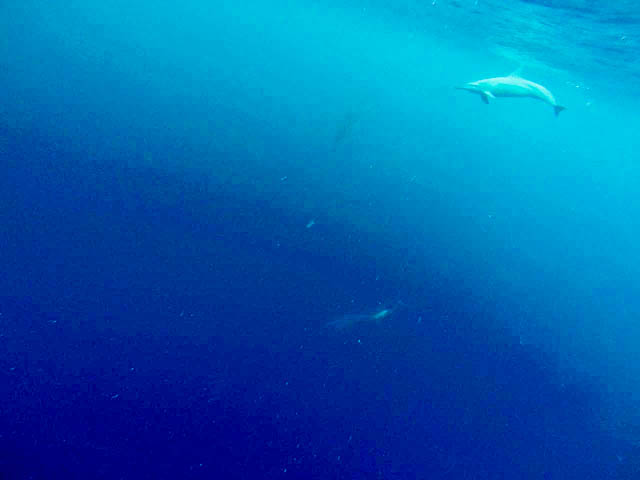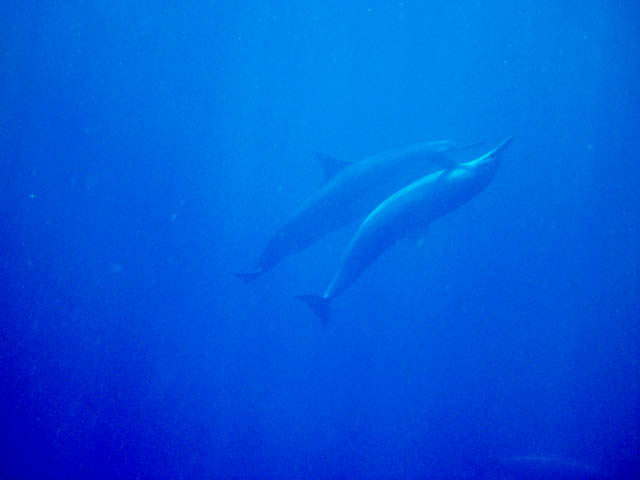 In the afternoon Miranda and I swam to the rocky shore. A lithe form popped out of the rocks down the beach and greeted us in French. Our new friend's name was Teii, a Marquesian man of about forty five, native to the island. He decided we needed to see Hapatoni, the tiny town in the bay, a short walk along the dirt road hidden just above his house in the trees. We hiked over hill and dale through tall leafy trees to the little village where Teii knew pretty much everyone. Not difficult with a population of less than one hundred. We came back with arms full of fruit, and a date to return for Sunday lunch after church the following day.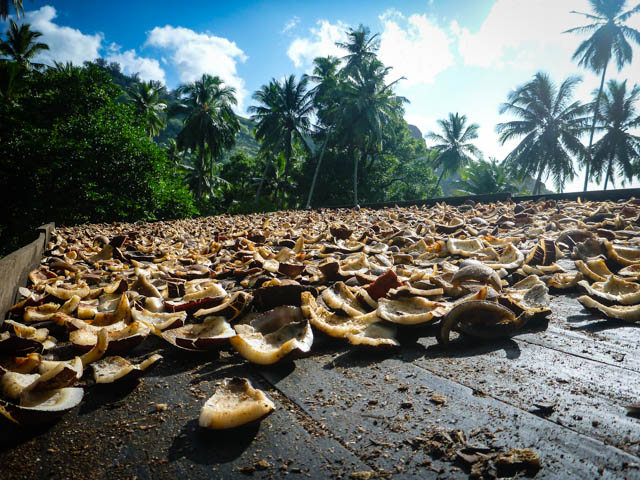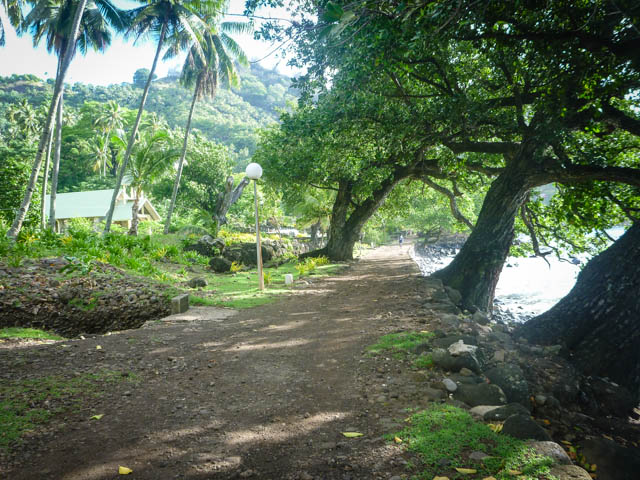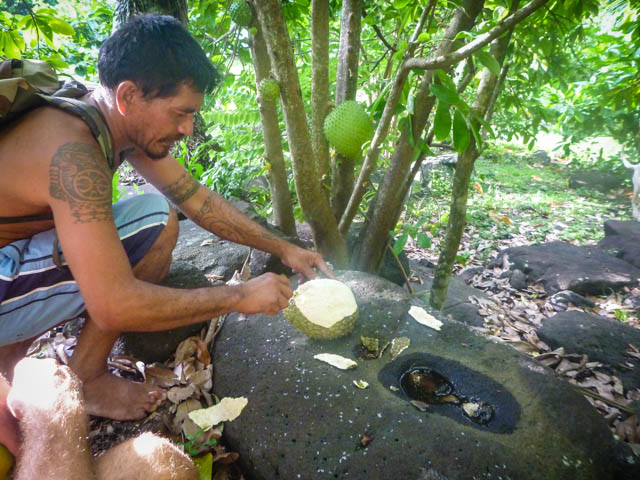 We showed up on Sunday in our finest and were whisked away to the house of the cousin. Apparently, everyone is a cousin here, honorary or biological. Another cousin had shot a wild boar up the mountain and they had roasted it on coals in the ground for six hours in the morning. There was roasted breadfruit, which tasted something like potato, Poee Poee a tangy fermented breadfruit mush, and also Fafaru, fermented raw fish in a clear jar. The stuff smelled and tasted like outhouse or barnyard, and I took most of the brunt of the 'hospitality' for our crew with three big chunks. It was no kidding the most awful stuff I've ever eaten, but we didn't want to be rude, so down the hatch it begrudgingly went. Gulp. The wild boar was fantastic though, and the wine made from the Caricol fruit was great as well. So that mostly made up for it.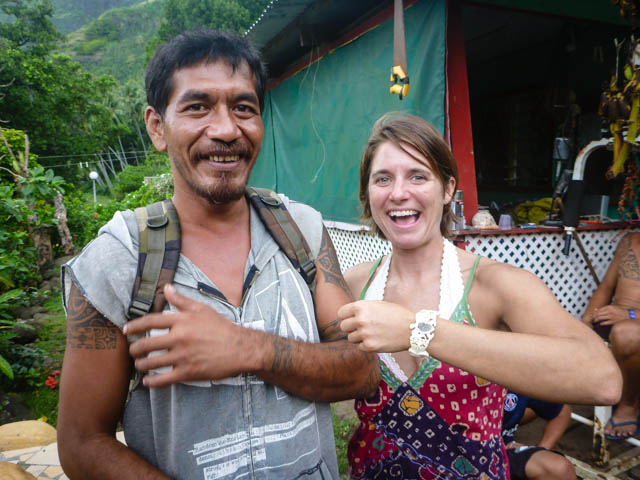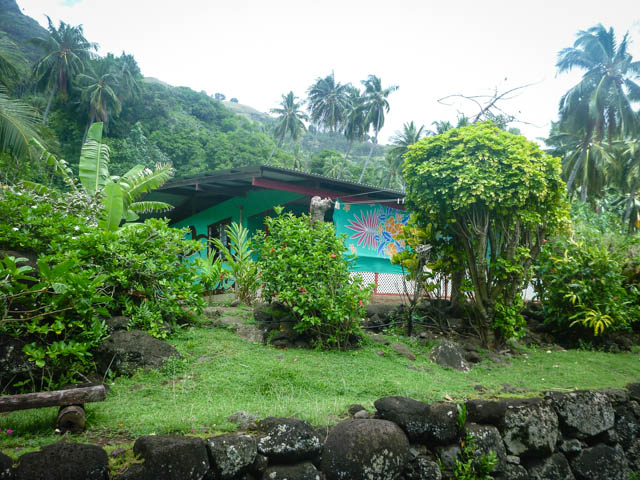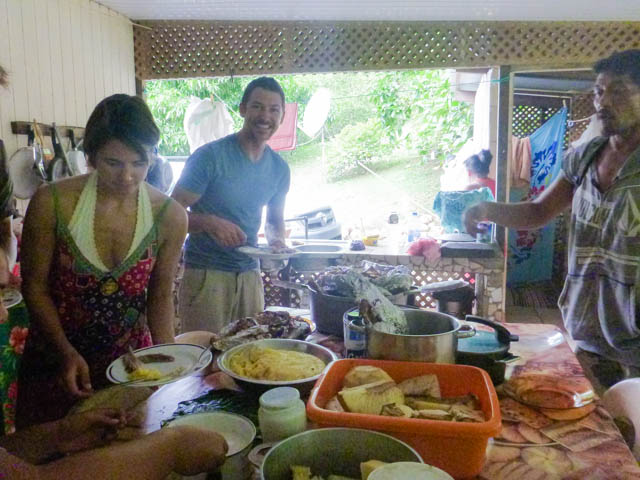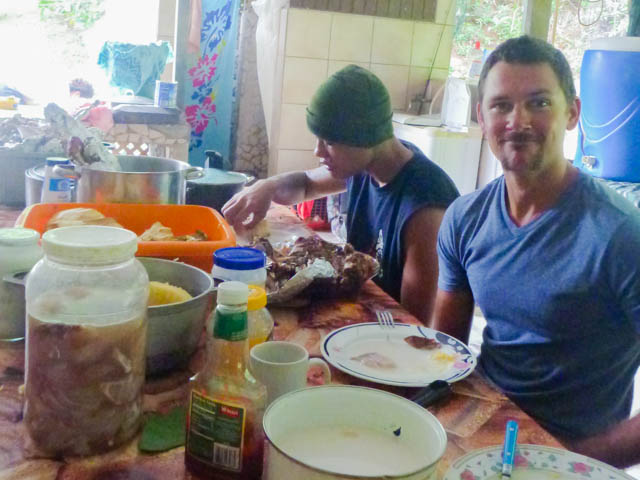 After lunch, Teii took us on a tour of the petroglyph site just outside of town. So there we were in our Sunday best traipsing through muddy jungle paths and scaping off mossy rocks, carved by ancient Marquesian hands. Pretty neat.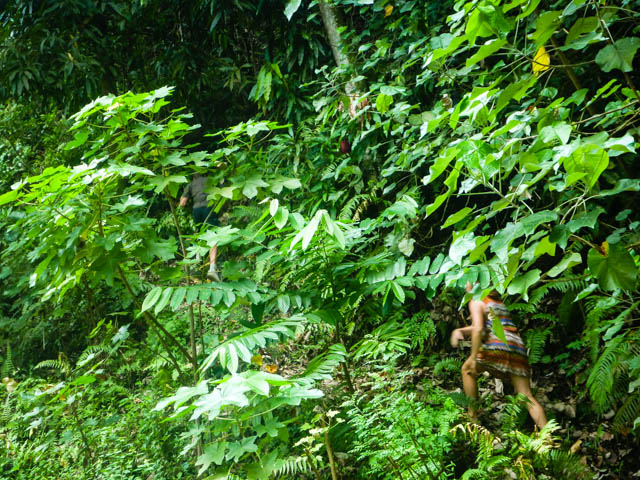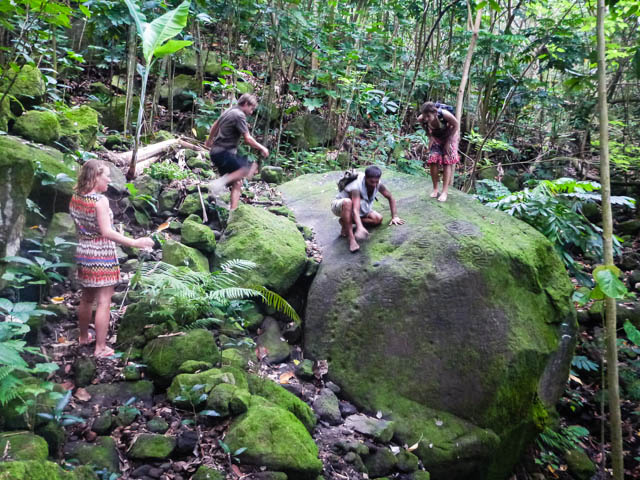 The next day we took Teii aboard the boat and showed him around. We showed him the ropes as we sailed up to the next bay north where he grew up and he brought us to see his parents. It was pretty hilarious, a translated sitcom of an old Jewish mother. We spoke none of the French/Marquesian hybrid that was being slung, but it was crystal clear all the same what Teii's mom was yelling at him about. "He never just comes over to visit! He's always swinging by to pick fruit from the trees or pick up the laundry he left to be washed! Don't you want to come visit your old mother more often? Why do you have to live so far away? It's an hour for me to walk there! I'm an old lady! I can't walk that far on dirt roads! Are you just going to leave all those orange peels there for me to pick up later? Why don't you clean up after yourself!" We were holding our sides.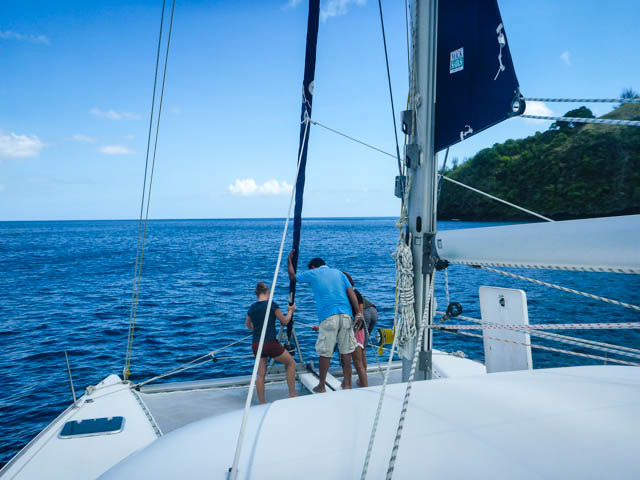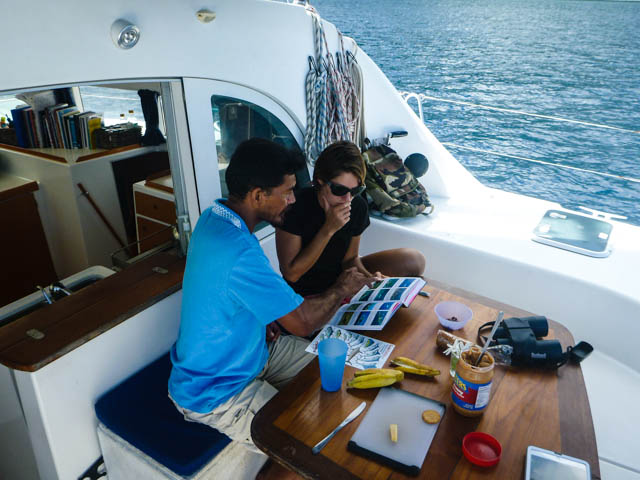 After a tour of the village we left Teii with some goodies: some solar LED lights for his little house on the shore, a new T-shirt, an American Eagle necklace, and a ninja for Dave. In the afternoon we sailed back to Anse Ivaiva Iti Bay, just south of Hanamoenoa Bay loaded with more fruit that we will possibly be able to eat. No scurvy on the good ship Tayrona. Snorkeled until the light became dim. Back to Hiva Oa in the next day or so to refuel and reprovision for our next shot to the Tuamotus Archipelago.