Author:  Pete
Location:

 

Beach Haven, New Zealand
With the job fair over and great teaching positions in our pockets, we had much to put us in the celebratory spirit.  Our wedding anniversary had also sprung up, so it was decided that a fancy dinner adventure was in order.  Some local friends told us about a neat restaurant accessible by boat up one of the tributaries inland of Beach Haven.  Apparently it once was a seriously seedy tavern but has recently been gentrified.  We zoomed up in faithful dinghy and found the place tucked into the trees overlooking the channel.  Miranda donned her high heels on the dock and we waltzed up the stairs and gorged ourselves on ribs!  Ripped back in the moonless night, navigating by iPad.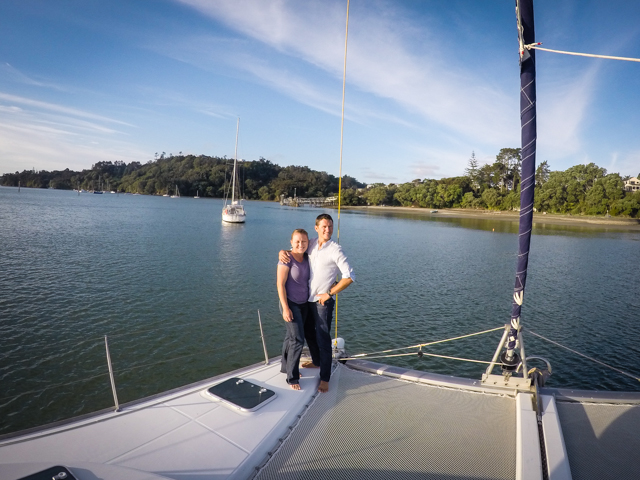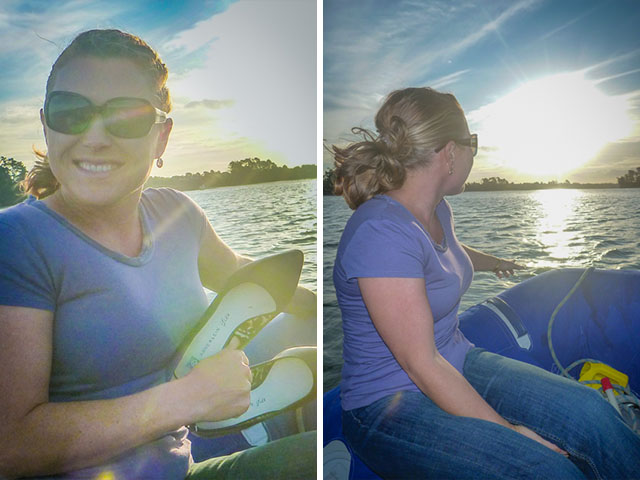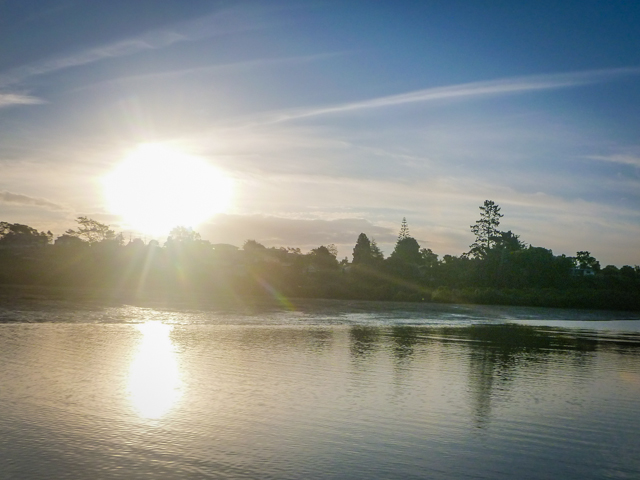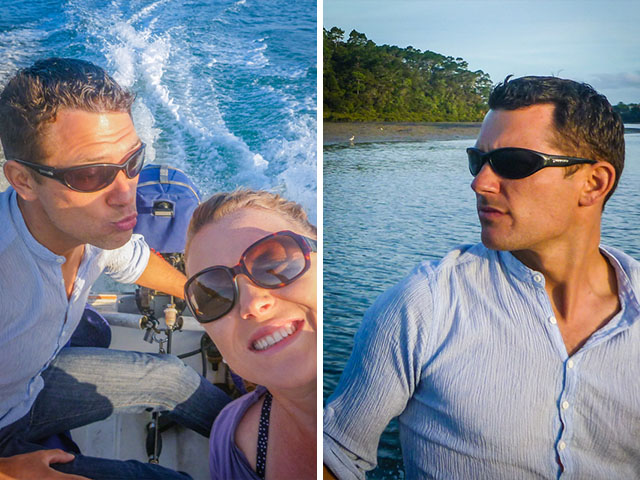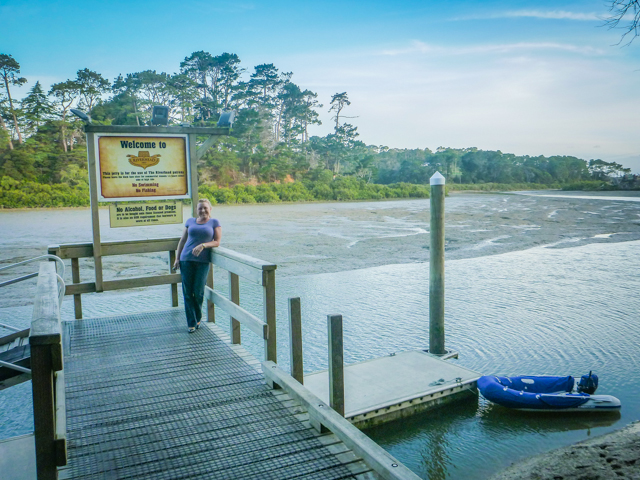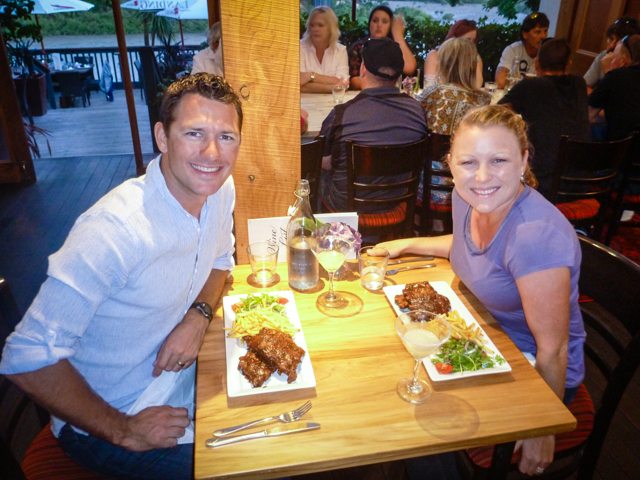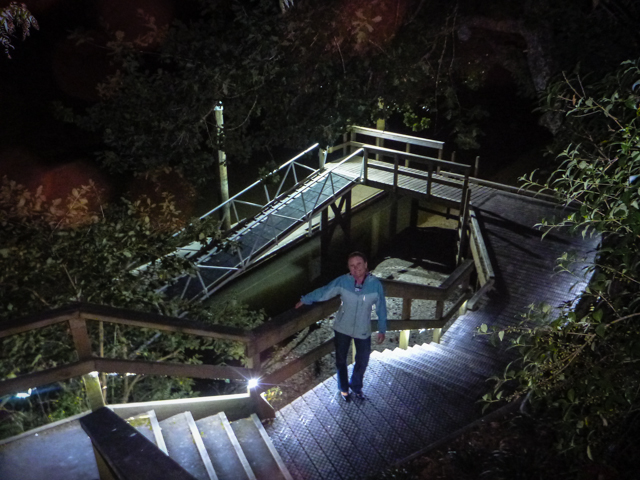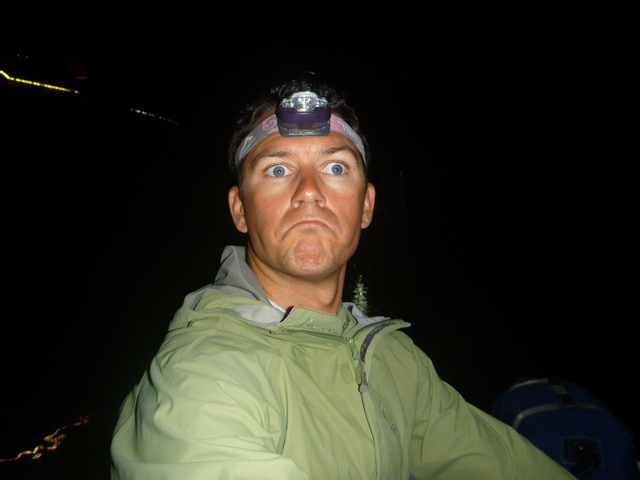 With the fun taken care of it was back to work!  As always, there were a few tiny projects to do before heading back to sea.  For starters, Tayrona's coach deck got gussied up with new Lagoon stickers.  The original ones had suffered fifteen years of sun and were as baked and faded as old hippies at a Woodstock reunion.  We peeled them off with the help of a twelve-volt hair drier then smoothed the flashy new logos on either side of the coach deck.  Bling!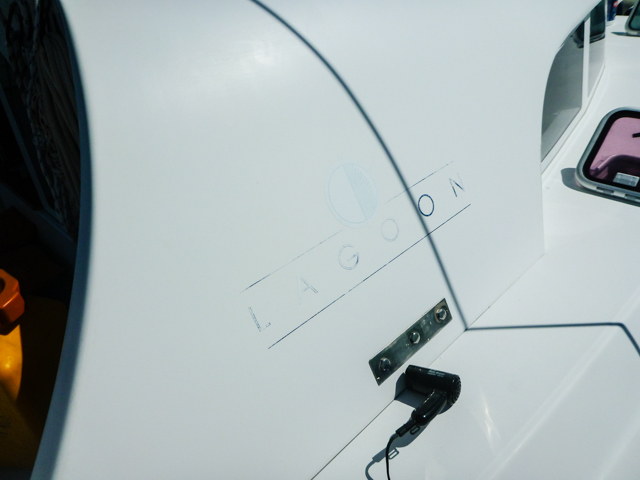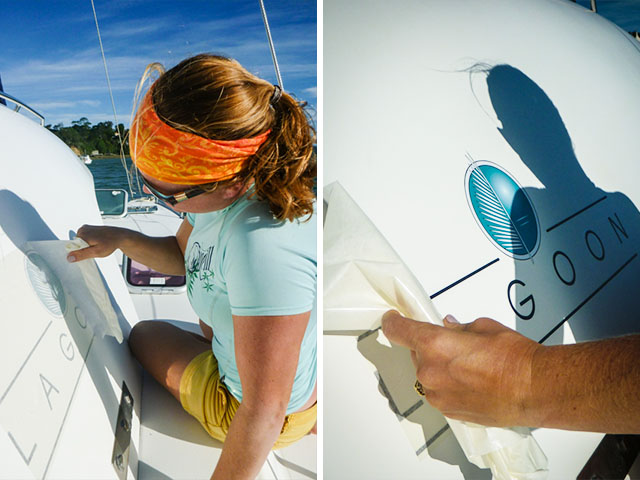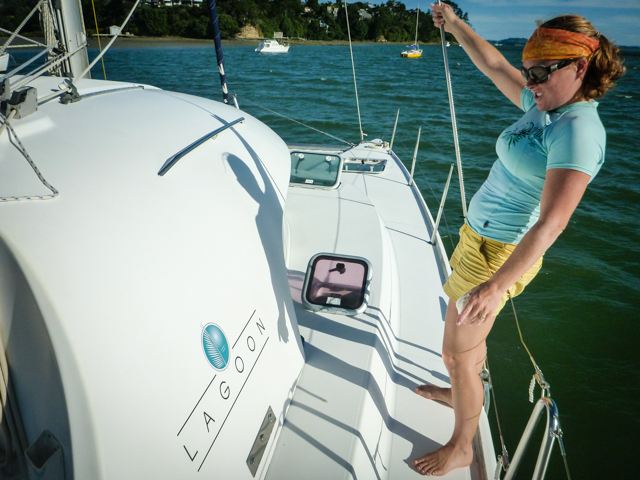 Continuing the glamor work, we decided to polish up Tayrona's shoes.  After a couple weeks of hanging on a mooring in the muddy tributary her undersides took on the complexion of a clinical acne patient.  Sailing with a hull full of barnacles and seaweed is such a drag.  Instead of jumping into the the murky current with snorkel gear we took advantage of the significant tides and dried Tayrona out on the beach next to our mooring.
In a year and a half of sailing across the world it's been our entire focus not  to run the boat into things like land.  It's a new day, it's a new dawn, it's a new life for me.  We woke just before four in the morning to catch the high tide and put ourselves as far up the beach as possible when the tide was full ebb.  Not a ripple marred the water as we dropped our mooring lines and with bleary eyes drove the boat smack into the shore.  Okay, it was much gentler than that.  The previous day I had found the flattest, firmest piece of beach (does that sound inappropriate to you?) upon which to land, and as the wee hours of the morning unfurled we slowly inched Tayrona into the shallows.  I asked Miranda to stand up at the bow with a light.  I'm not sure why… what's she going to say?  "Beach!  Yup, that's the beach!"  I watched the depth gauge drop to 0.7 meters before we came to a barely perceivable stop in the still and silence…  "LAND HO!"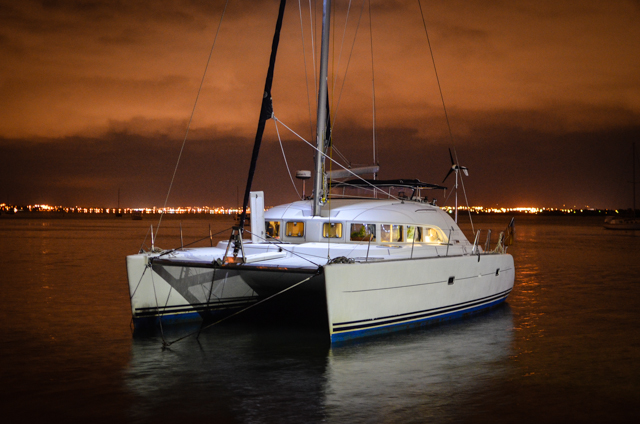 Lagoons are theoretically designed to sit balanced on their keels but we've never actually seen proof of this.  We held our breath for the four hours it took for the tide to cede its buoyant support of her mass to the structural fin keels.  Tayrona swayed a bit to find just the right spot and settled a few inches into the sand, but did refrain from rolling over to have her belly scratched.  I dug pits under the rudders to make sure they weren't taking weight, and then we started scraping barnacles!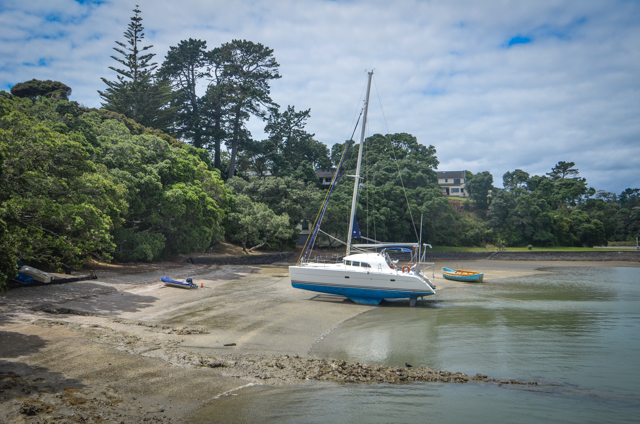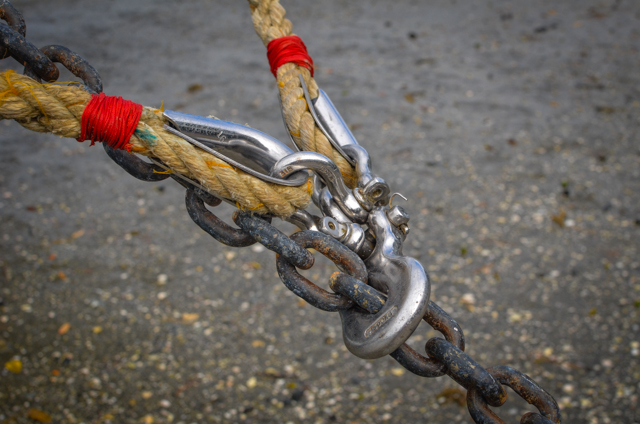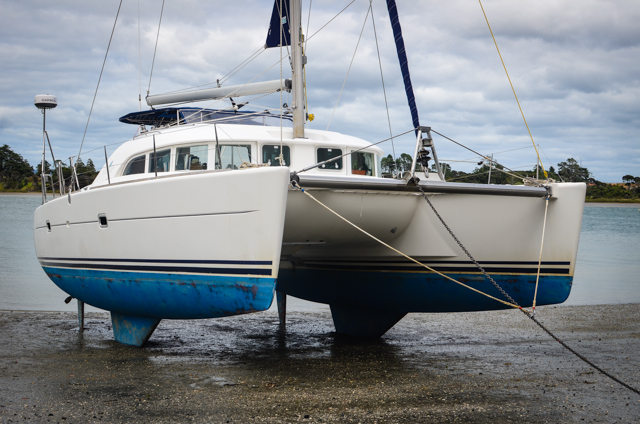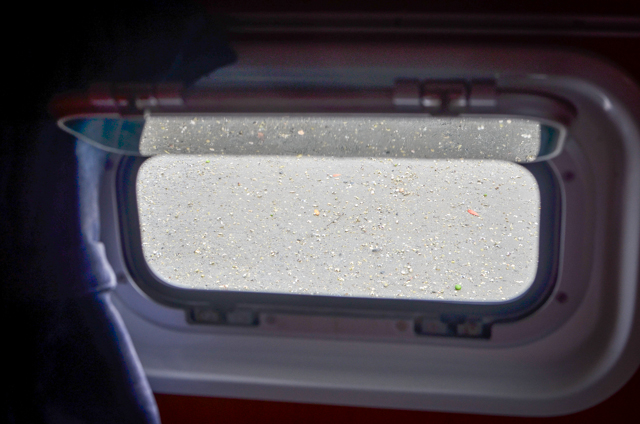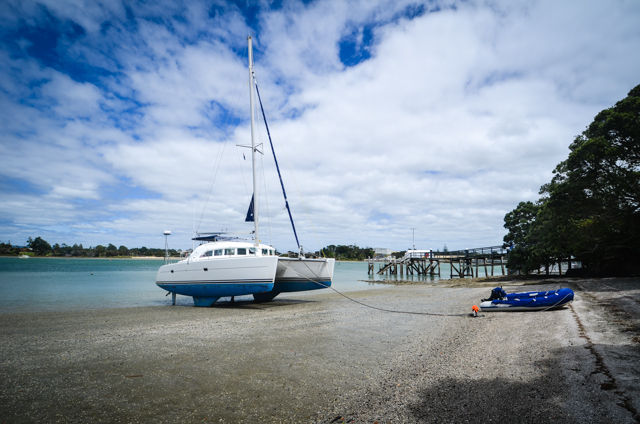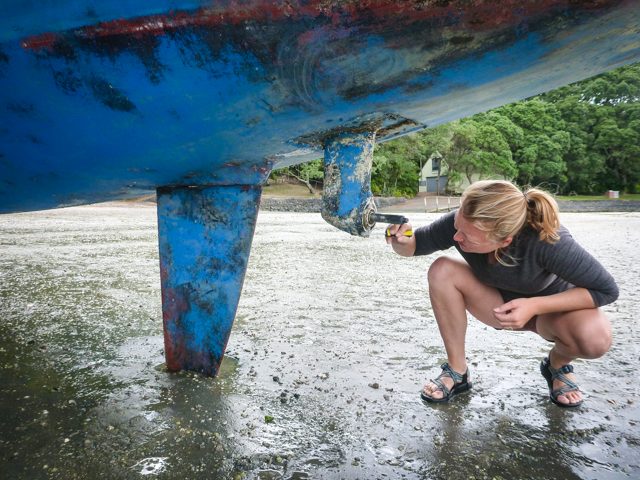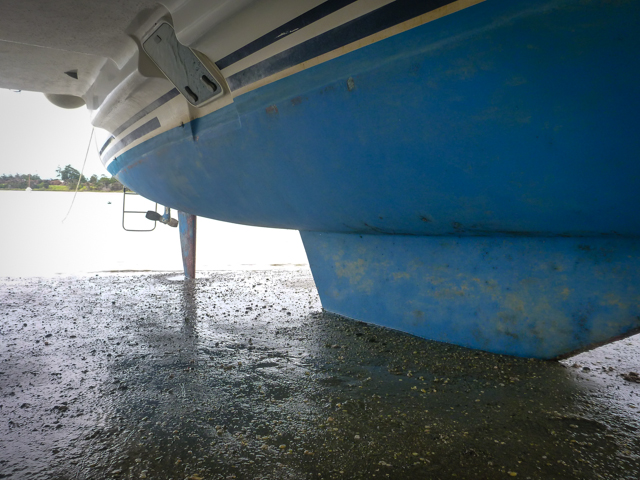 We also took advantage of the exposed sail drives to replace the zinc anodes.  Zincs are sacrificial metal pieces that are designed to corrode in the nauseatingly harsh marine environment so the rest of your boat doesn't.  You do have to replace them as they erode, however.  For some reason, these zincs were engineered to sit behind the propellers, so I had to remove both in the replacement process.  New zincs and clean props for Tay-Tay!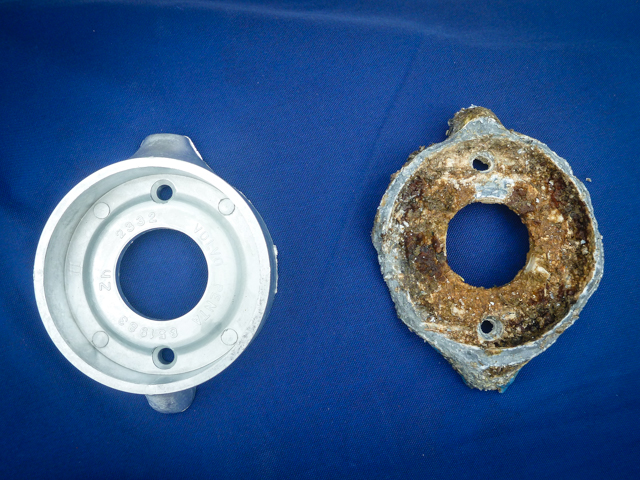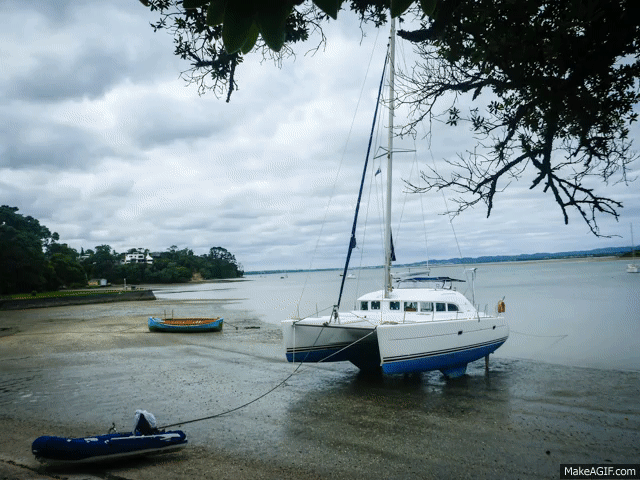 In our day of bottom-side buffing we were cheered along by local friends Rebecca, Angela, and Tanya, who lived around Beach Haven and were kind enough to share their beach with us!