Author: Miranda
On February 1st of 2014, Pete and I, along with seventy of our gringo friends and family, were part of the greatest party that I have yet seen.  We got hitched in Cartagena, Colombia.
We actually argued for many months on the location of our wedding.  Being what I'd like to think of as a simple, downhome girl from Wisconsin, my main priorities were lots of friends, lots of family, plenty of beer, and a rip-roaring good time in a someone's old barn.
Pete thought differently though.  He was adamant that we get married in a location that was meaningful for us.  I also remember him saying, "but Miranda, we have this crazy travel-filled life, we need to have a crazy, out-of-the-ordinary wedding."  In the end he was spot-on.  Our relationship began in one of the most beautiful cities this side of the prime meridian, and what better location to get married.
What did me in were two factors.  One selfish, and one not… as…  selfish, I suppose.  First, the pictures!  When things looked they were at a stalemate, Pete pulled from his sleeve his last remaining ace, and found wedding pictures from Cartagena, and I was immediately ooh-ing and ah-ing.  The photos we could take in the old city, up on the 16th century walls, on carriages winding through cobblestone streets, the sunsets, the lighting… I was starting to lose my nerve.
The second, and real reason for my eventual concession was the opportunity to share our passion for a life on the road less traveled with those whom we love most in this world.  We absolutely adore our expat life that we've created, but deep down I always harbor some insecurity that no one back home really has any idea WHY the hell we'd do this.  Our wedding could be the perfect opportunity to share not only our decision to spend the rest of our lives together, but also share a piece of ourselves with our loved ones.
The third, honorable mention, reason for jumping on the destination wedding bandwagon was simply the amount of time you get to spend with your guests.  Instead of just one day, we had an entire week of festivities!
Tuesday was everyone's initiation to latin culture by way of salsa lessons.
Started with a late lunch at an Argentinian Steakhouse.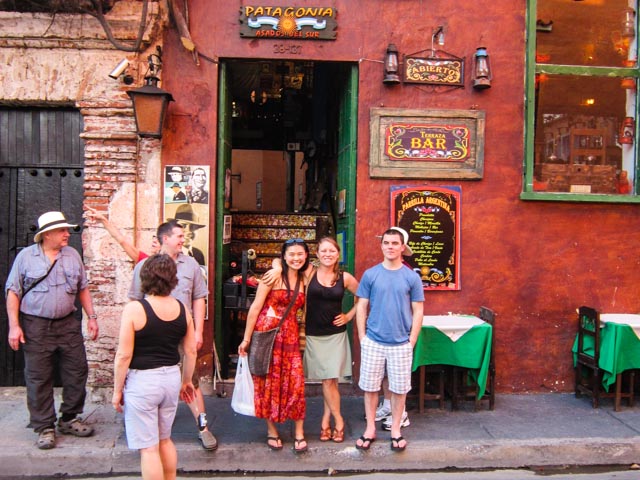 Most were fairly tired from early flights, but they rallied well, and we headed to the Getsemani neighborhood for our lessons.
I was told the instructors would speak English, which didn't turn out to be true, but my gringos were just fine without it.  Hard to be mad at these two adorable Costeños.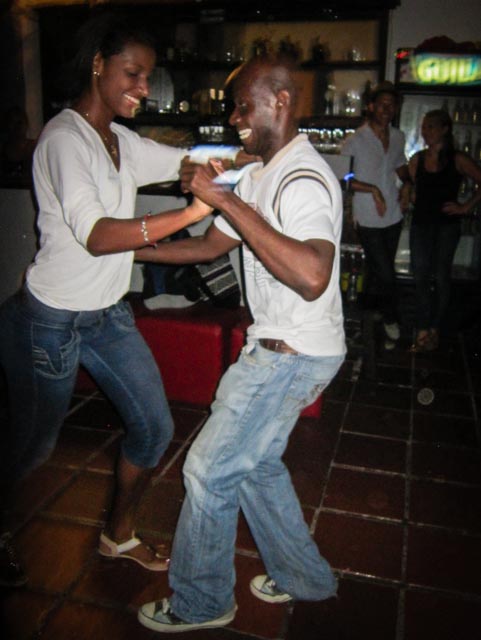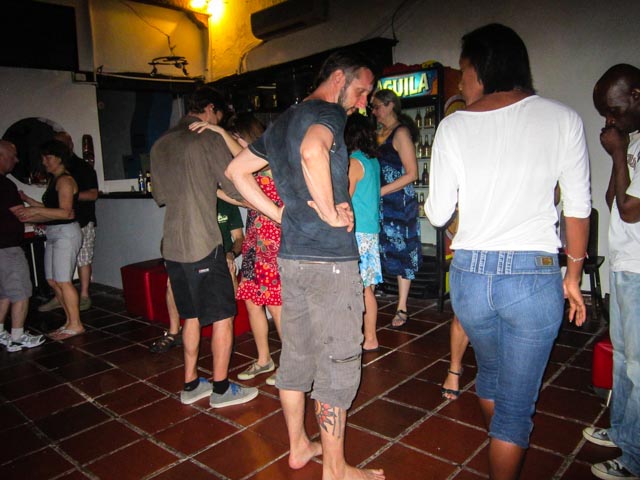 We organized a party bus, called a Chiva, for Wednesday night.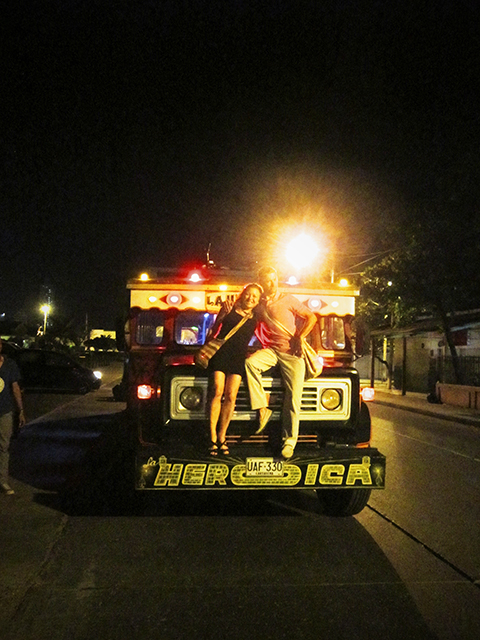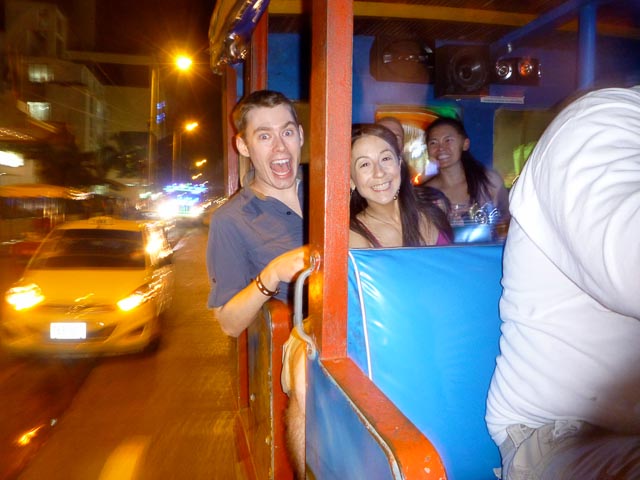 Complete with live band and free rum!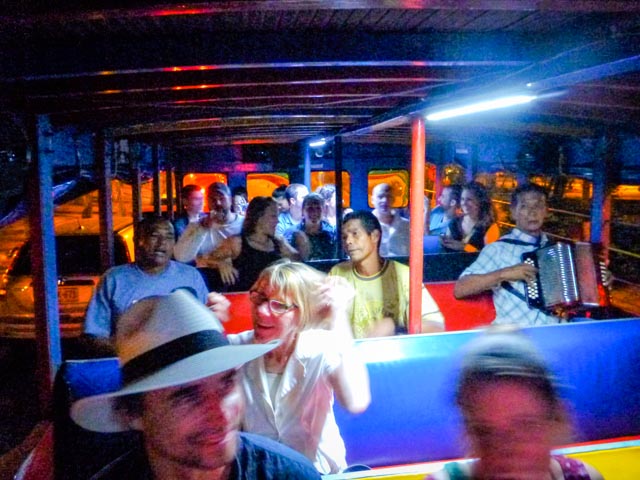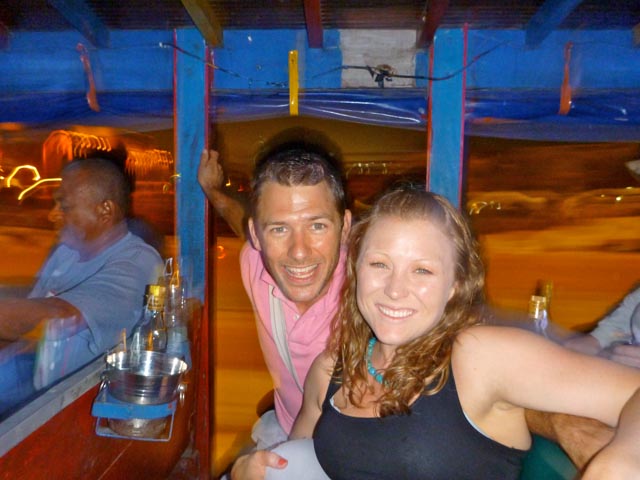 A trip to Playa Blanca and the Rosario Islands on Thursday, along with our Bachelor and Bachelorette parties that same evening.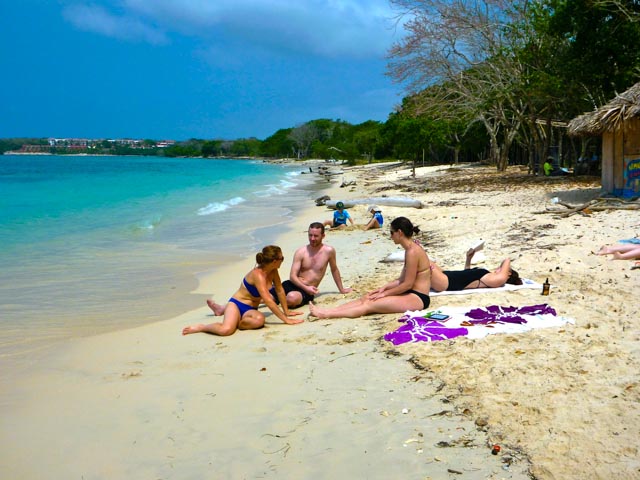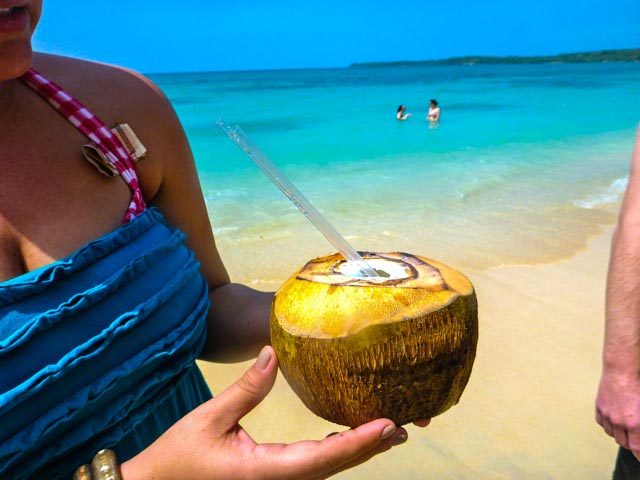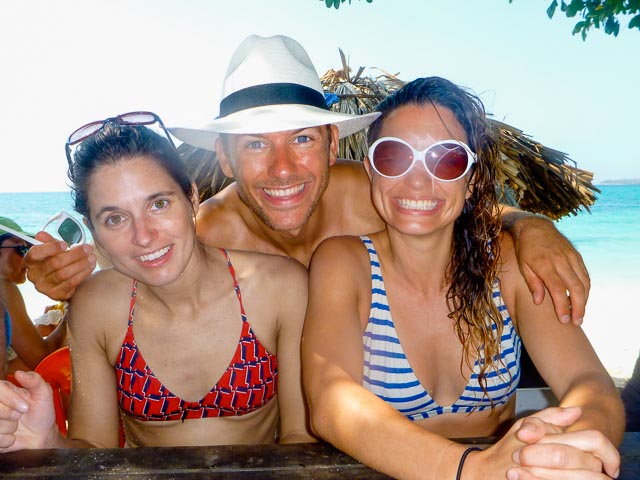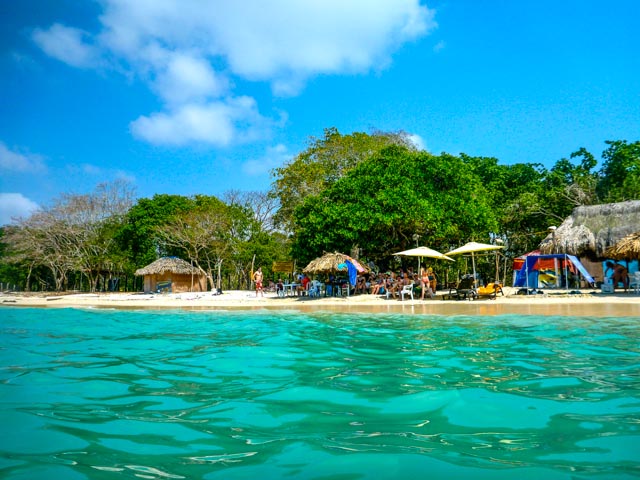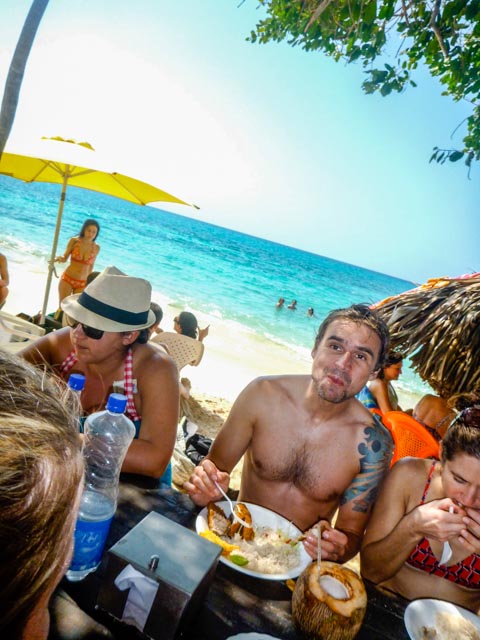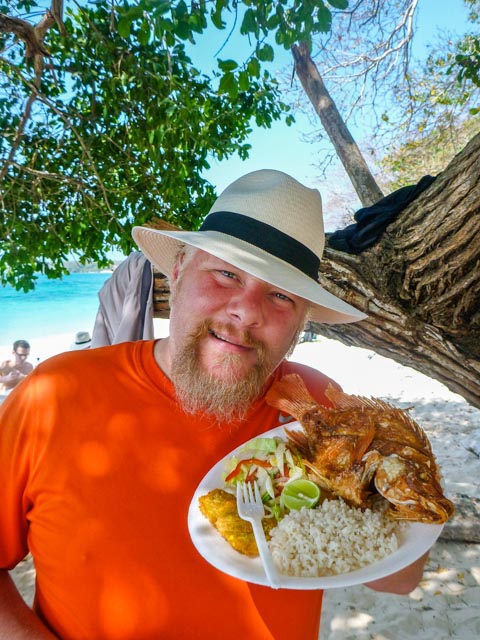 Our last pic before parting for the bachelor and bachelorette parties: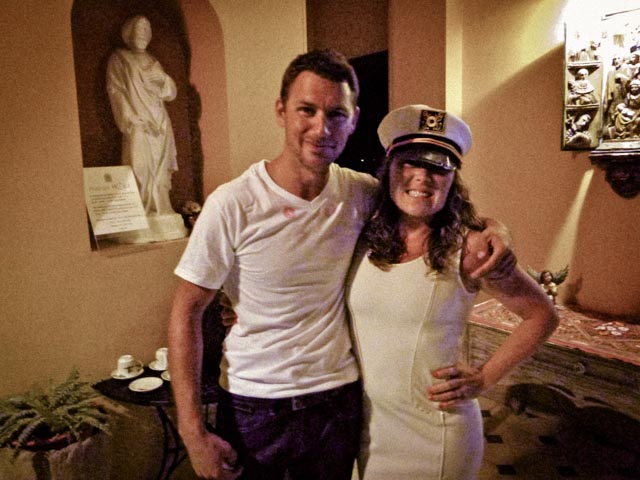 On Friday, we rented a coach bus to take our guests to the Castillo San Felipe and La Popa, two of the major sites in Cartagena proper.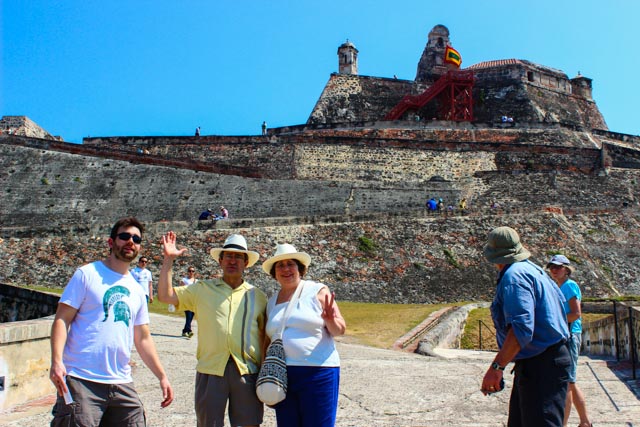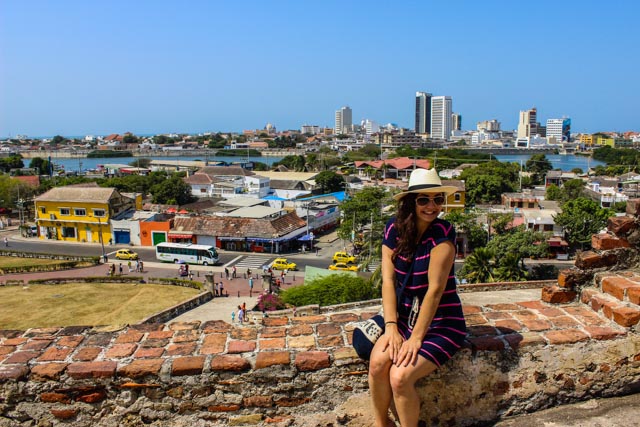 Our rehearsal dinner, on Friday evening, was open for all to attend, which made for one big group!  The views were killer, atop the walls, at Casa de Cerveza.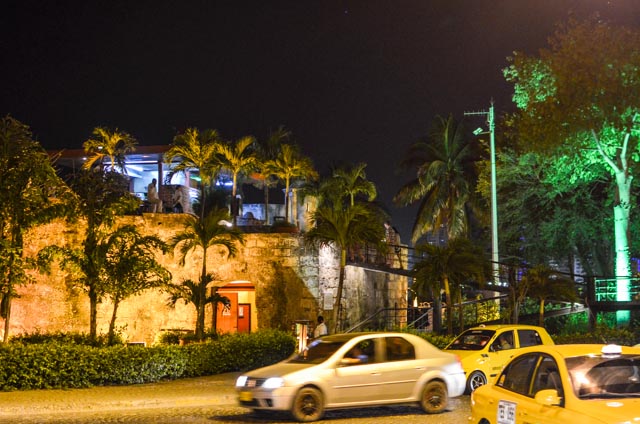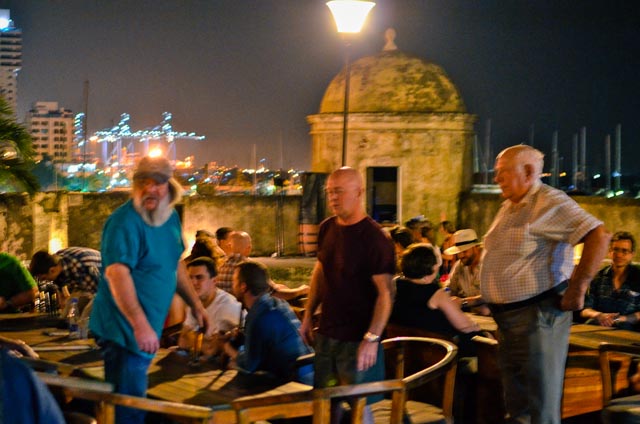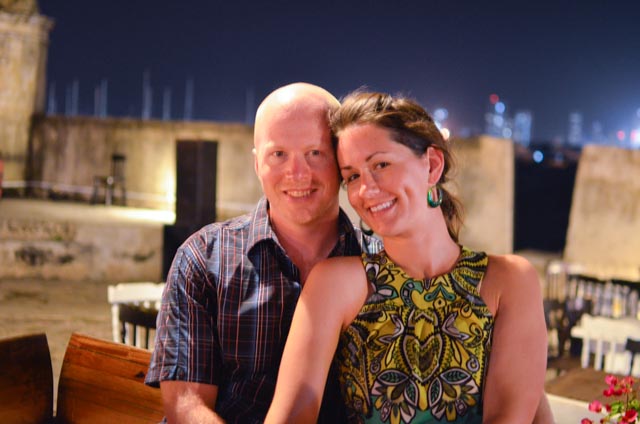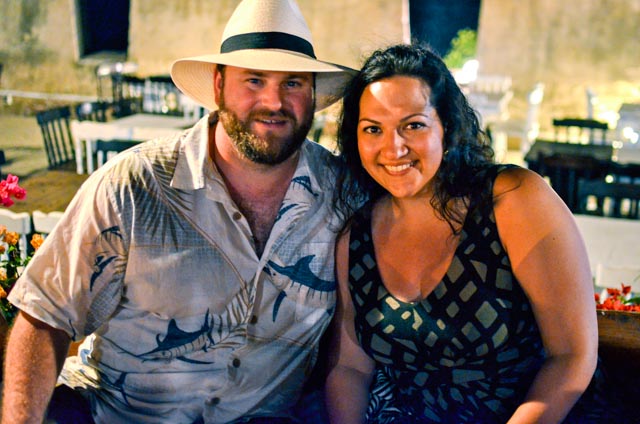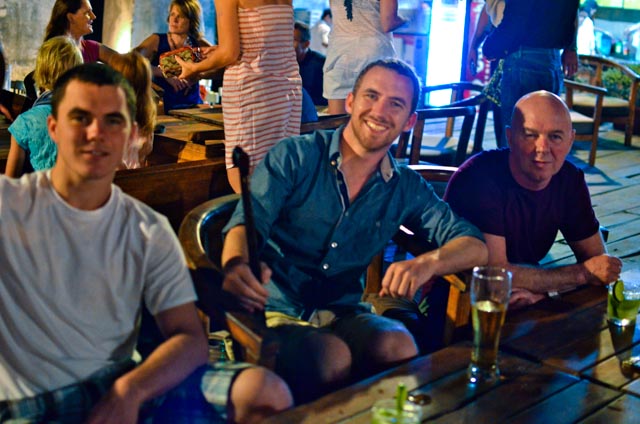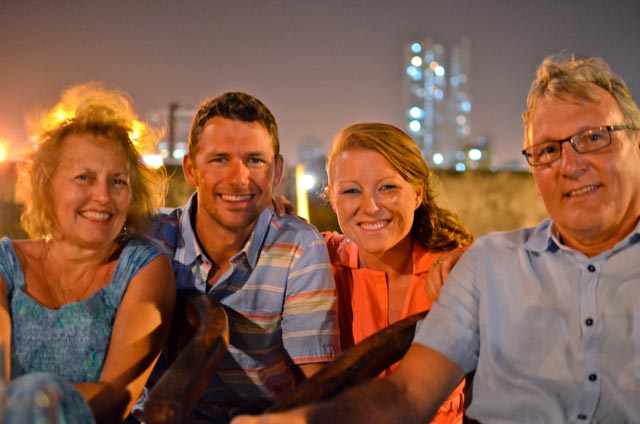 Saturday was the big day.  Along with our wedding party and our parents, we moved from our hotels to Casa Estrella, a stunning colonial house with antique decorations, loads of space, and a central courtyard big enough for the dinner, dancing, and possible jump in the pool if enough libations were had.  Here is Casa Estrella: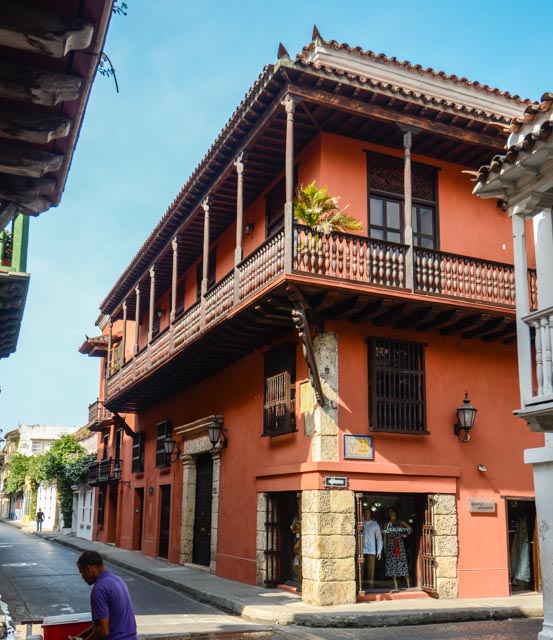 Pete and I both got ready in the house, him with his favorite boys, and me with my very special ladies.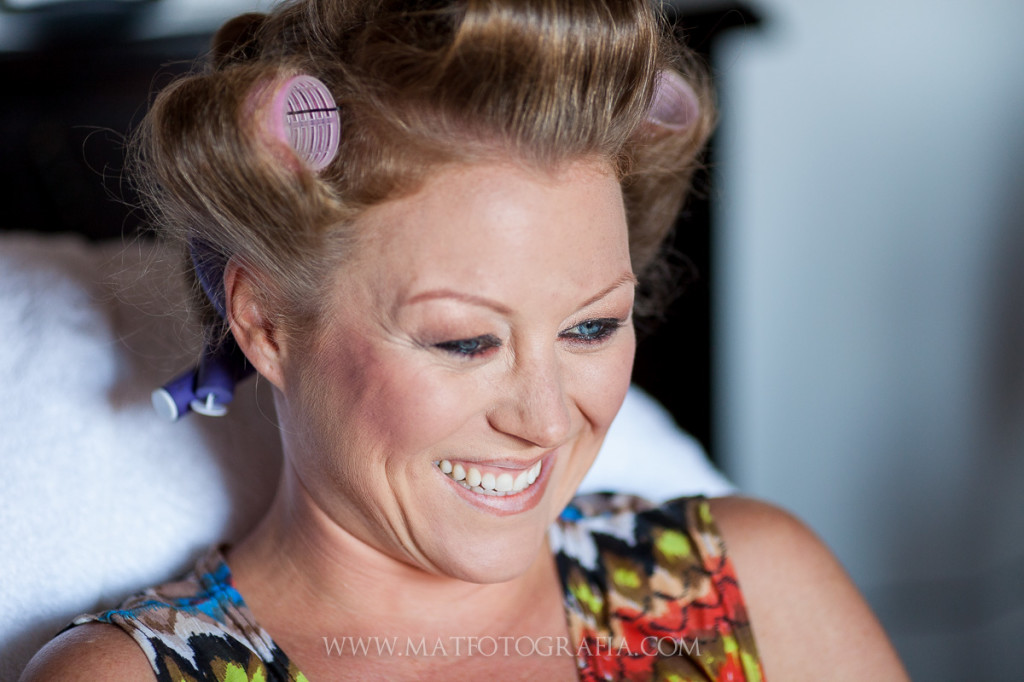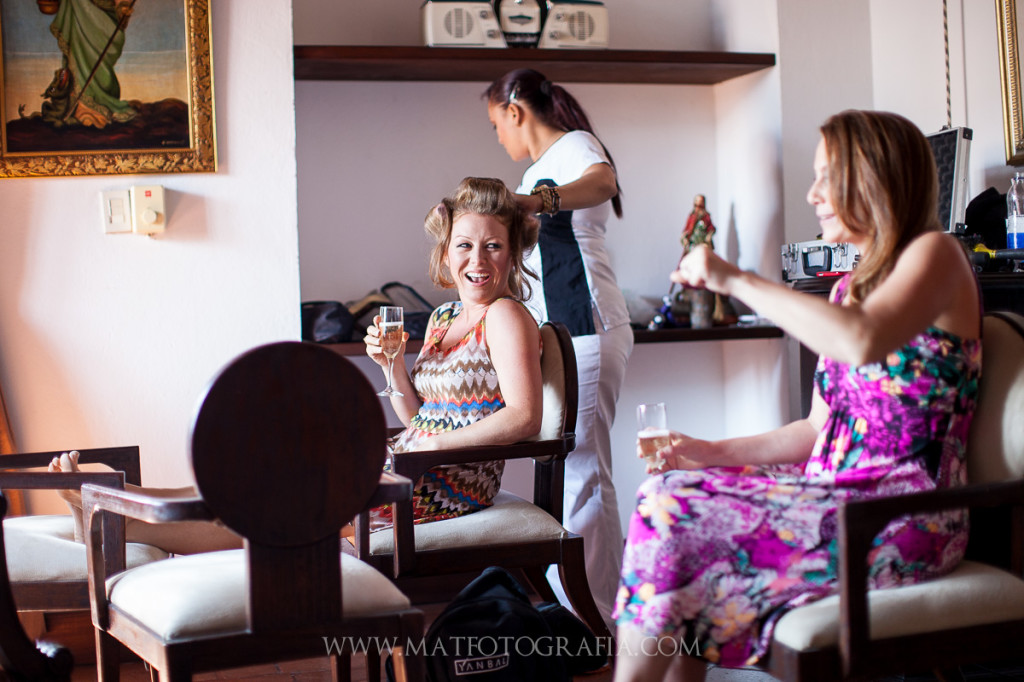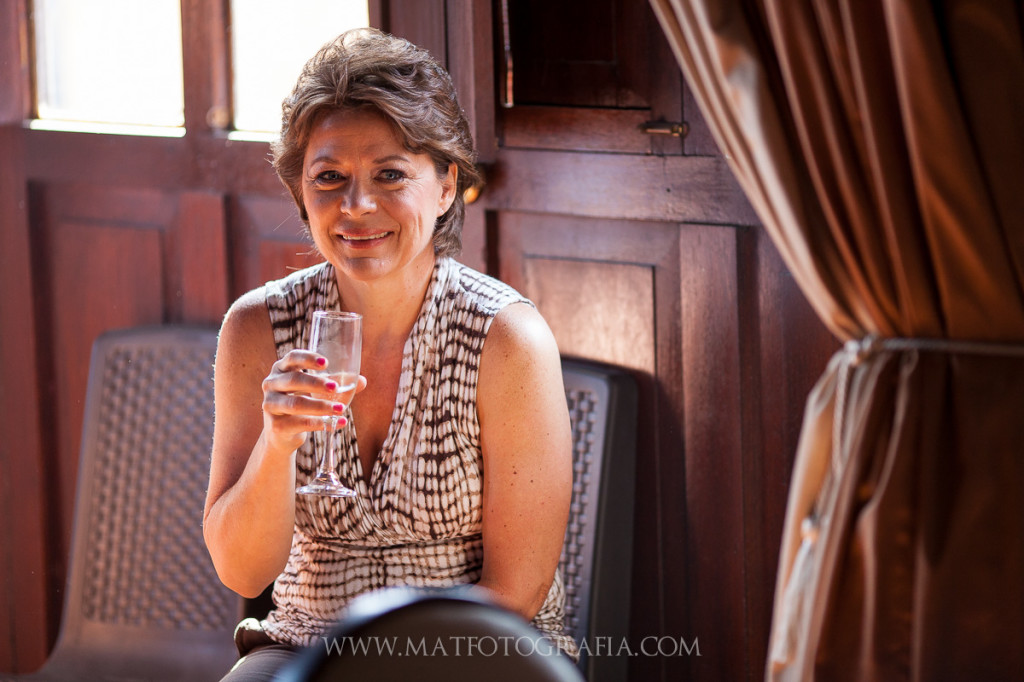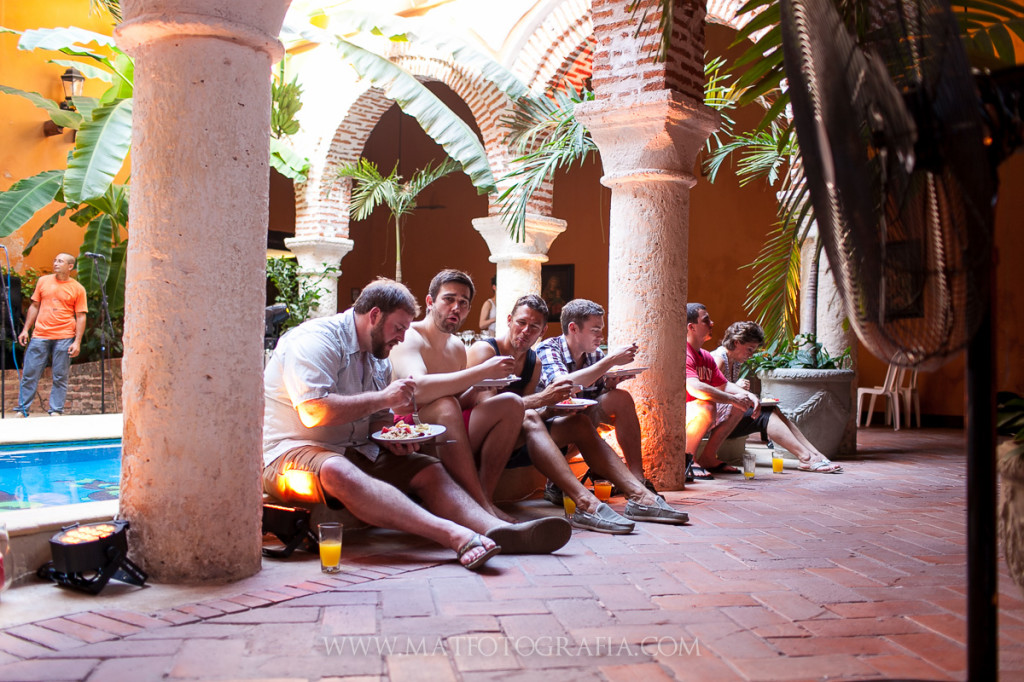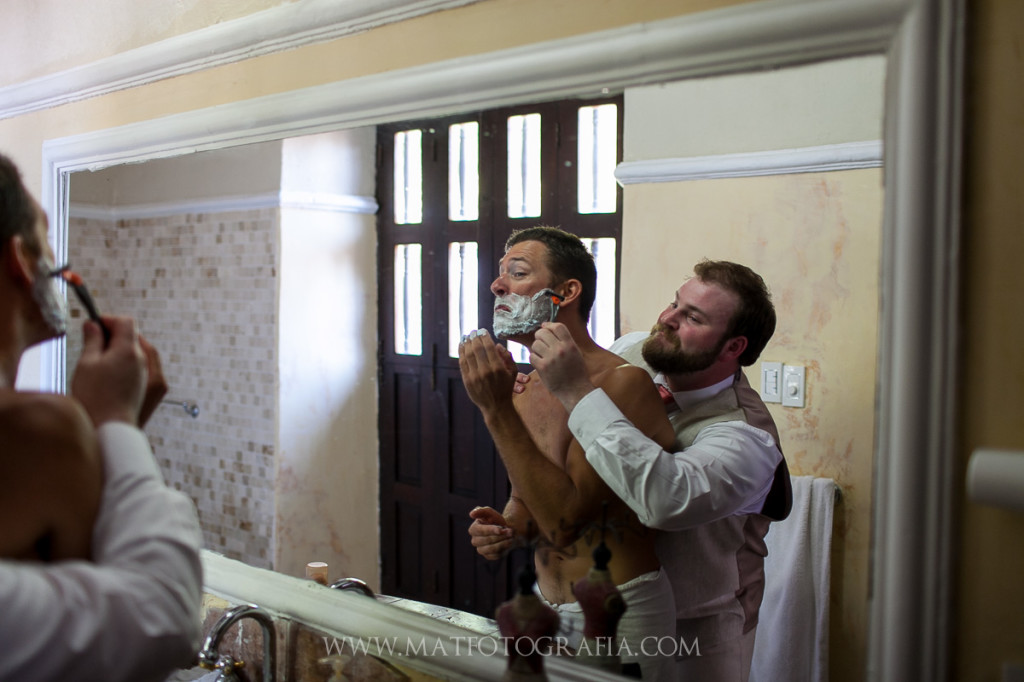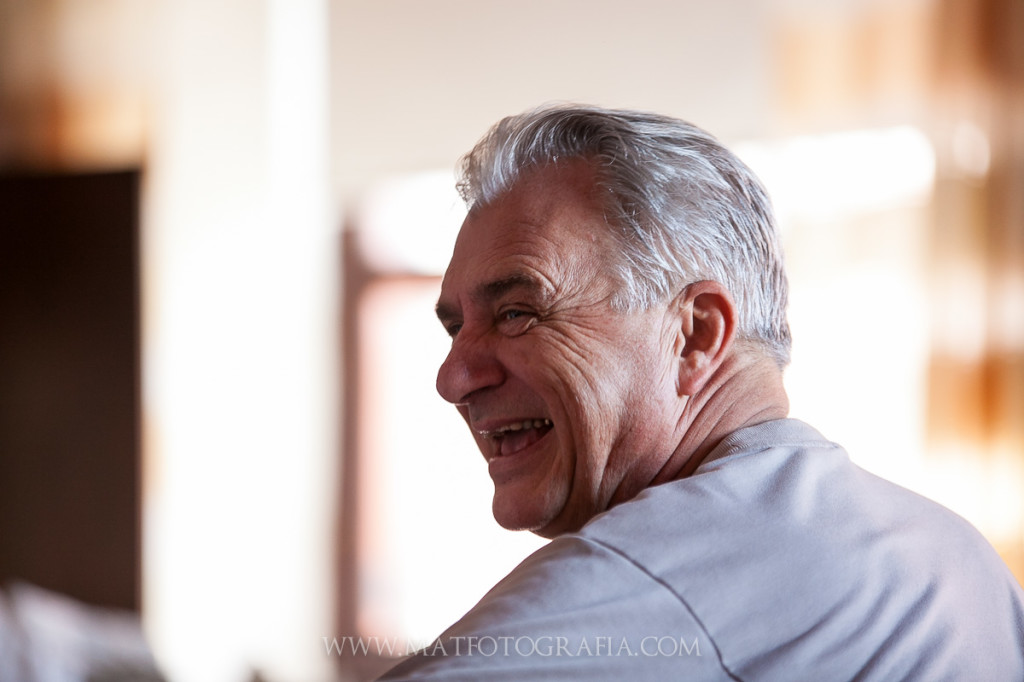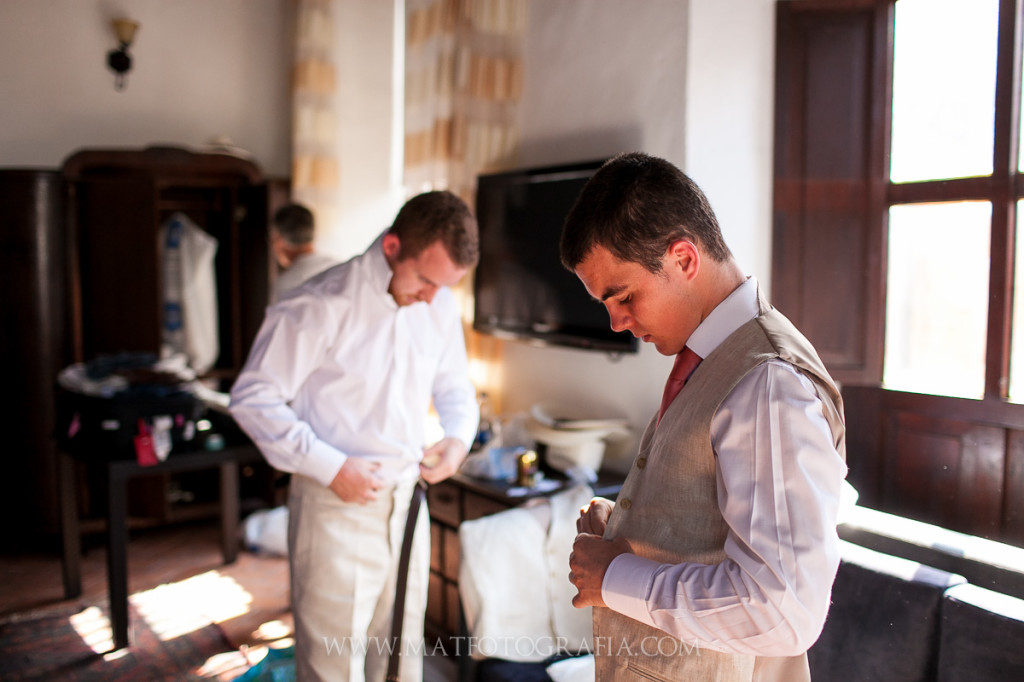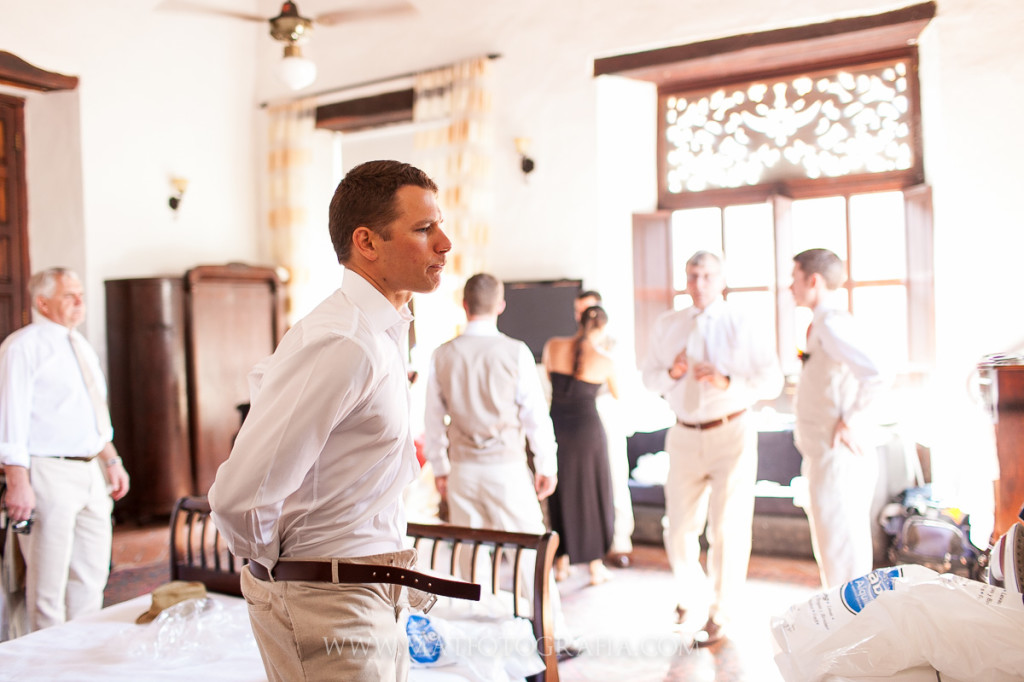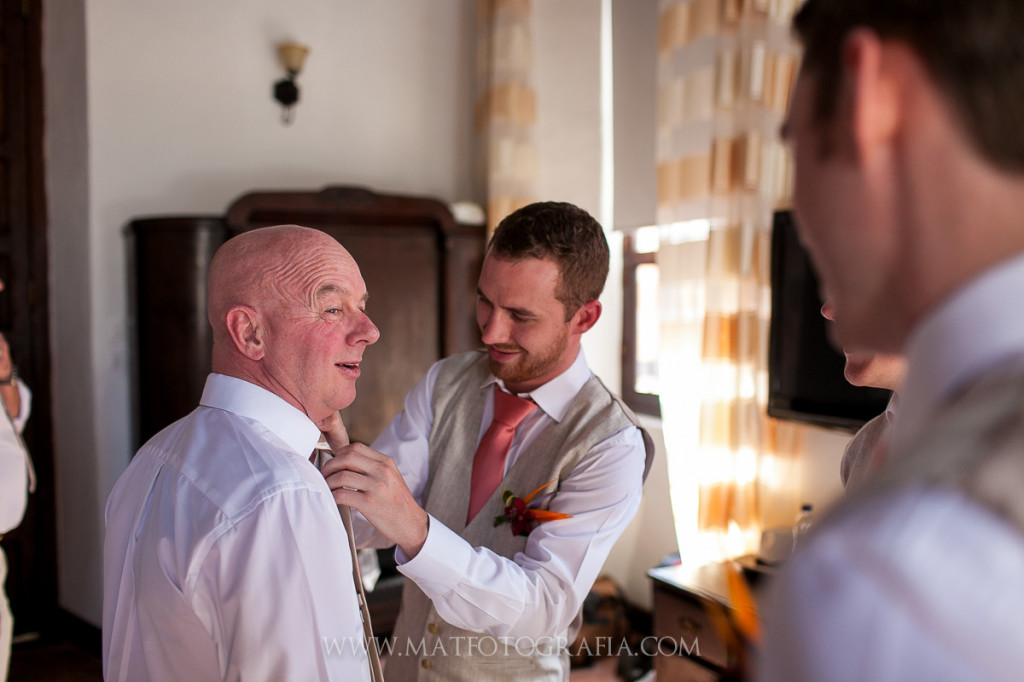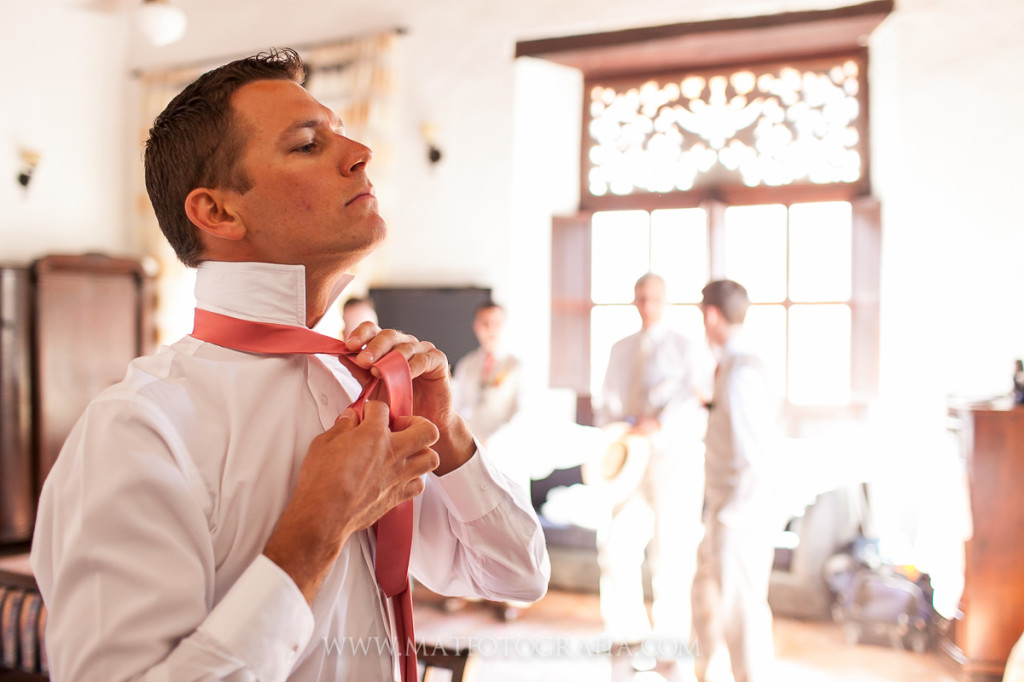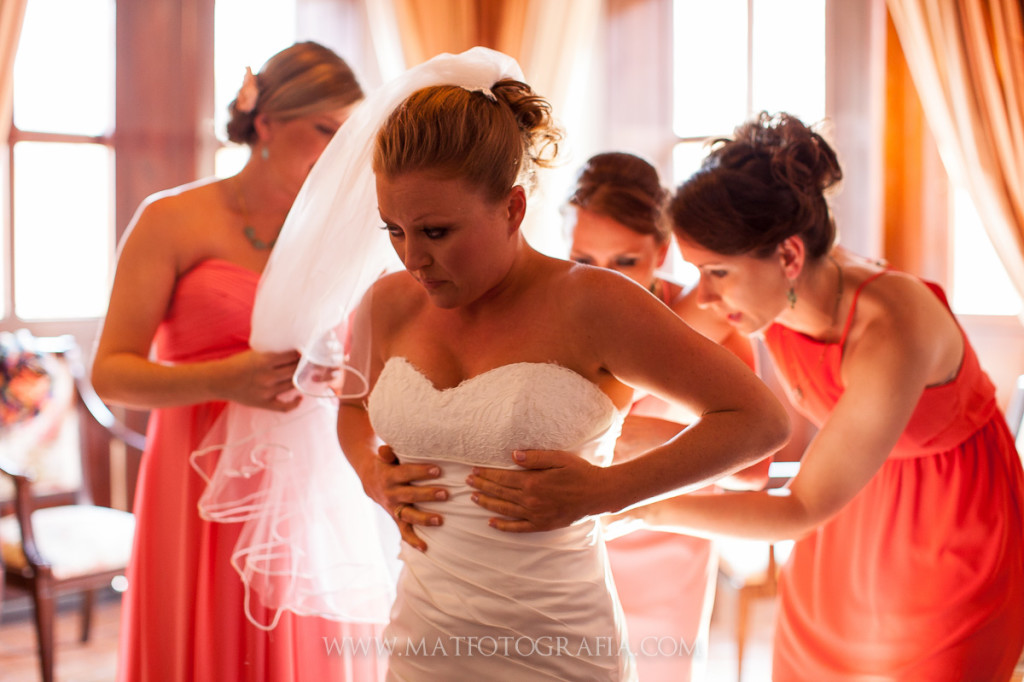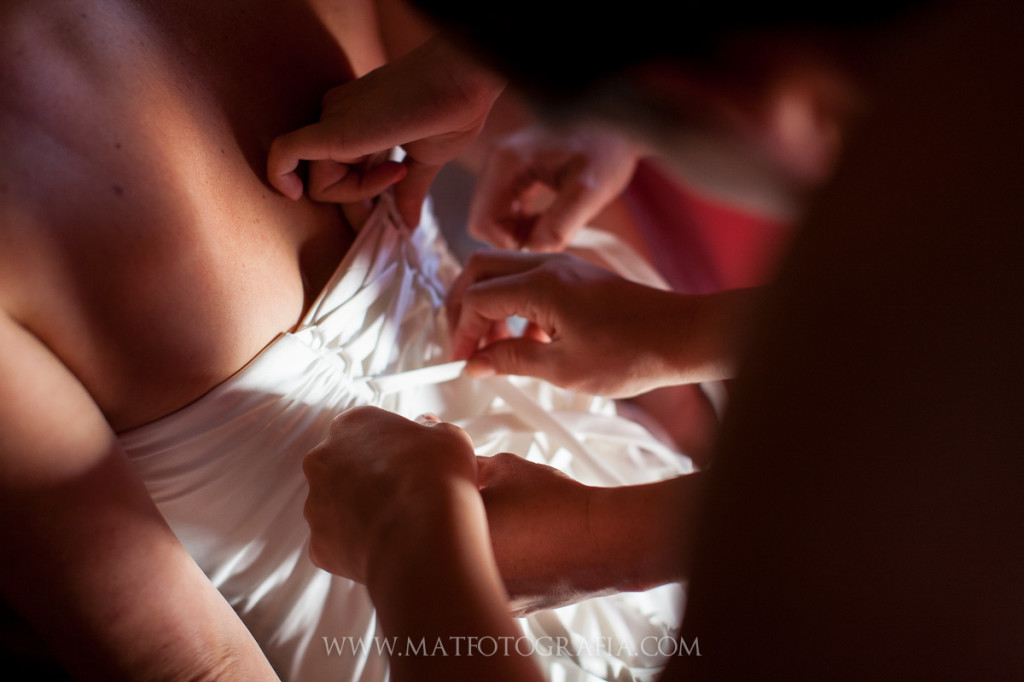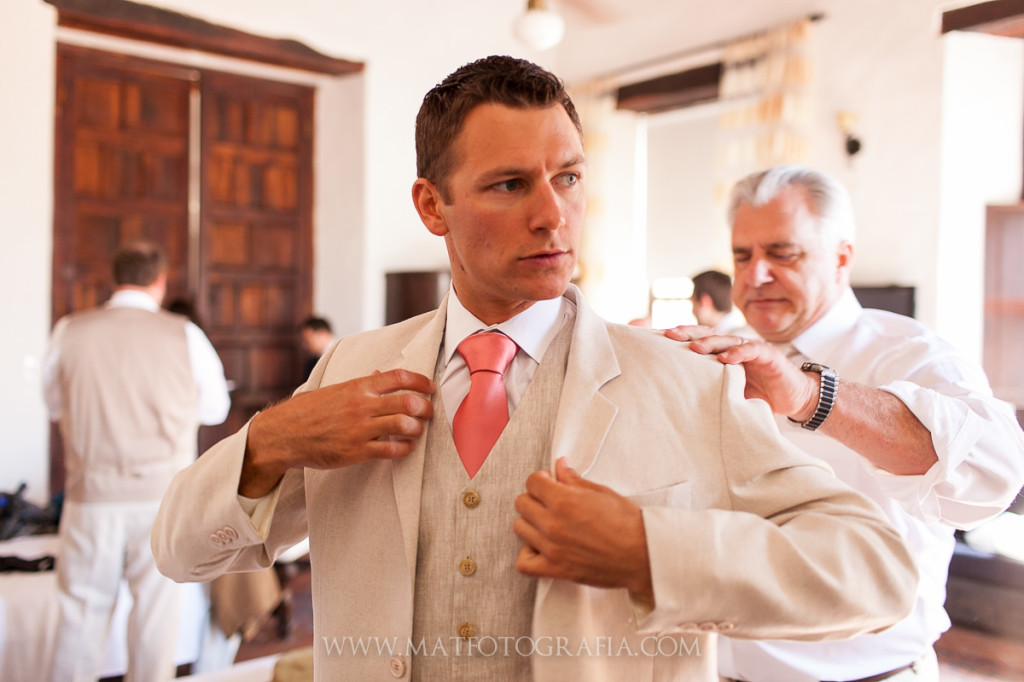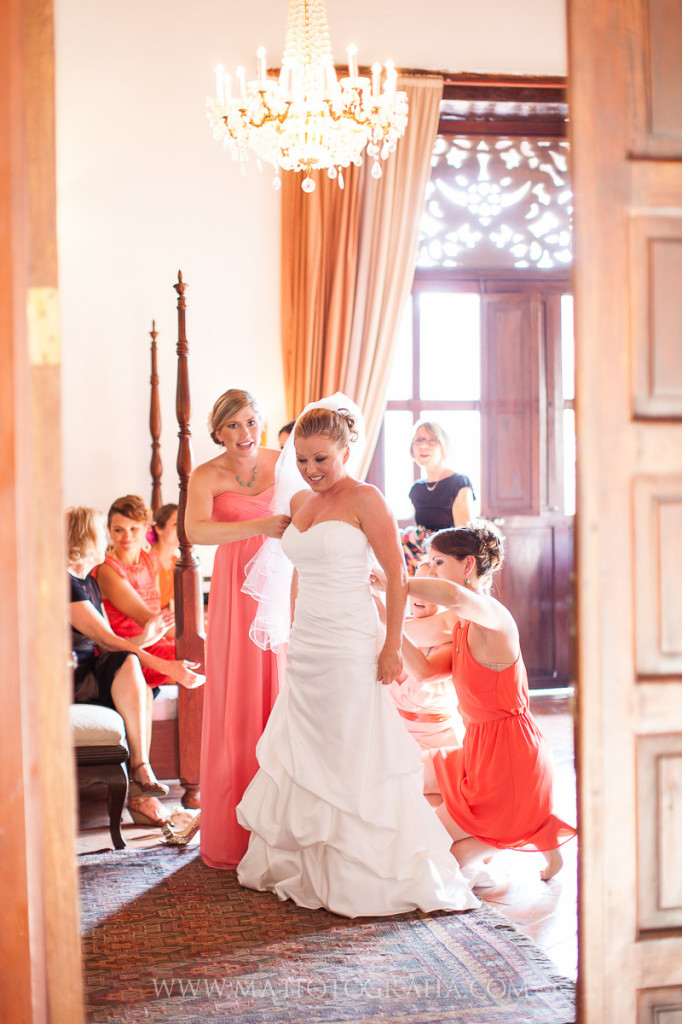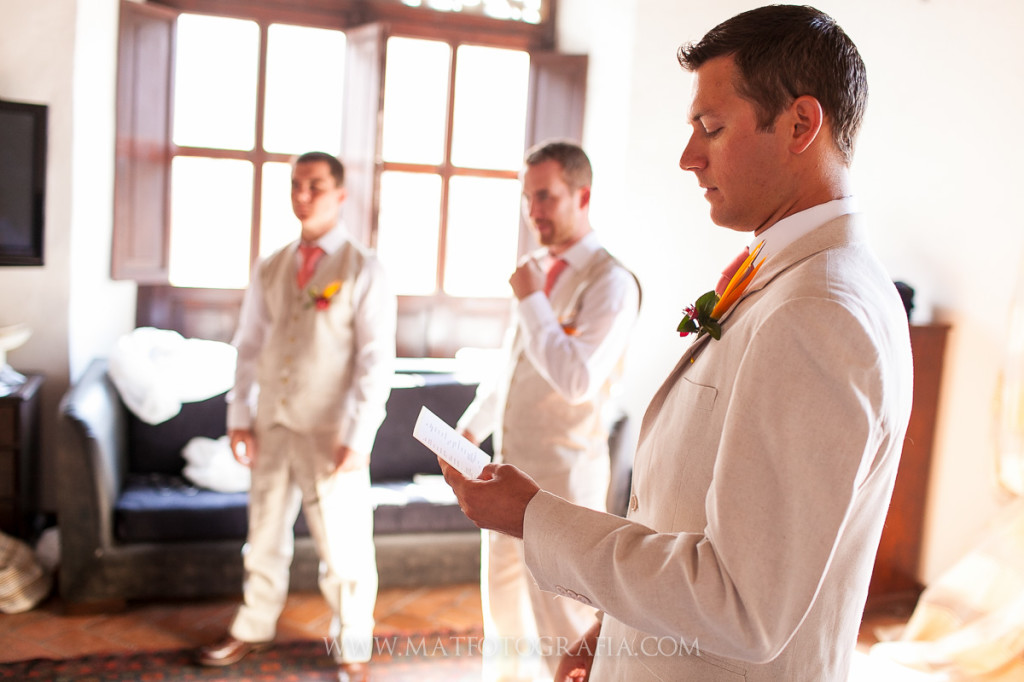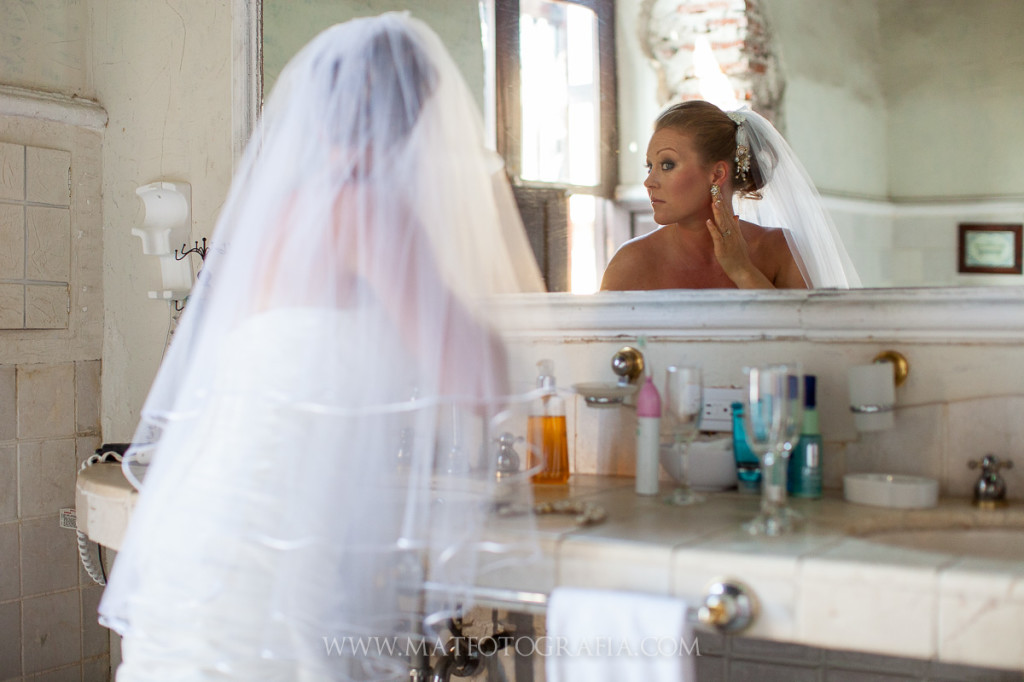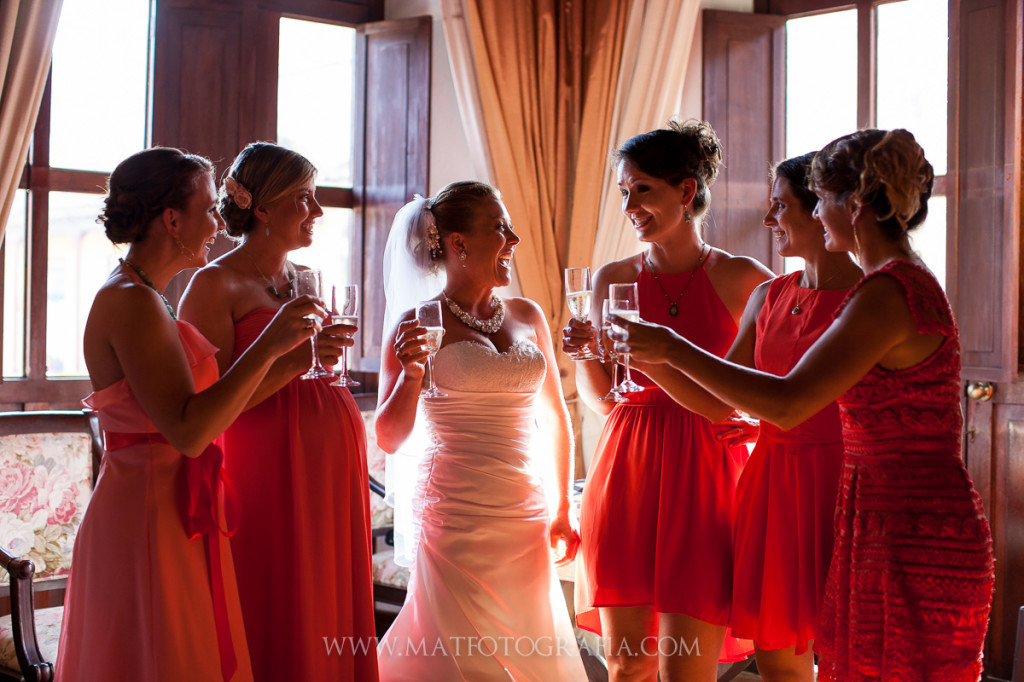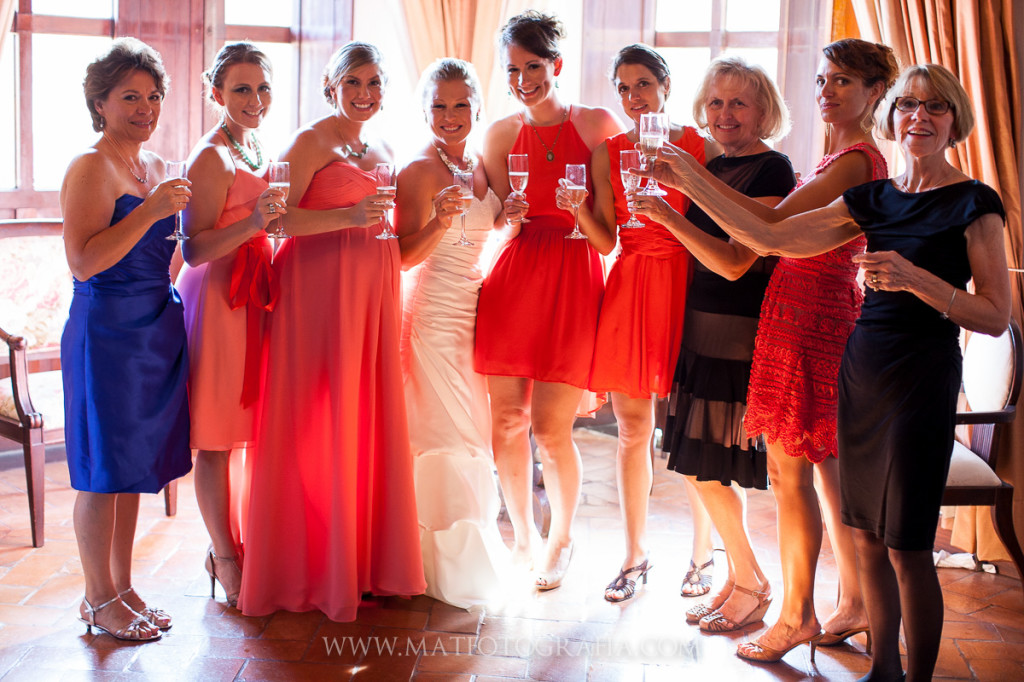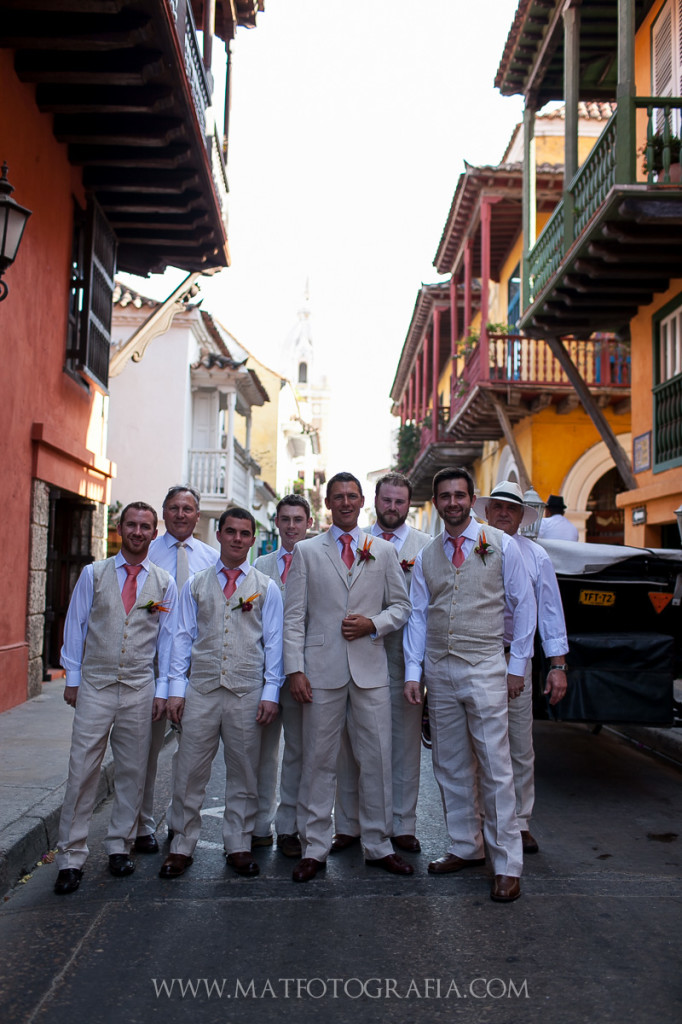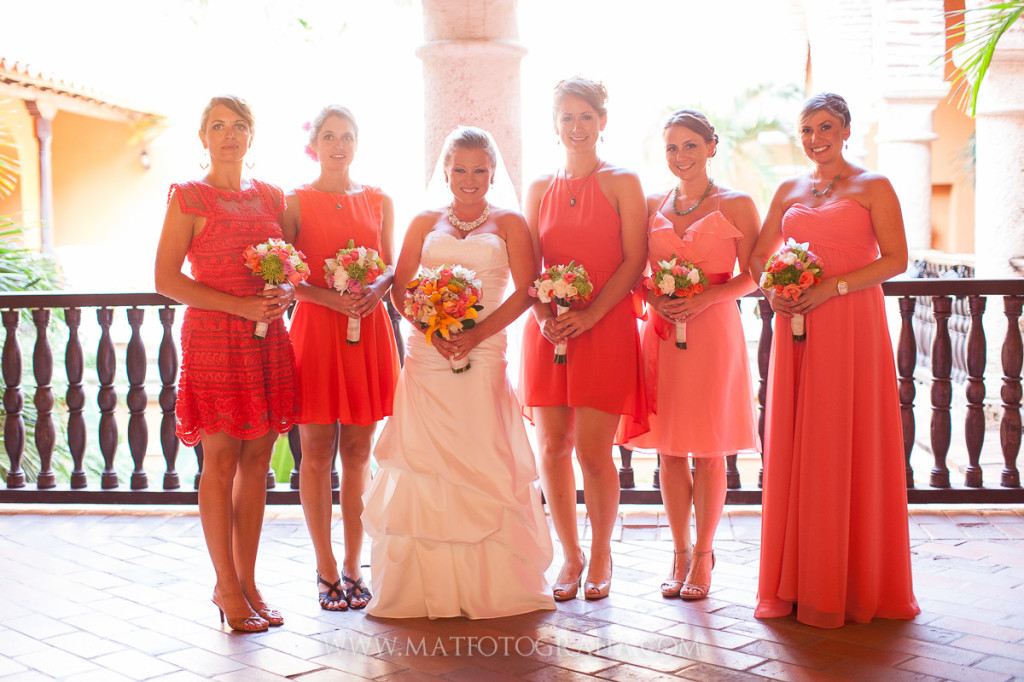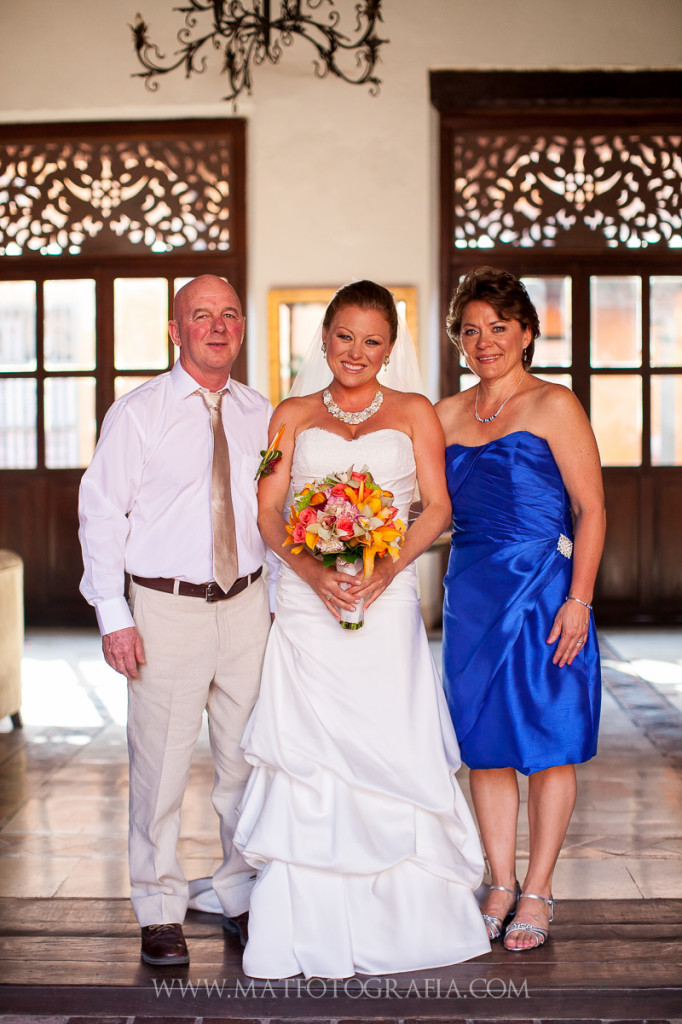 Our ceremony took place at on the roof-top of Hotel Movich, which was just down the street from Casa Estrella.  The boys walked stud-ly down the street, and I was taken by carriage with my Pops.  It was a quick, but touching ceremony, and my always stoic aunt came up to me after and said, "I even cried."  Being hilarious because aunt Patti never cries… and even she knows that's a big deal.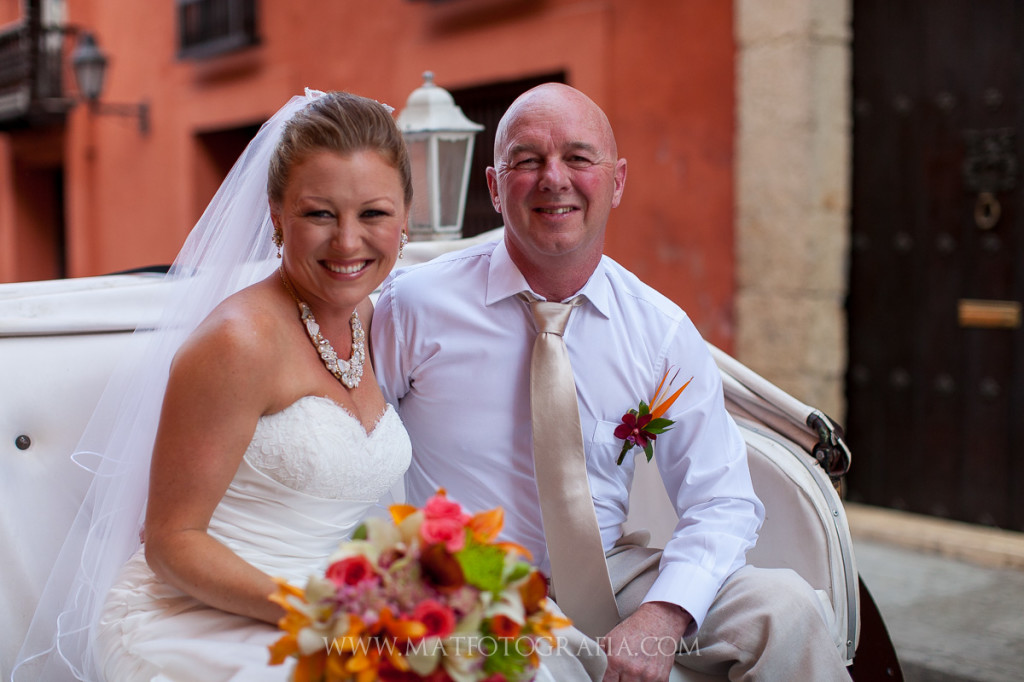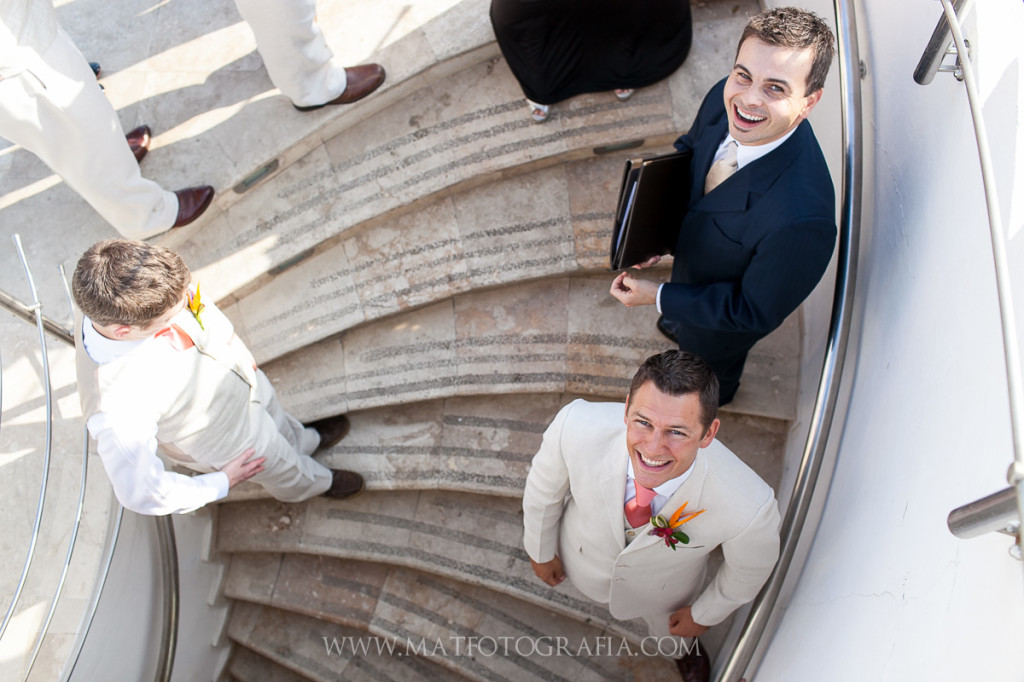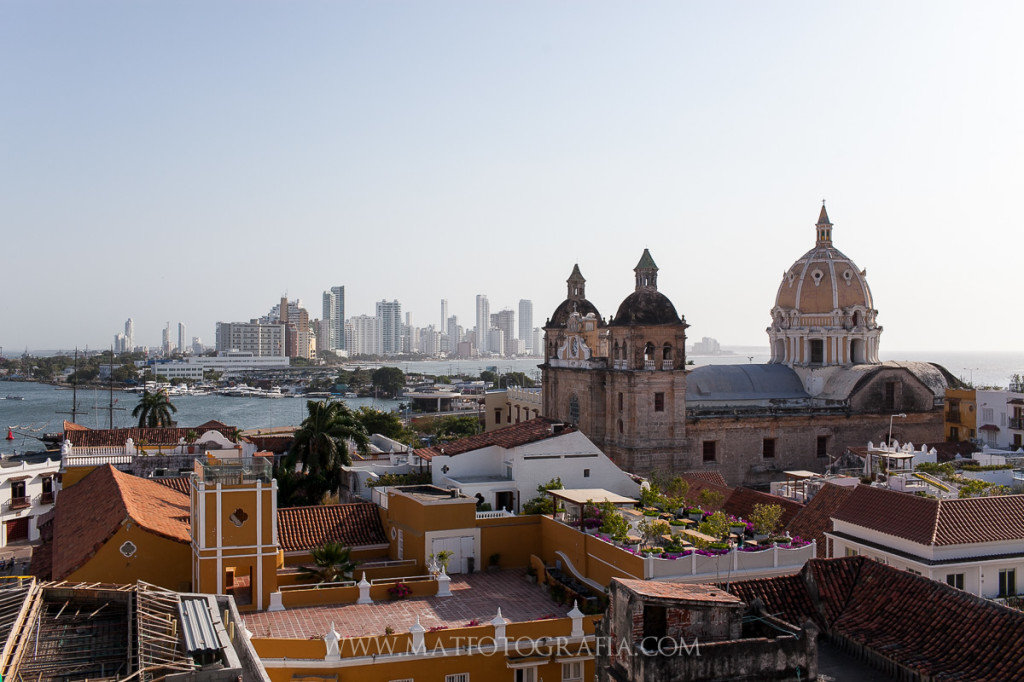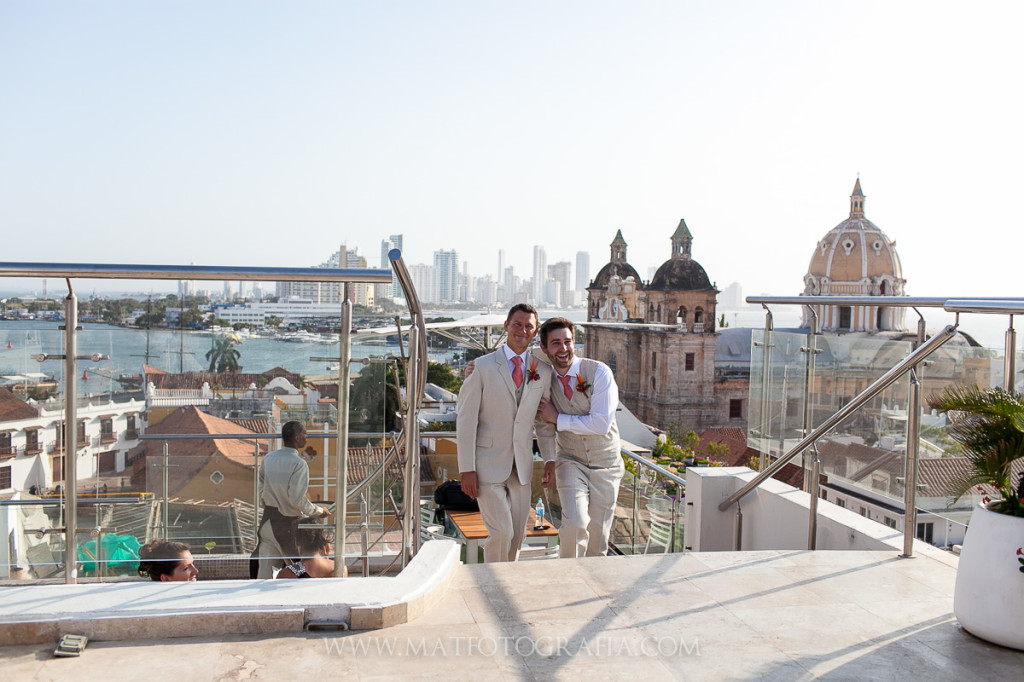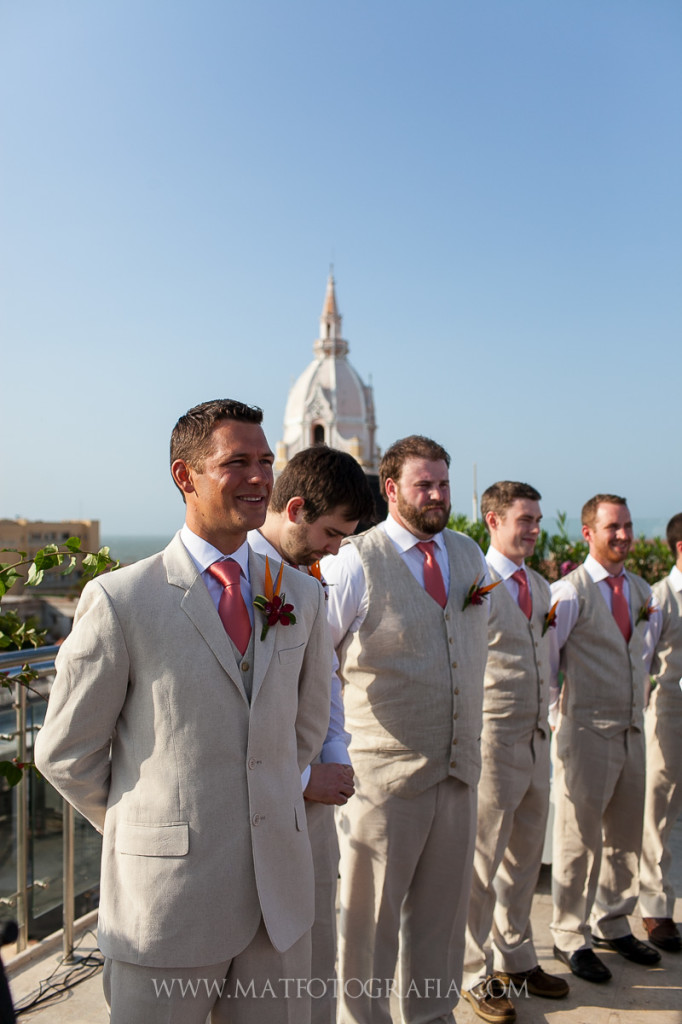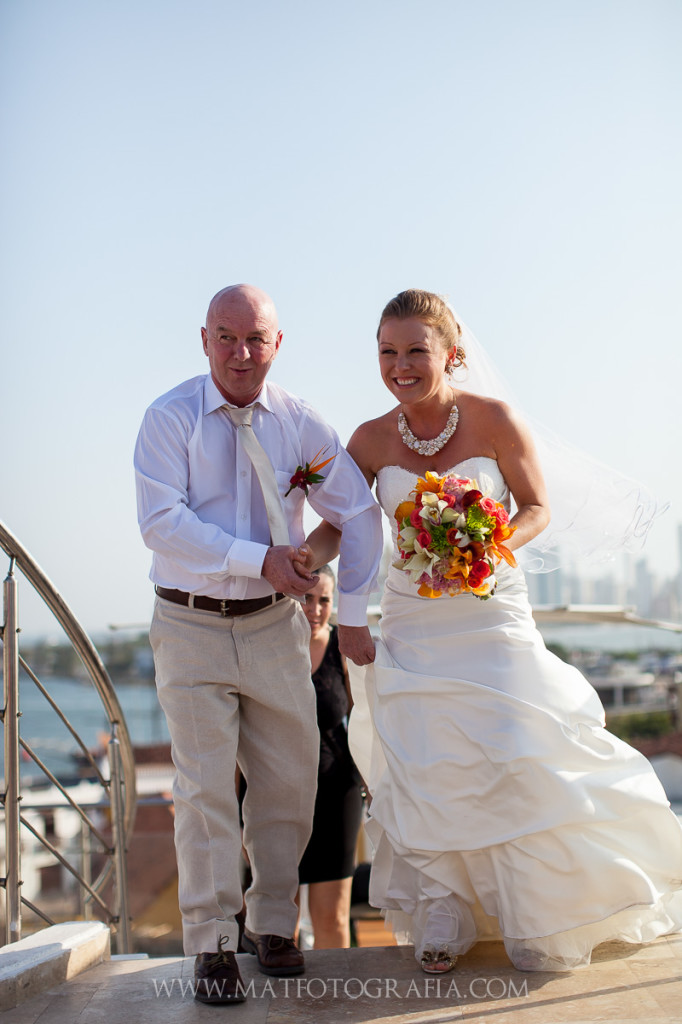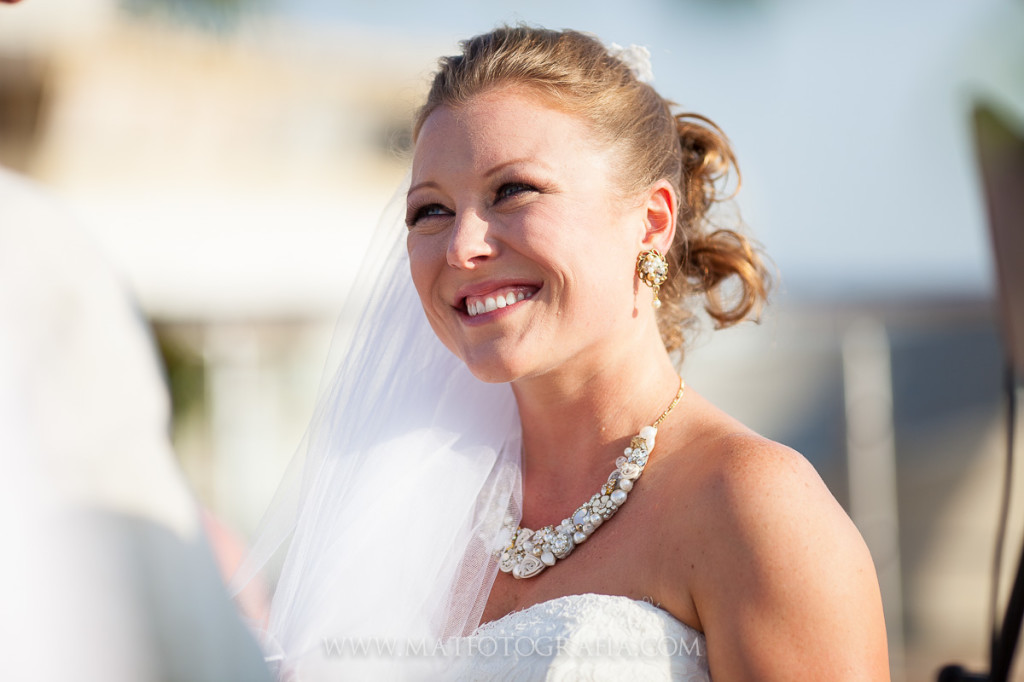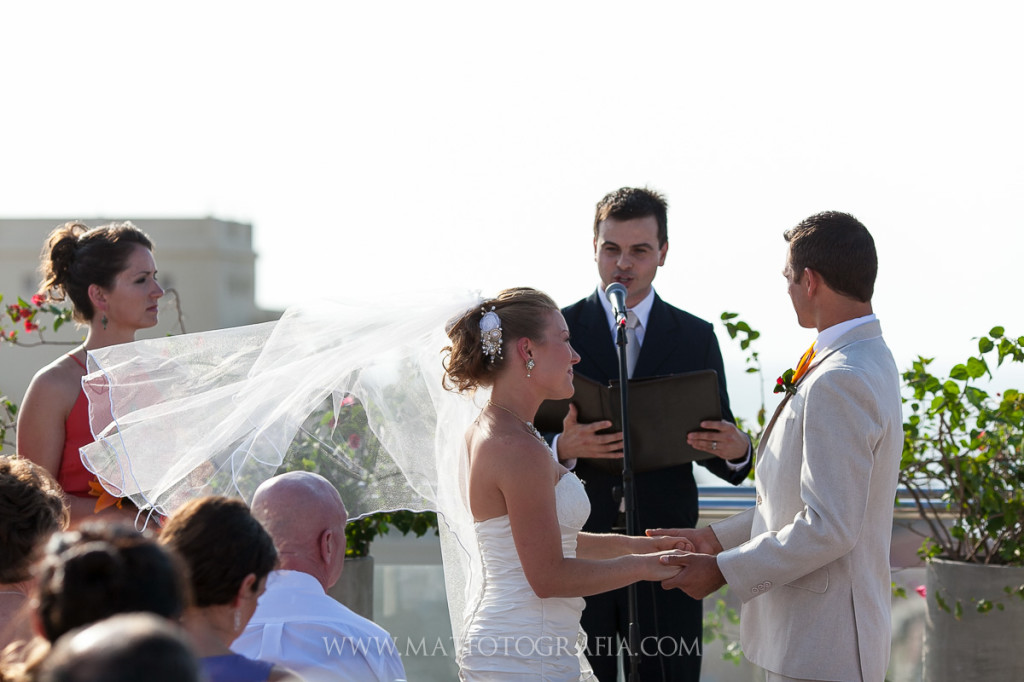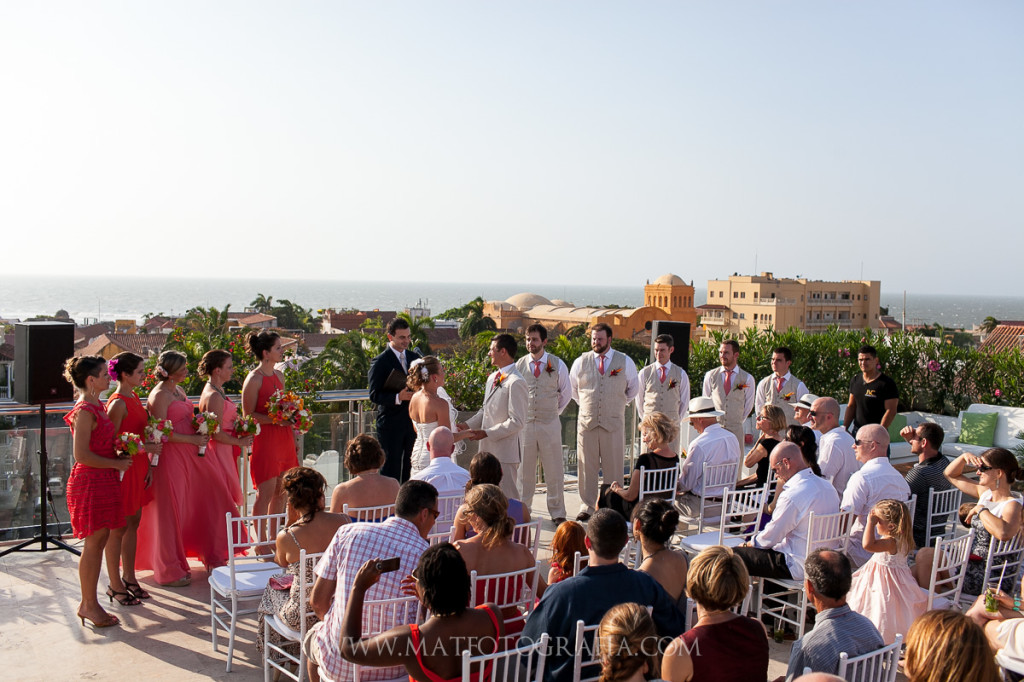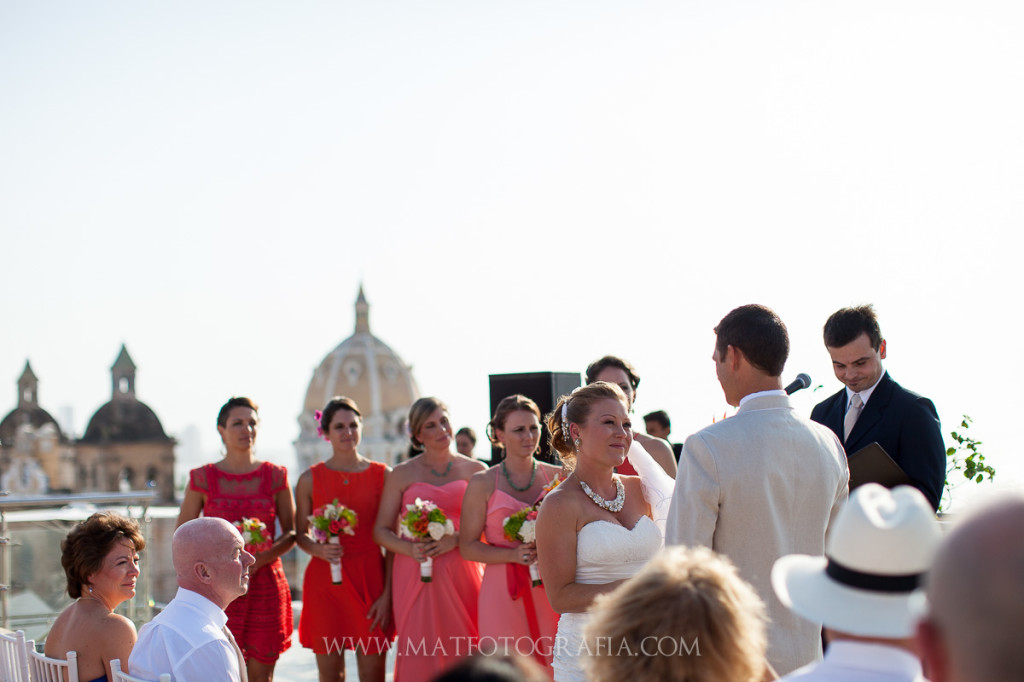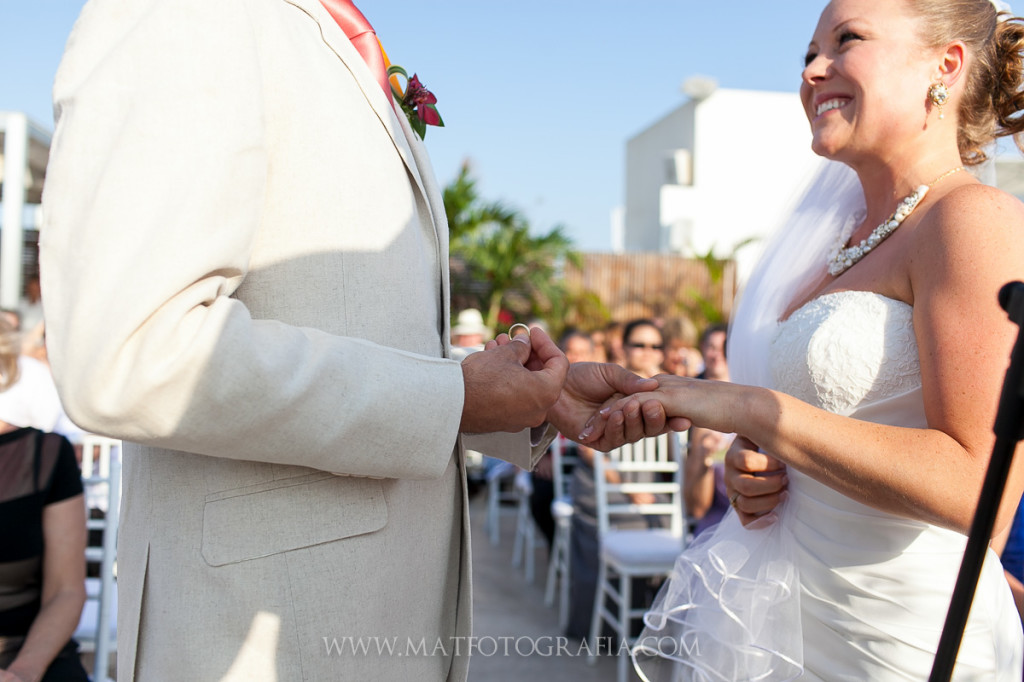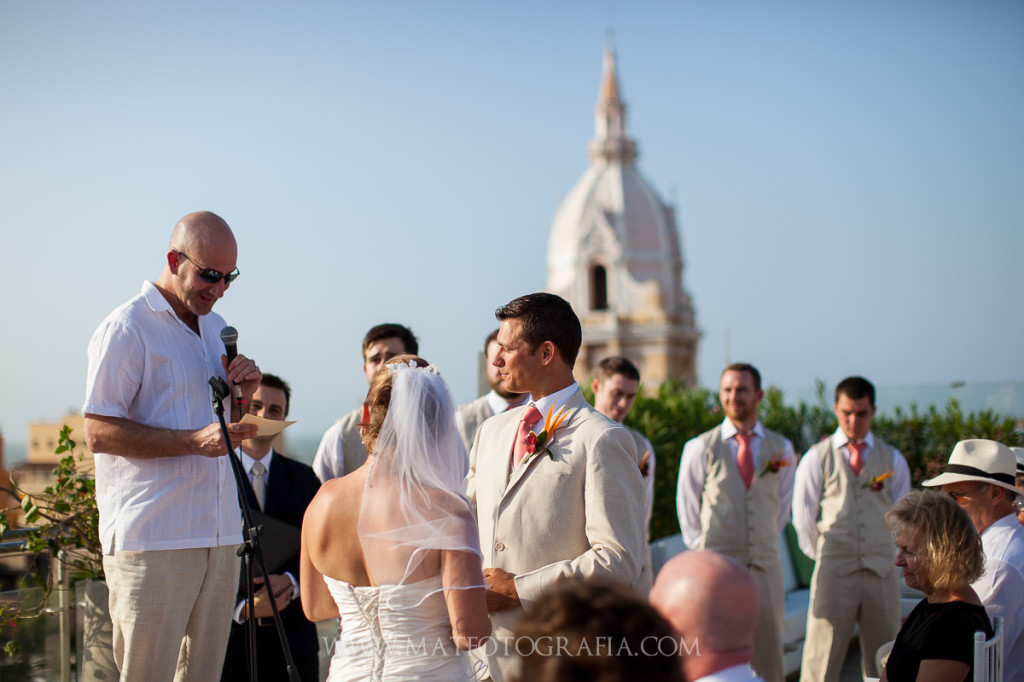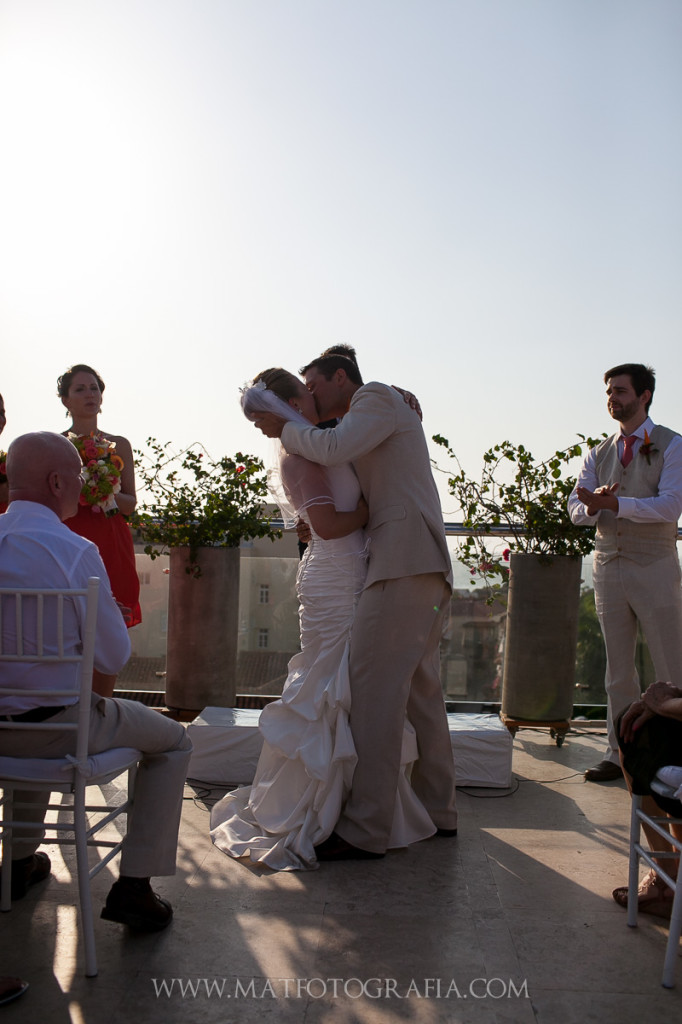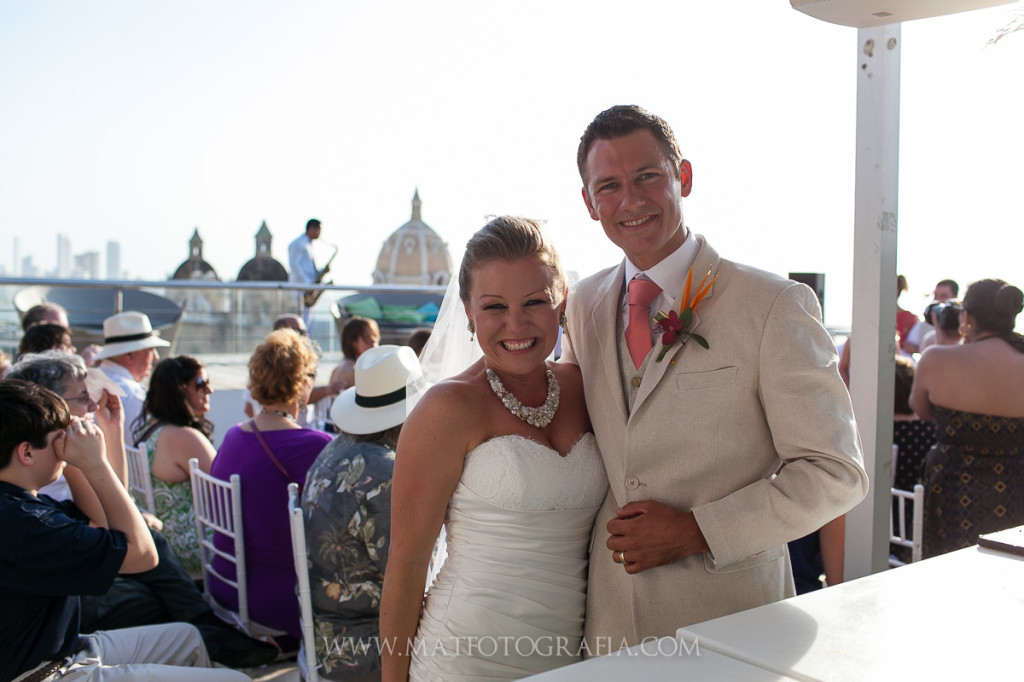 Pete and I left our poor guests on the terrace to mingle, down mojitos, and take in the view of the sunset while we took a spin around el centro with the photographer in our carriage.  The city did not disappoint, as you can see.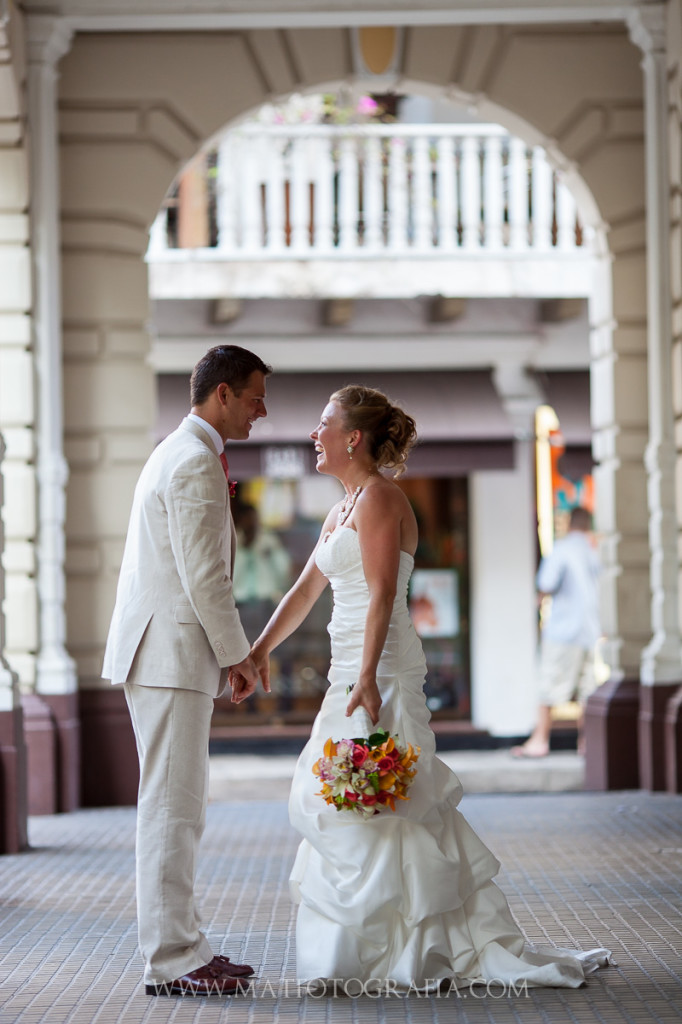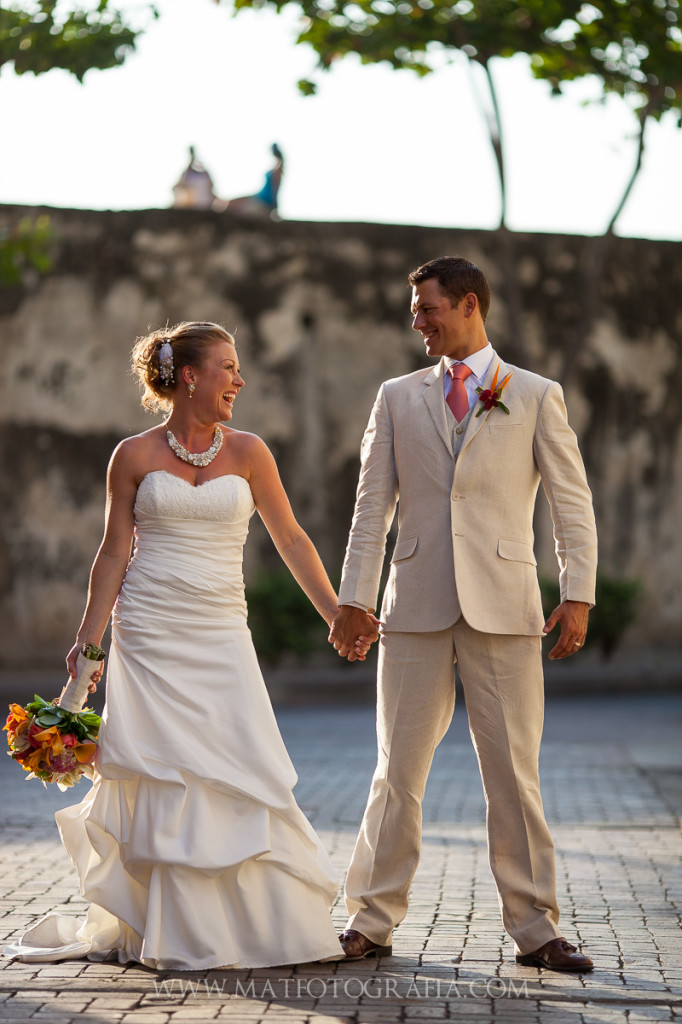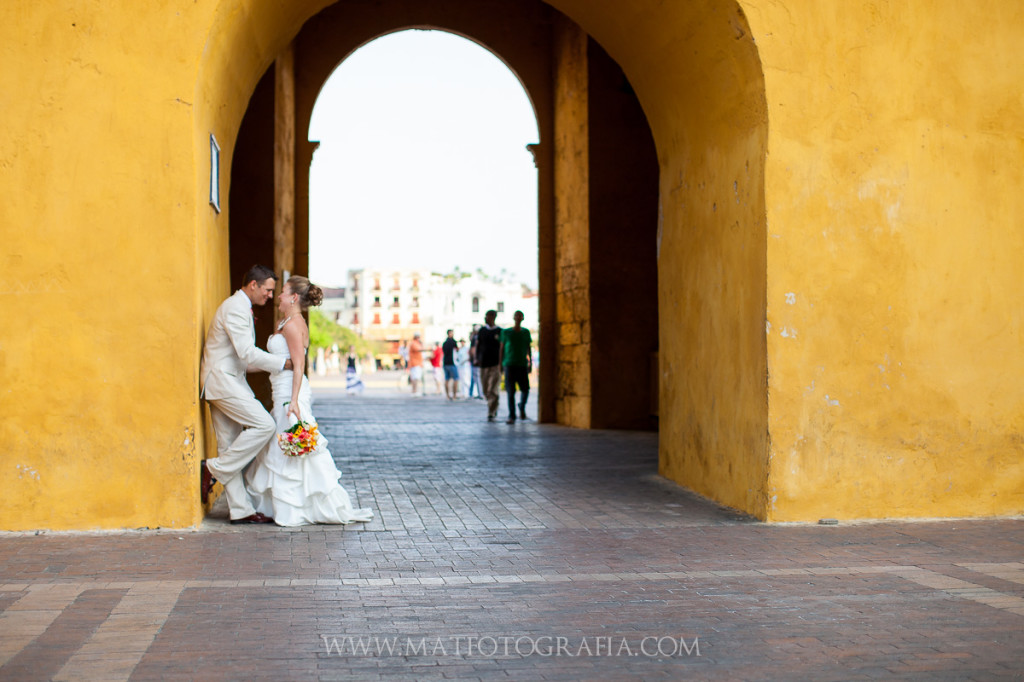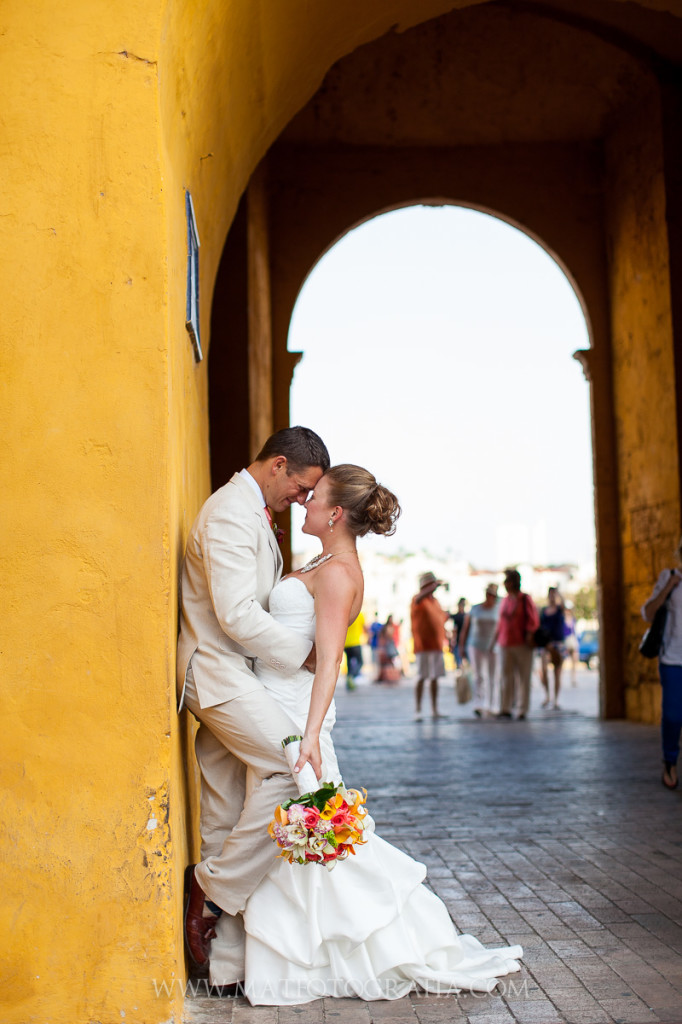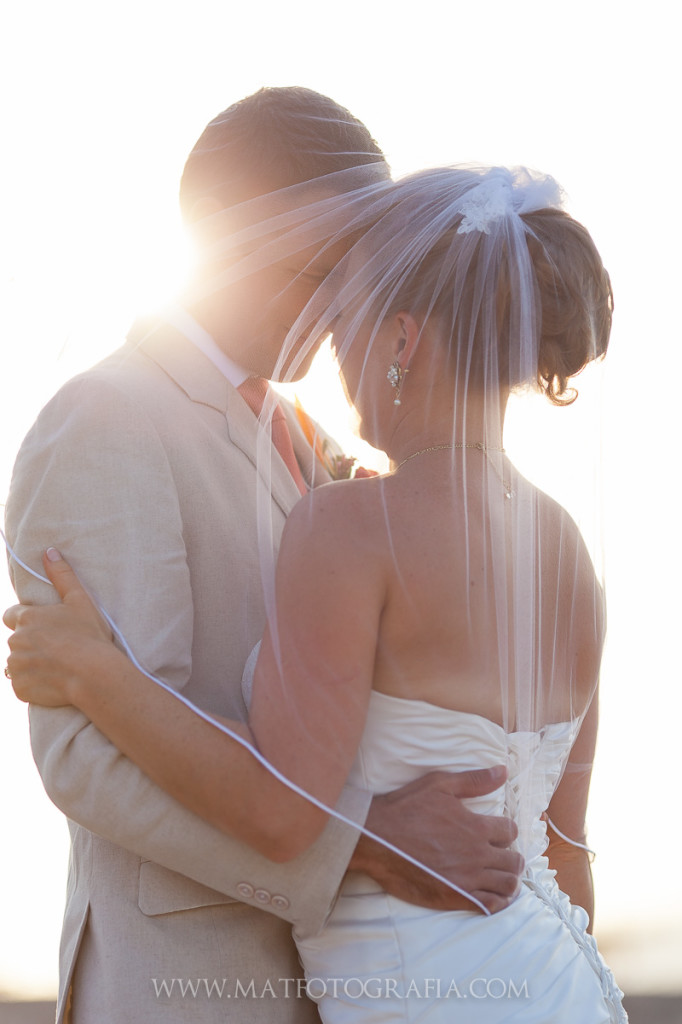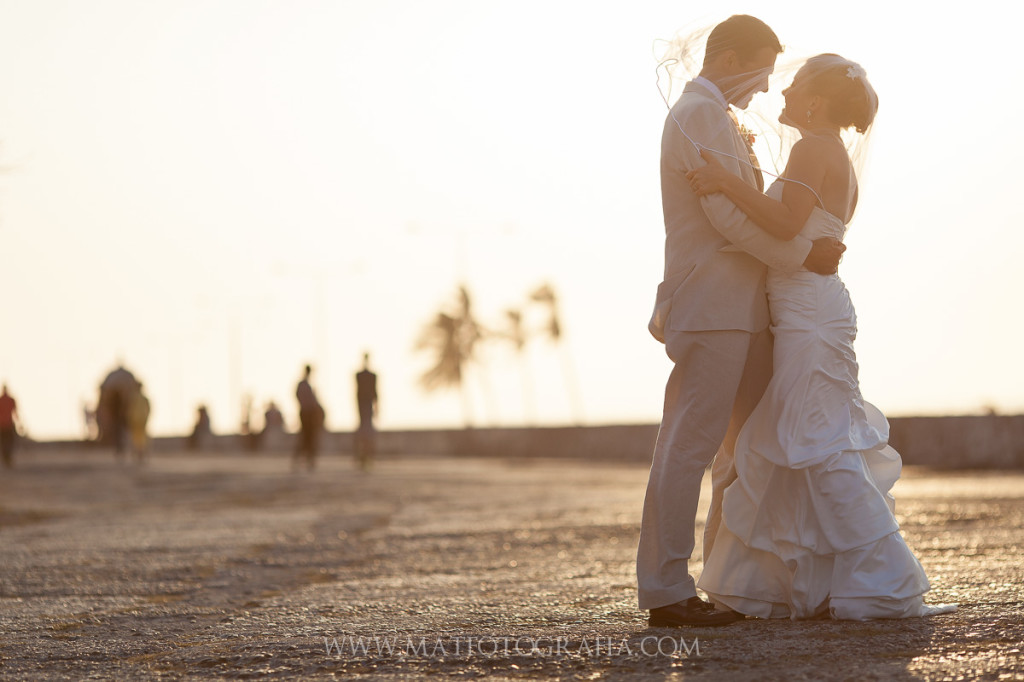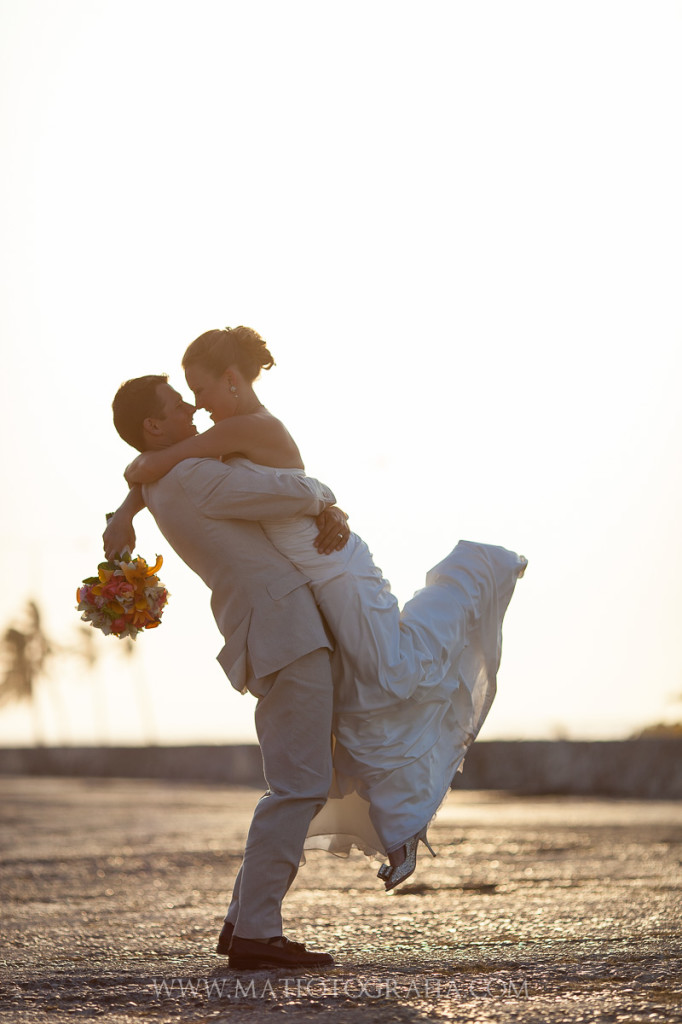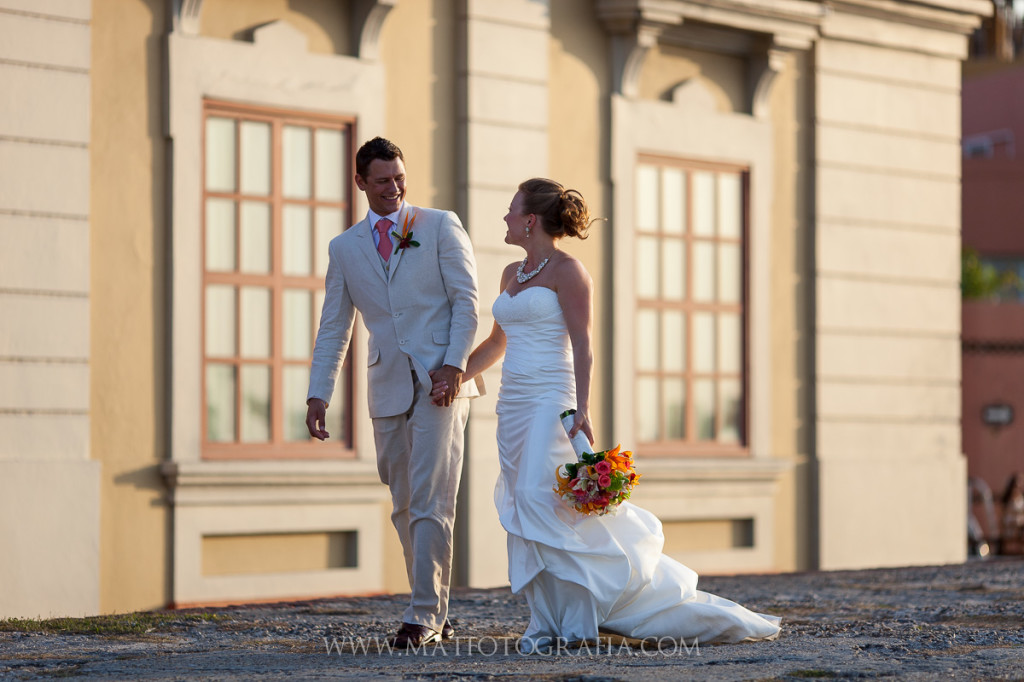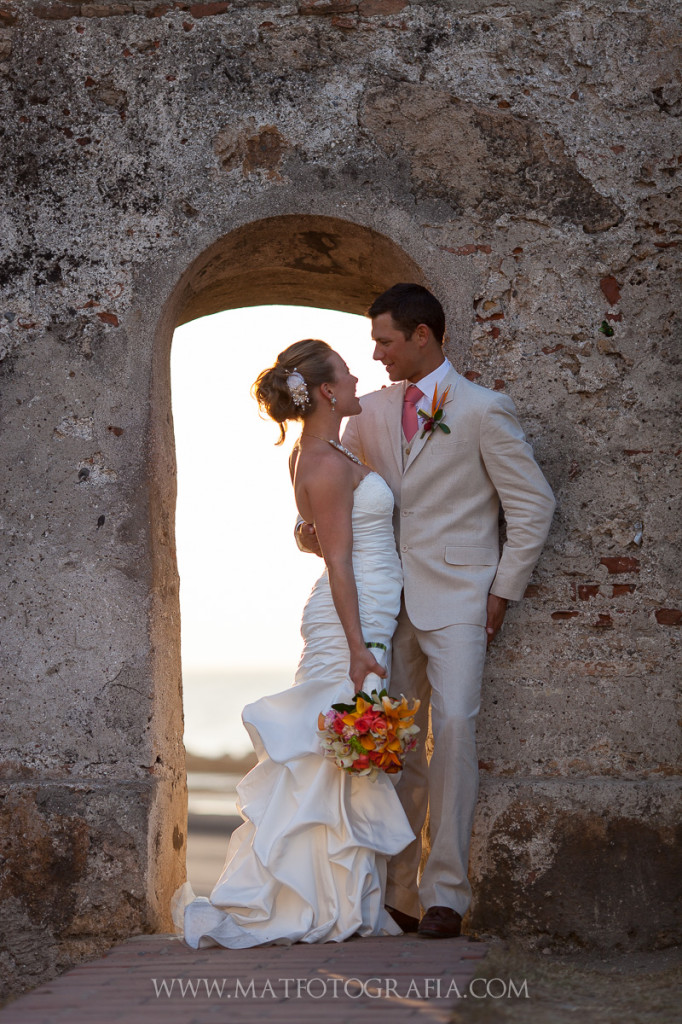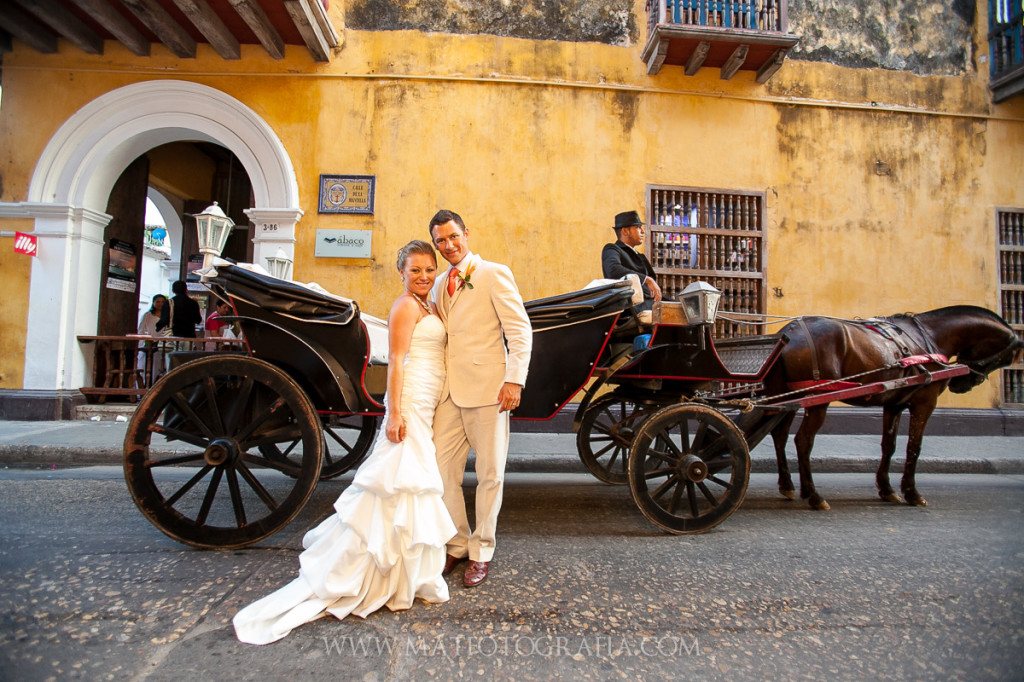 We beat our guests back to Casa Estrella to fix a few wardrobe malfunctions.  Nothing serious.  Just some bustling and rogue fake eyelashes to deal with.  Once everyone arrived at the house, we sat for dinner and listened to the speeches (another one of my favorite moments).  Much too much crying on my part, but nothing a little live band couldn't fix.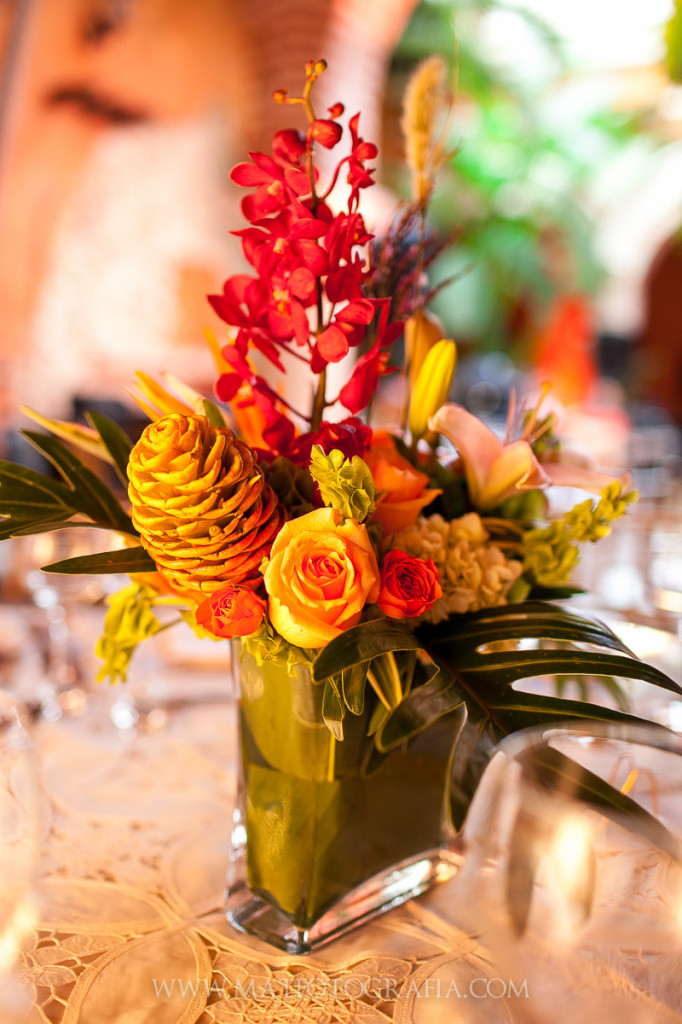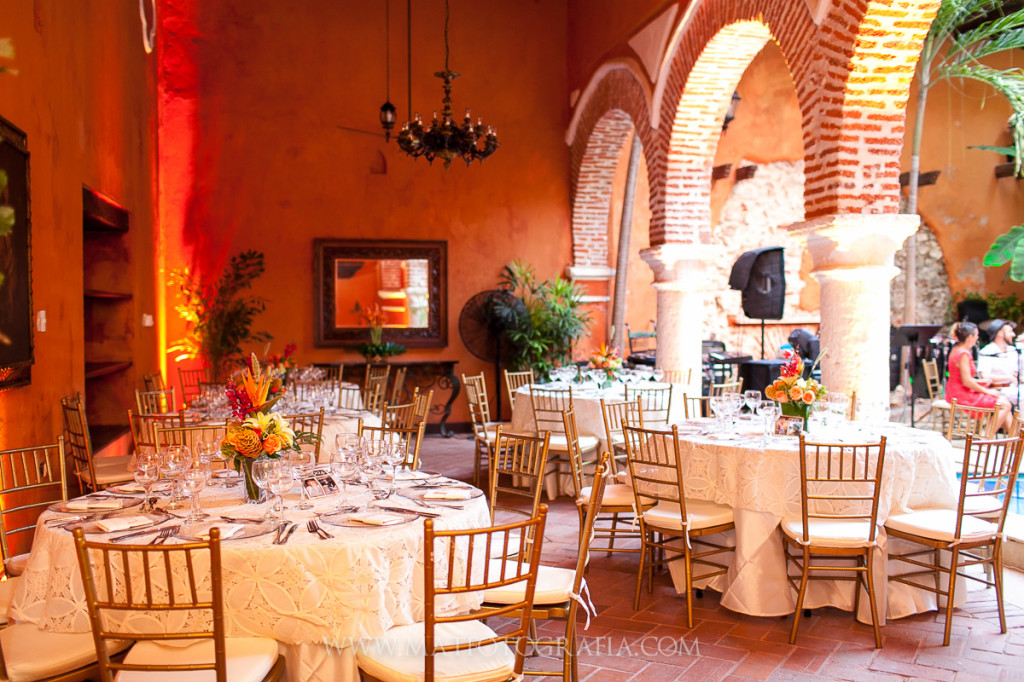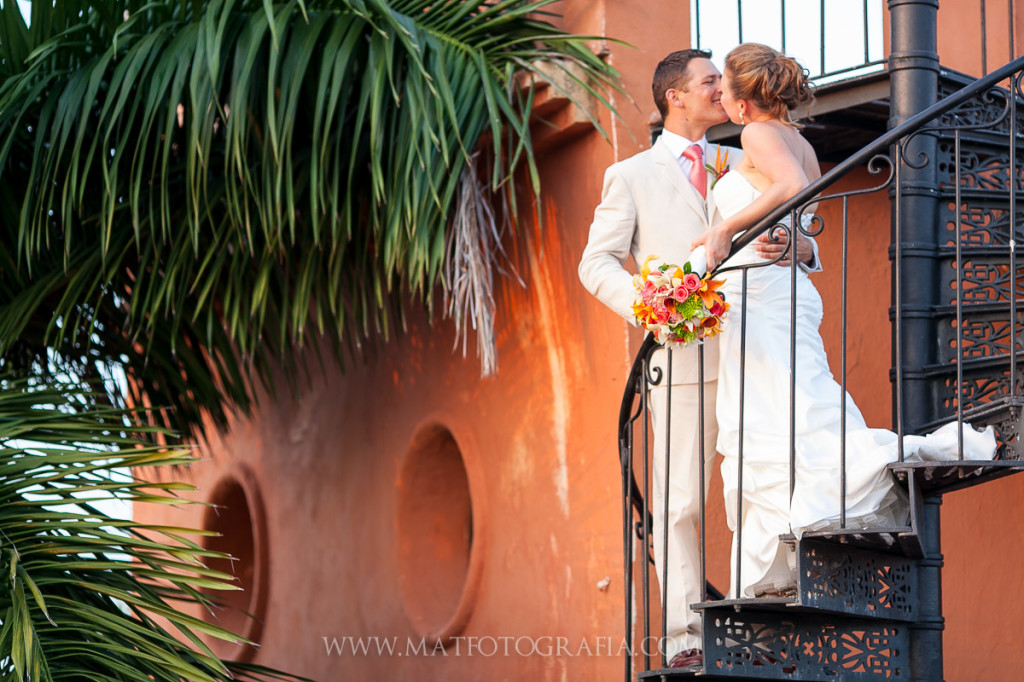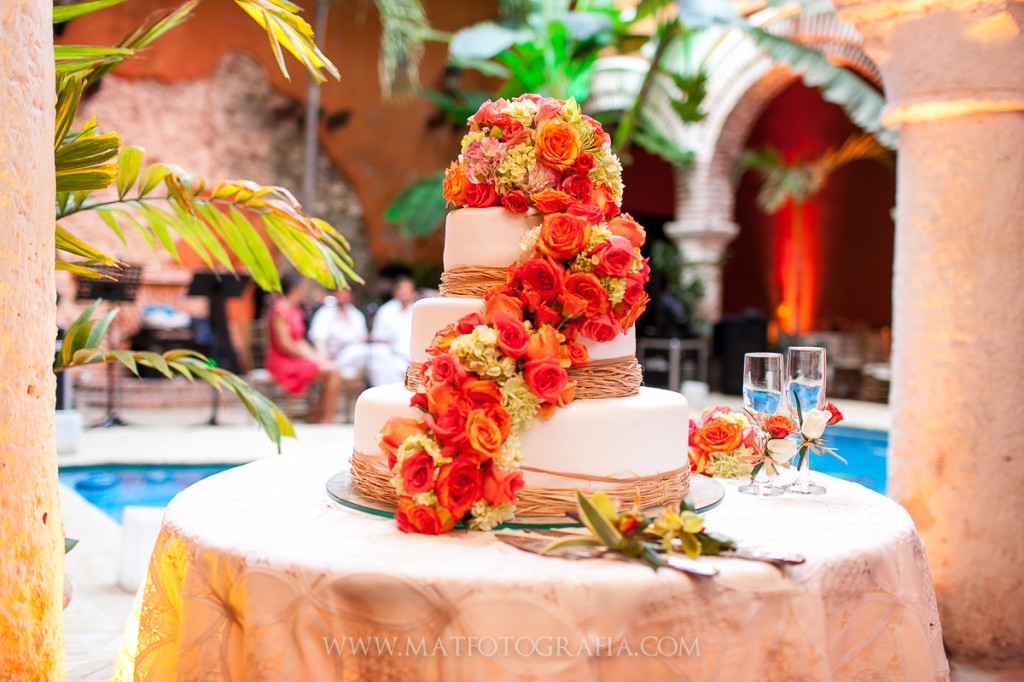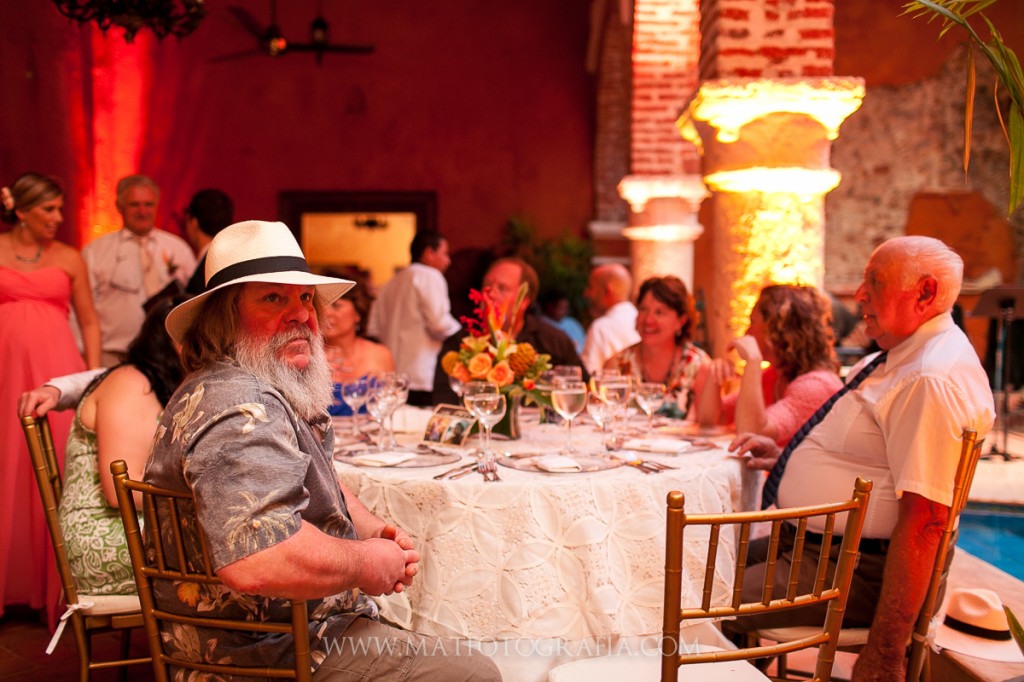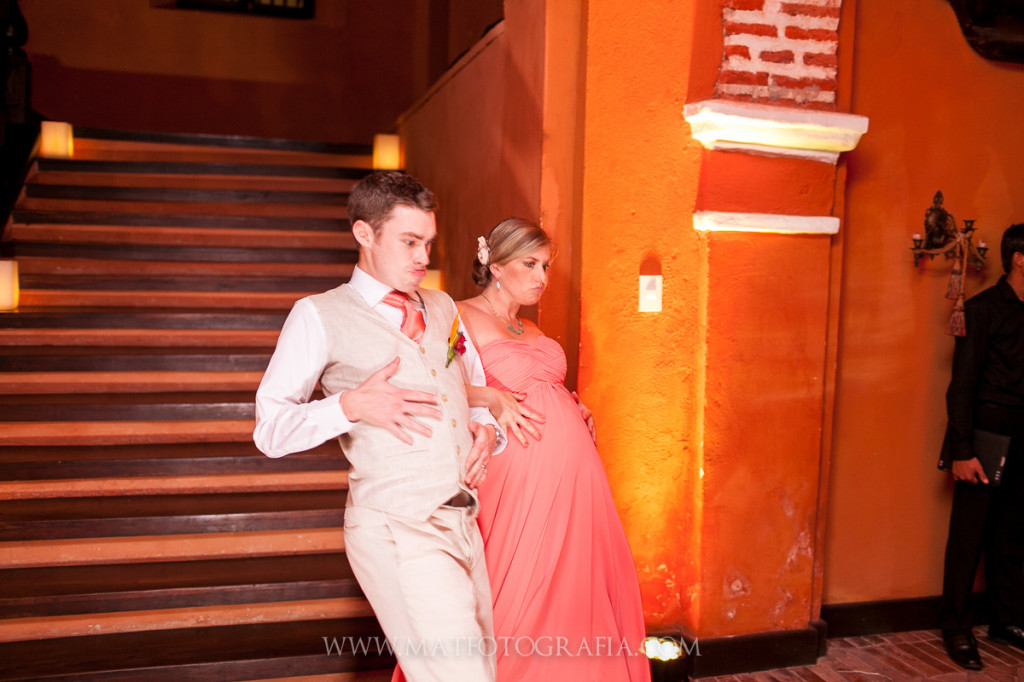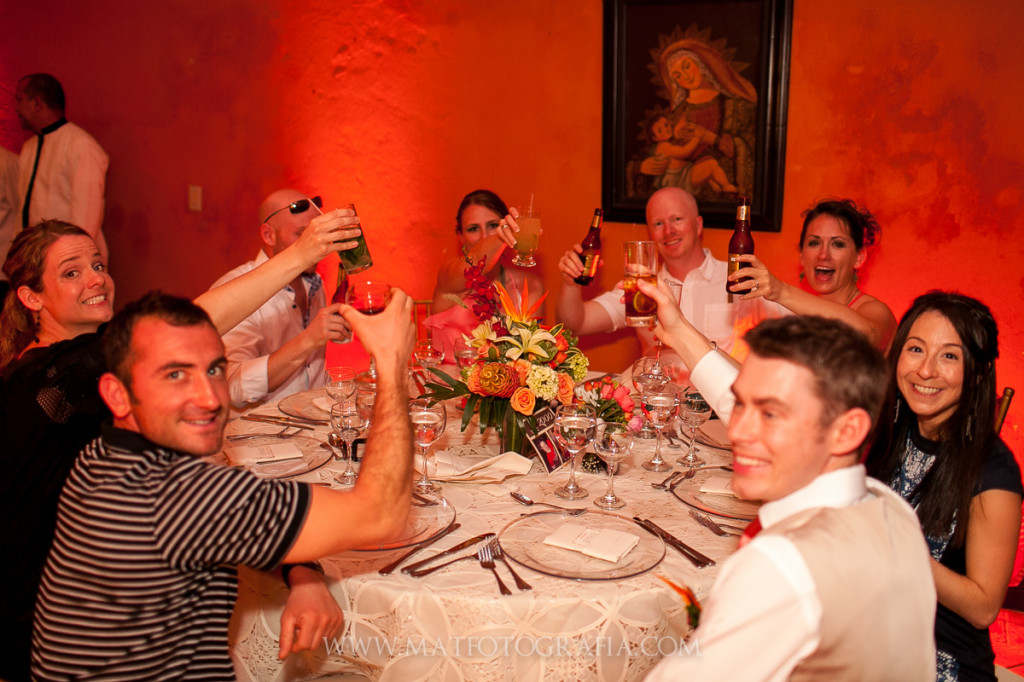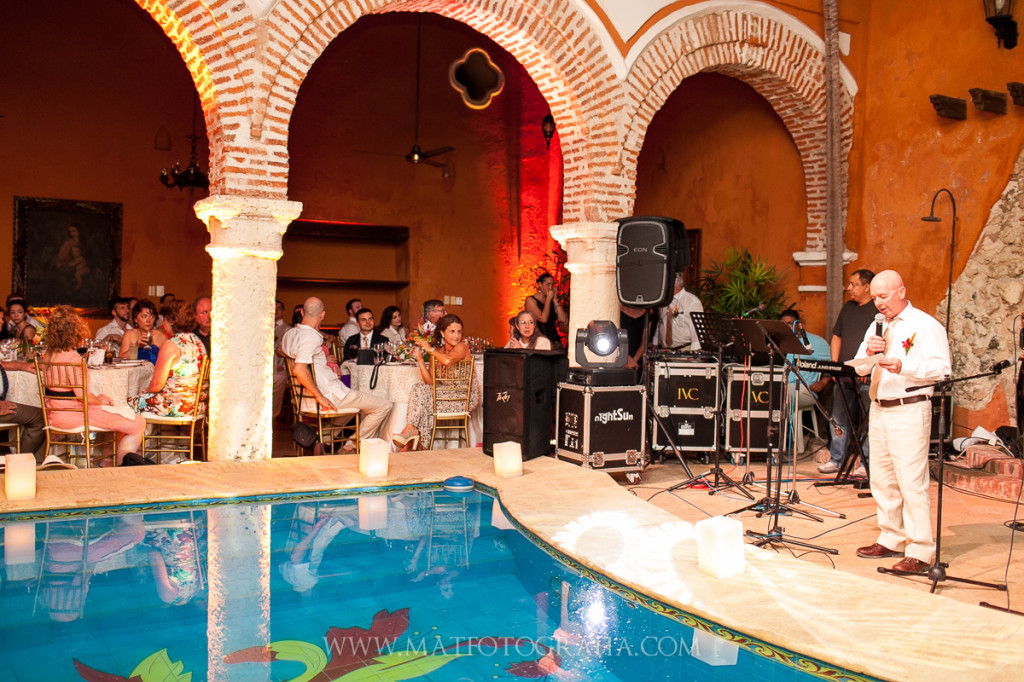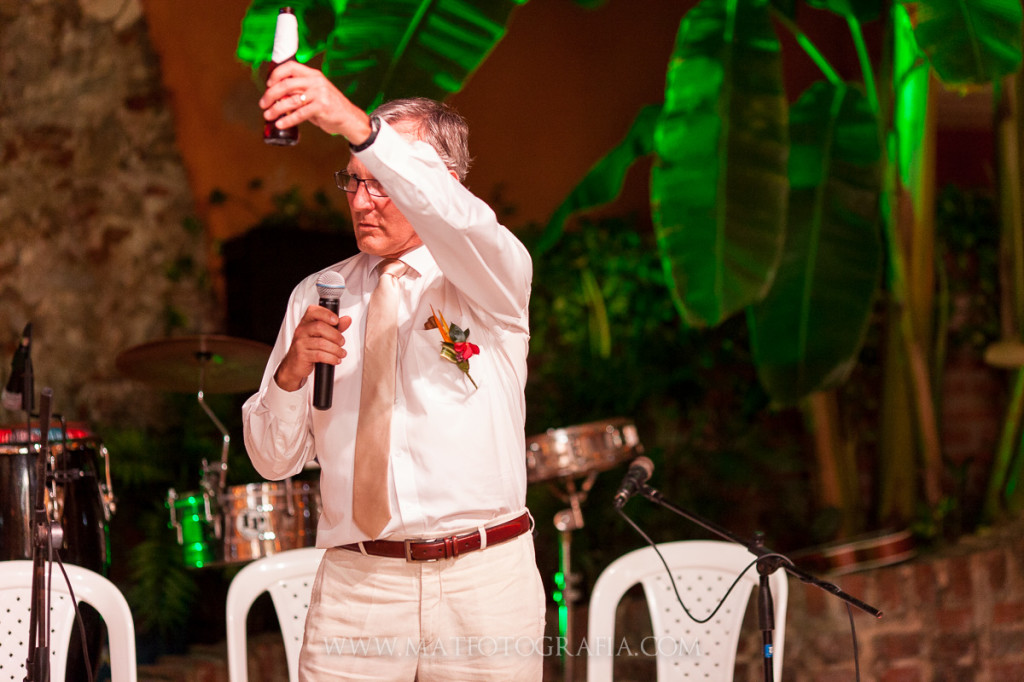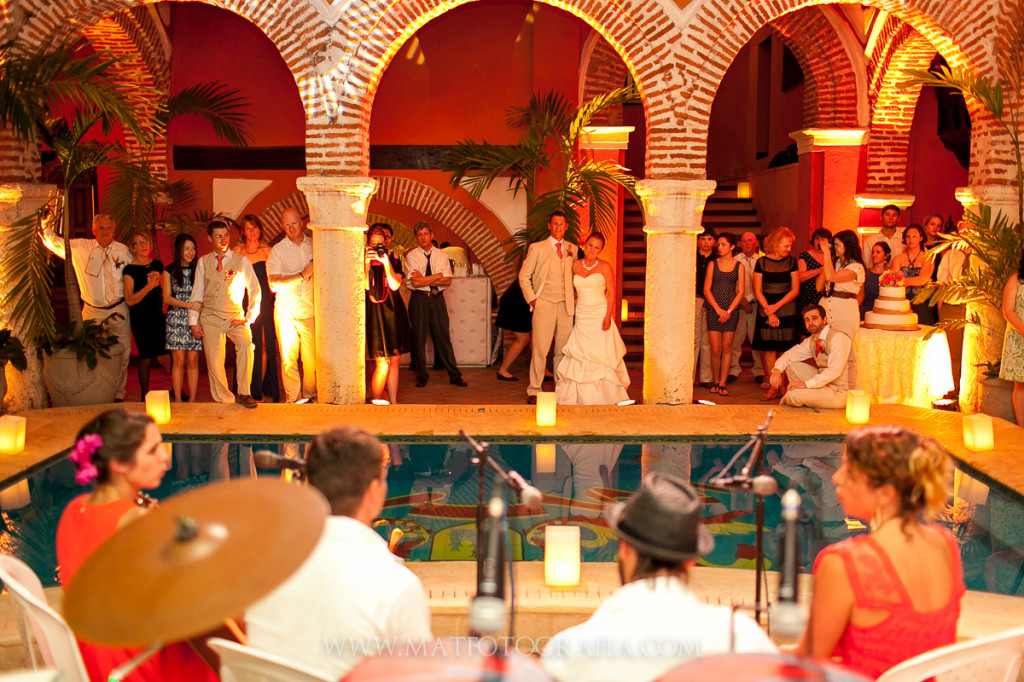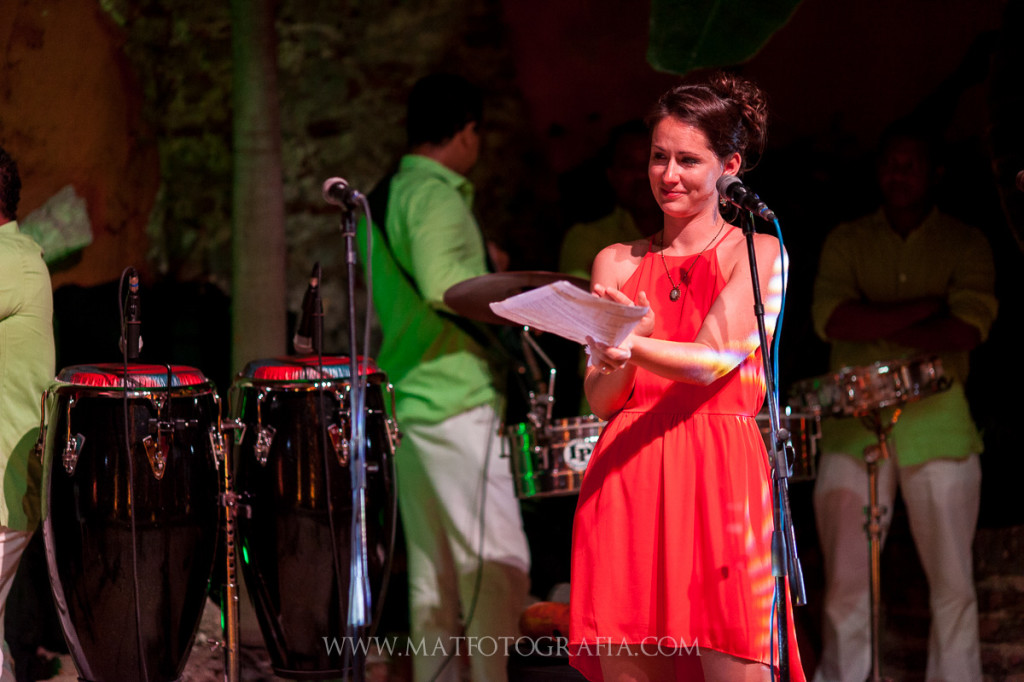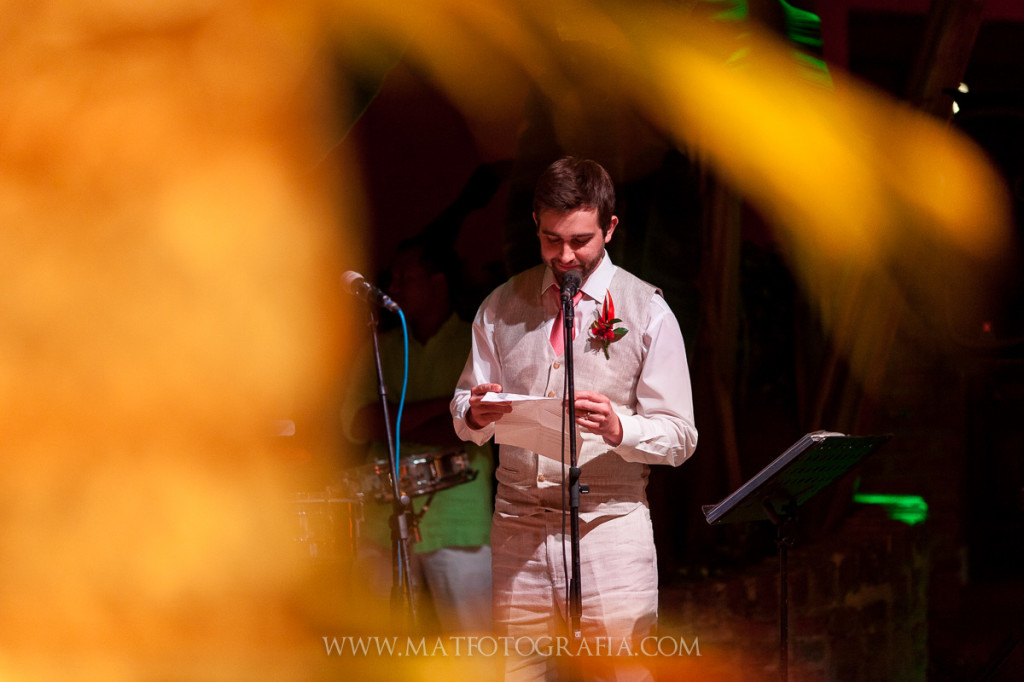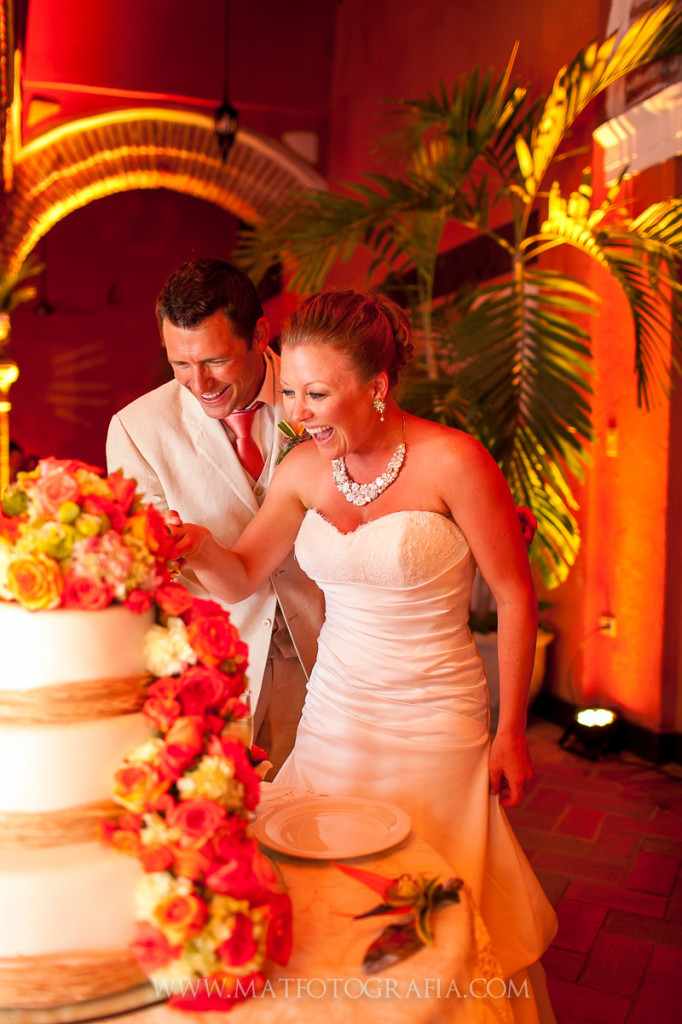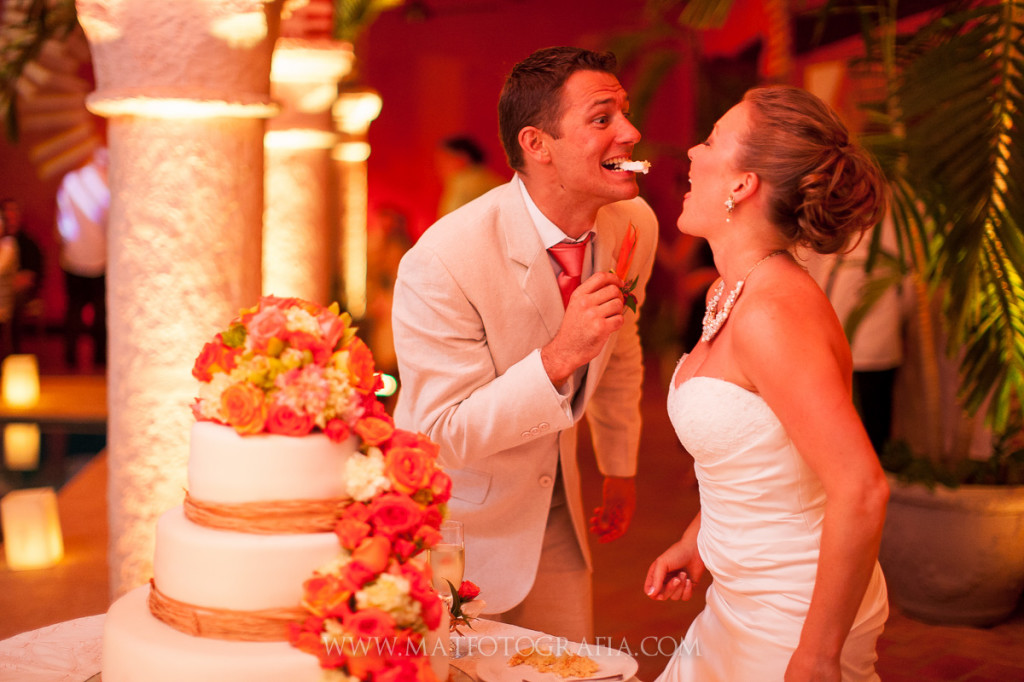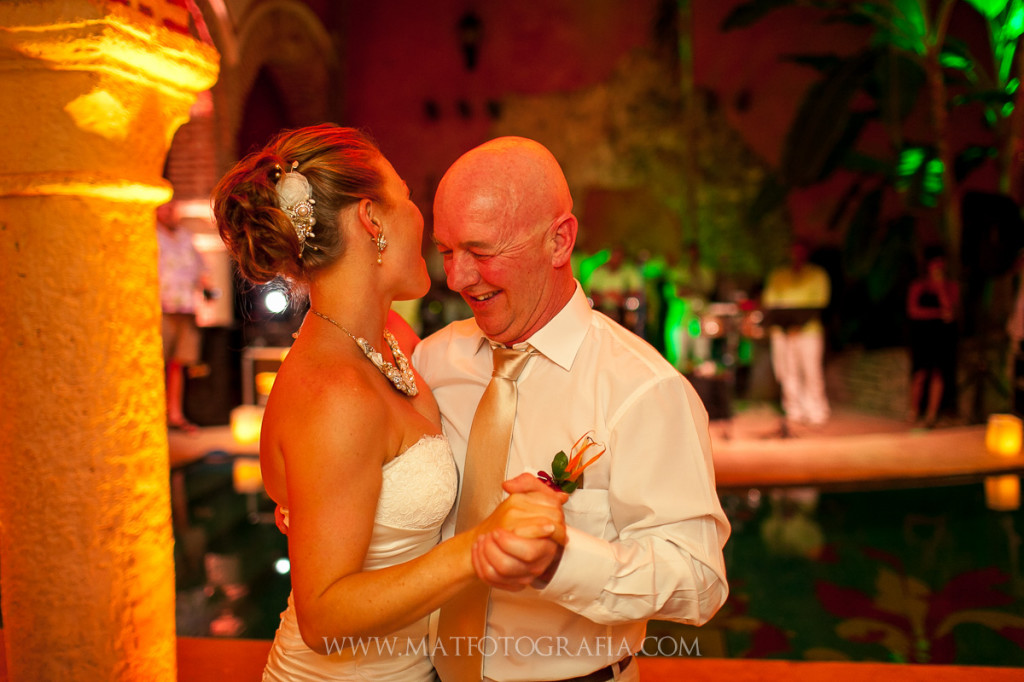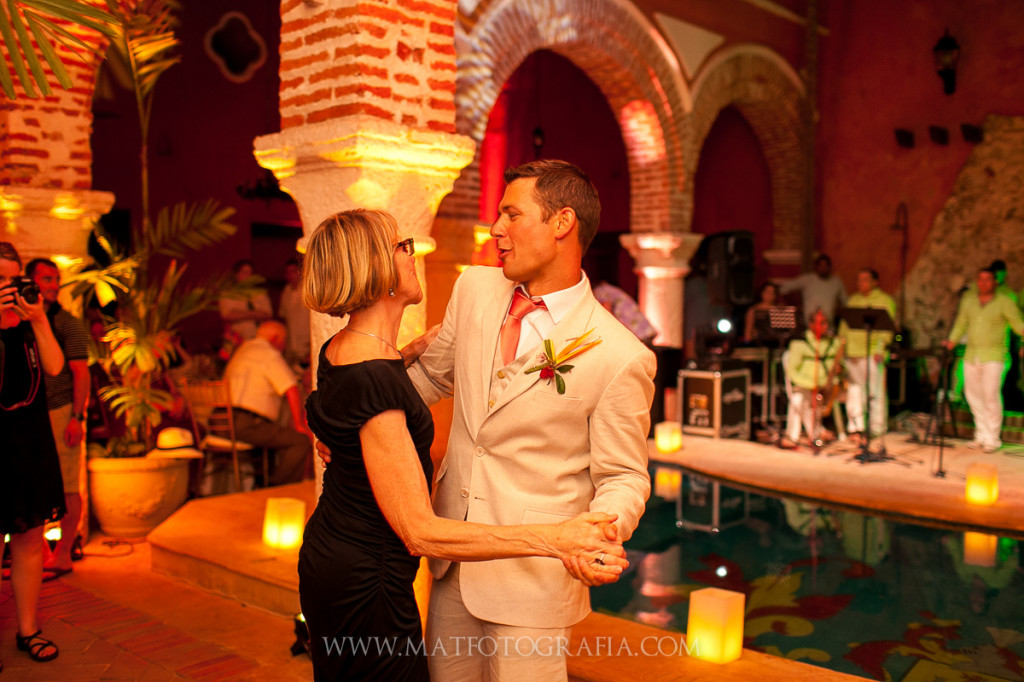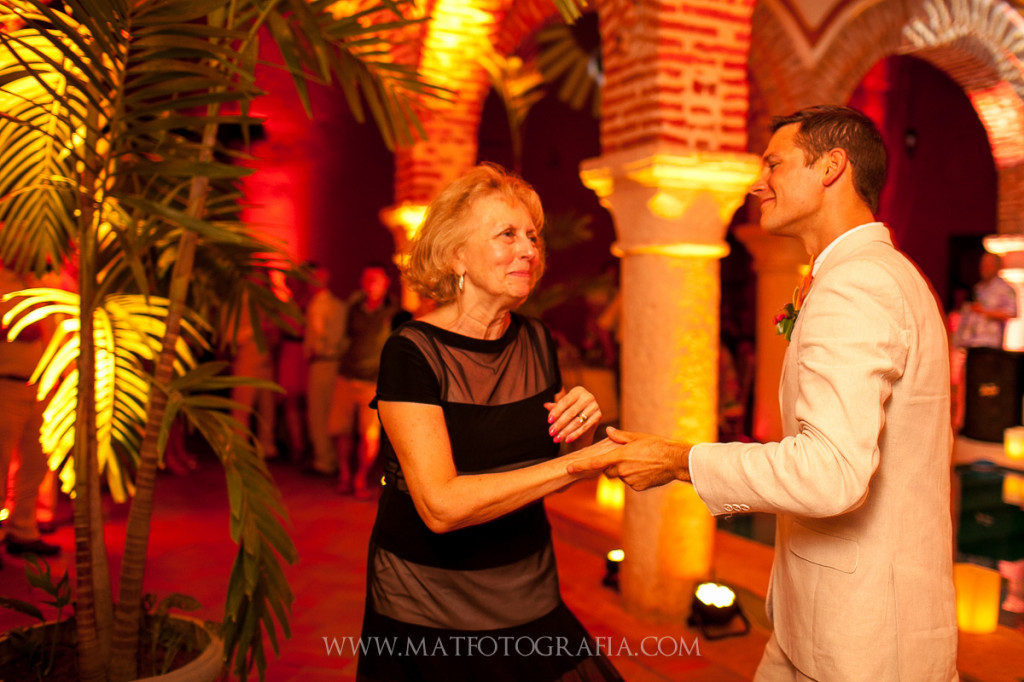 Our first dance started out slow and sweet, but soon knocked our guests in the teeth!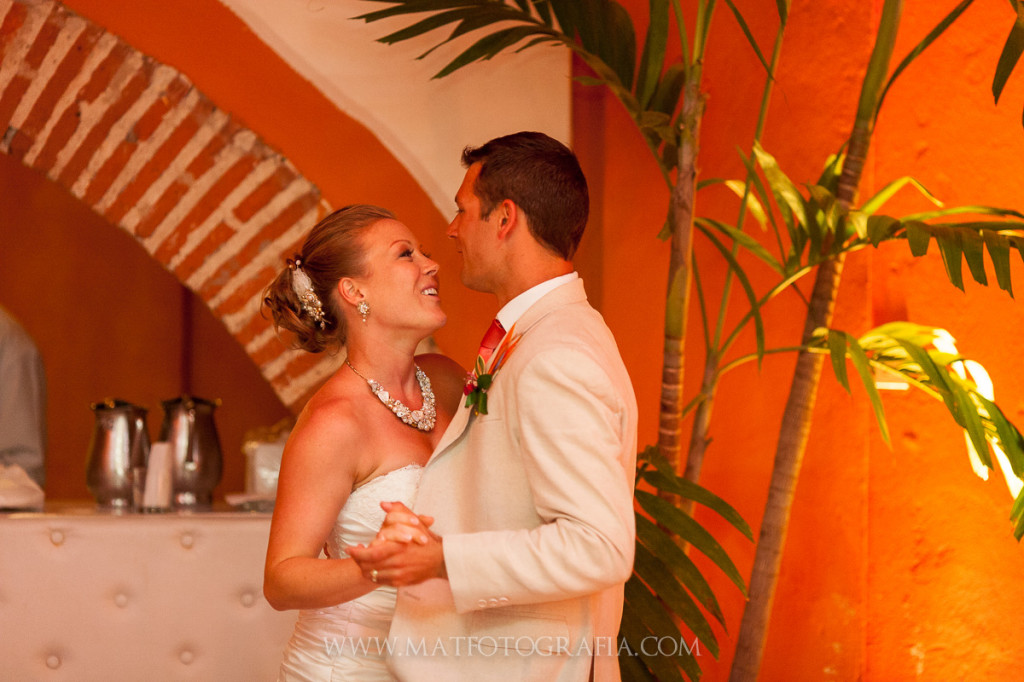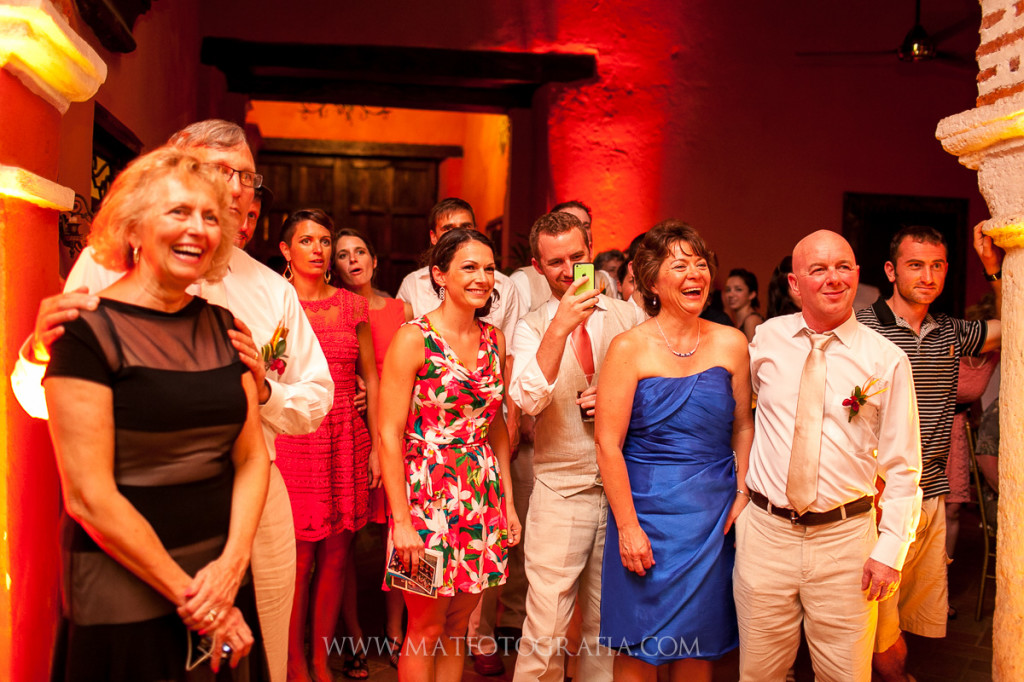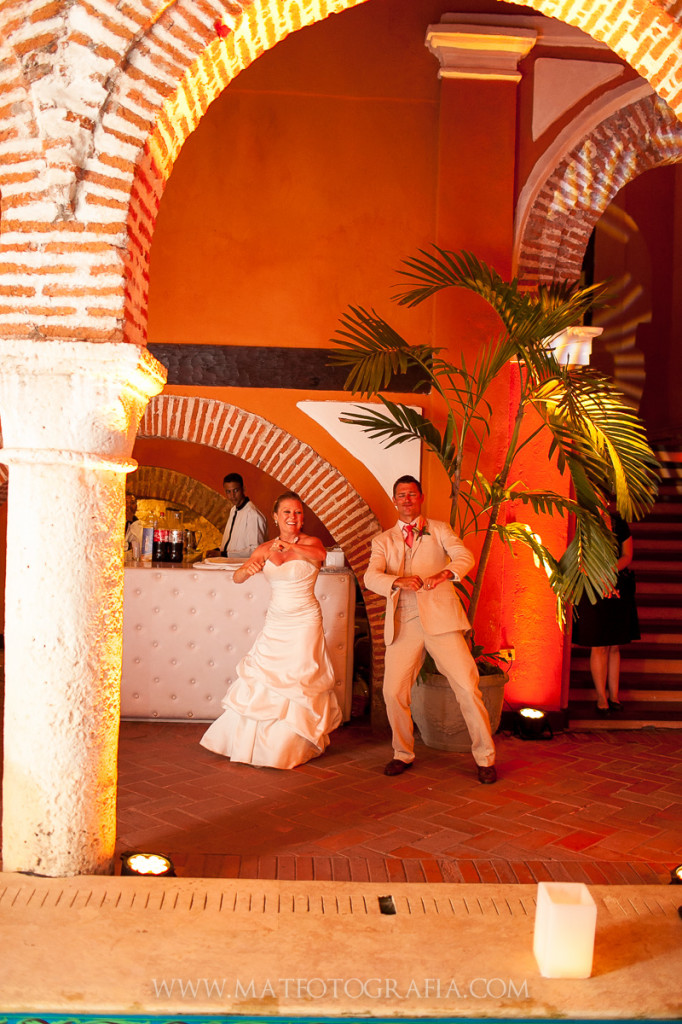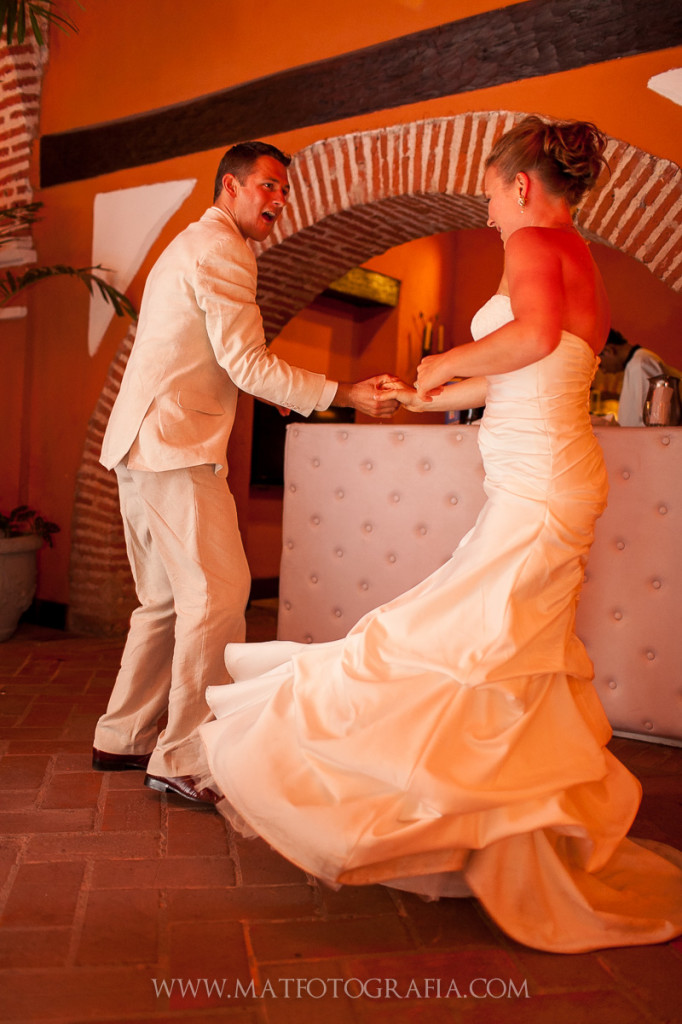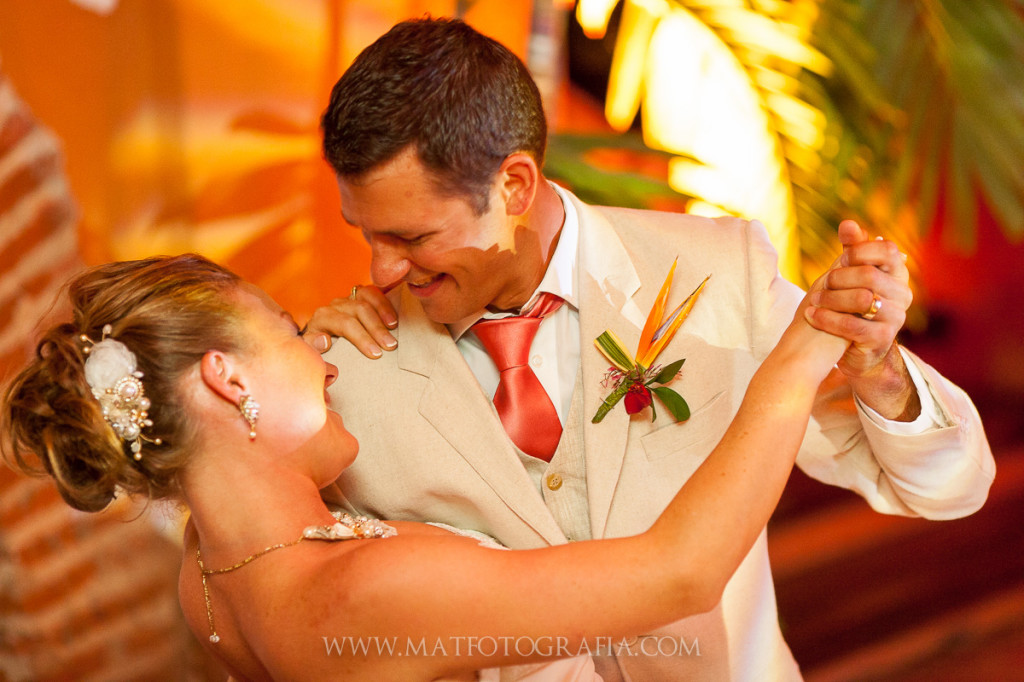 We danced into the wee hours of the night, until eyes starting falling to half-mast, and high-heels were long tossed by the wayside.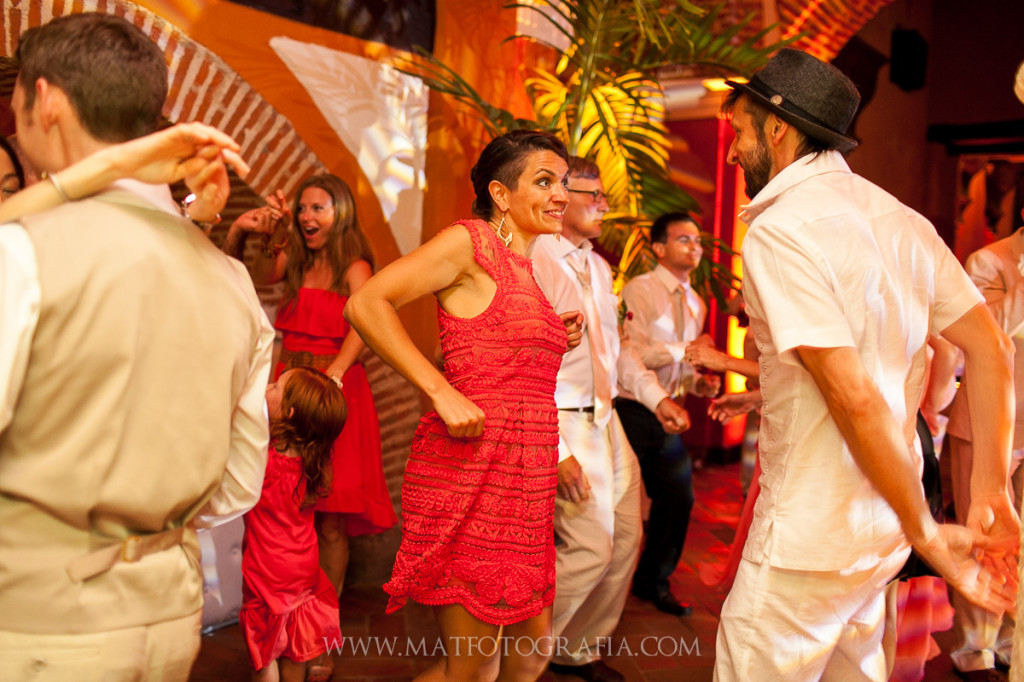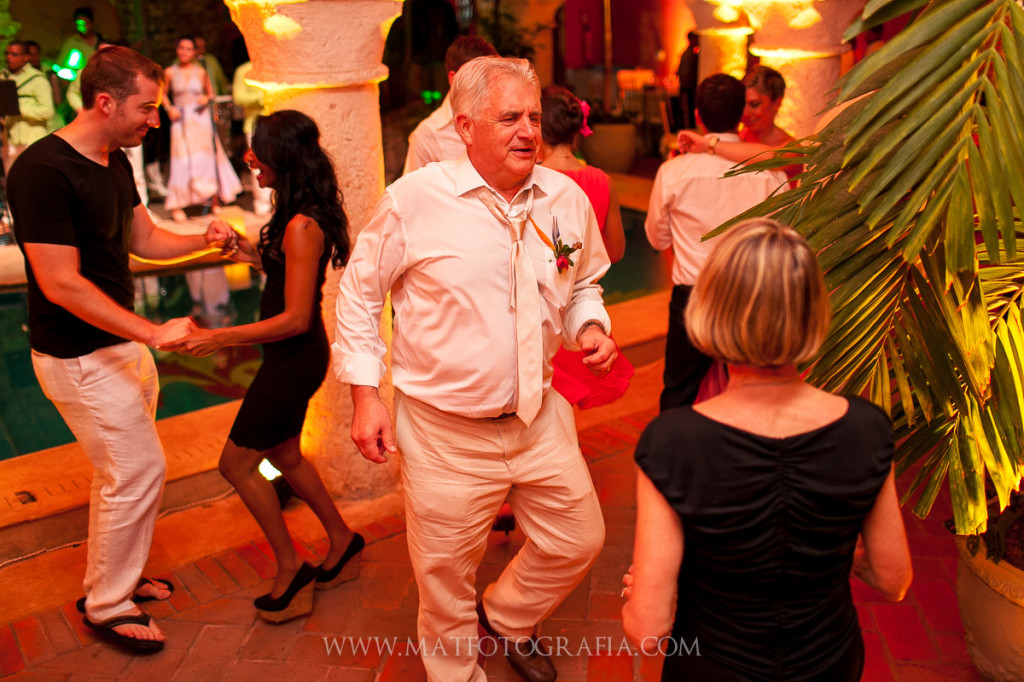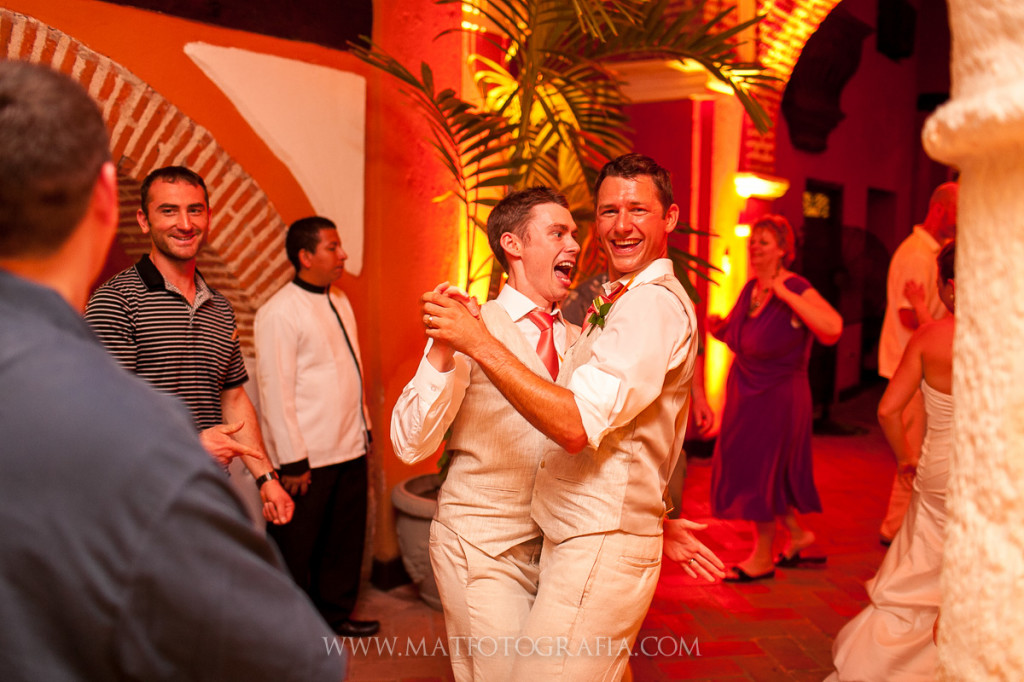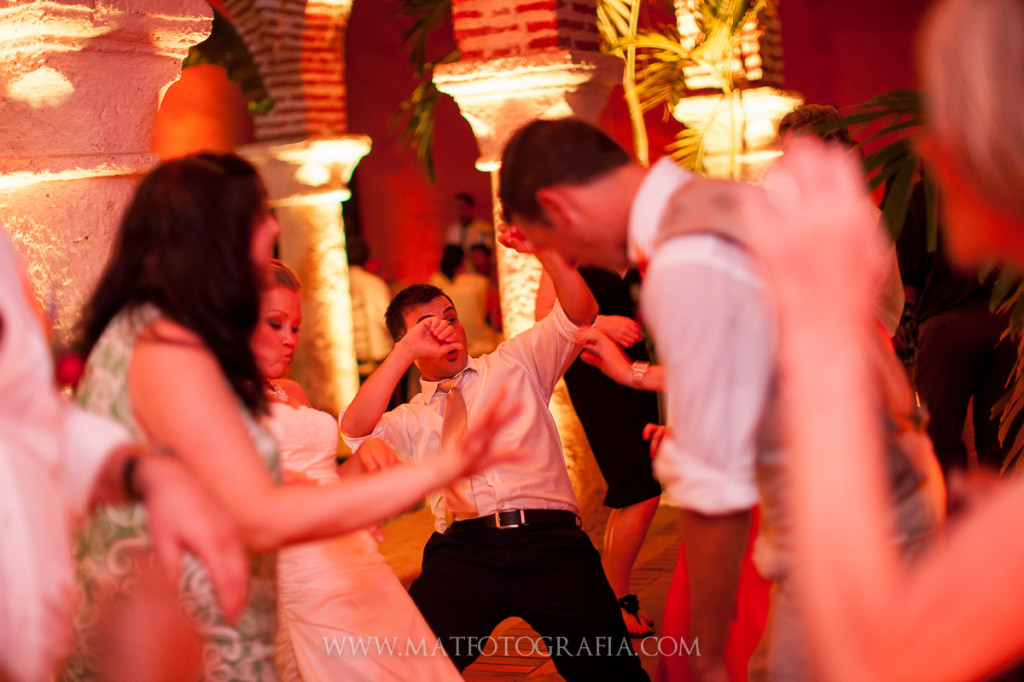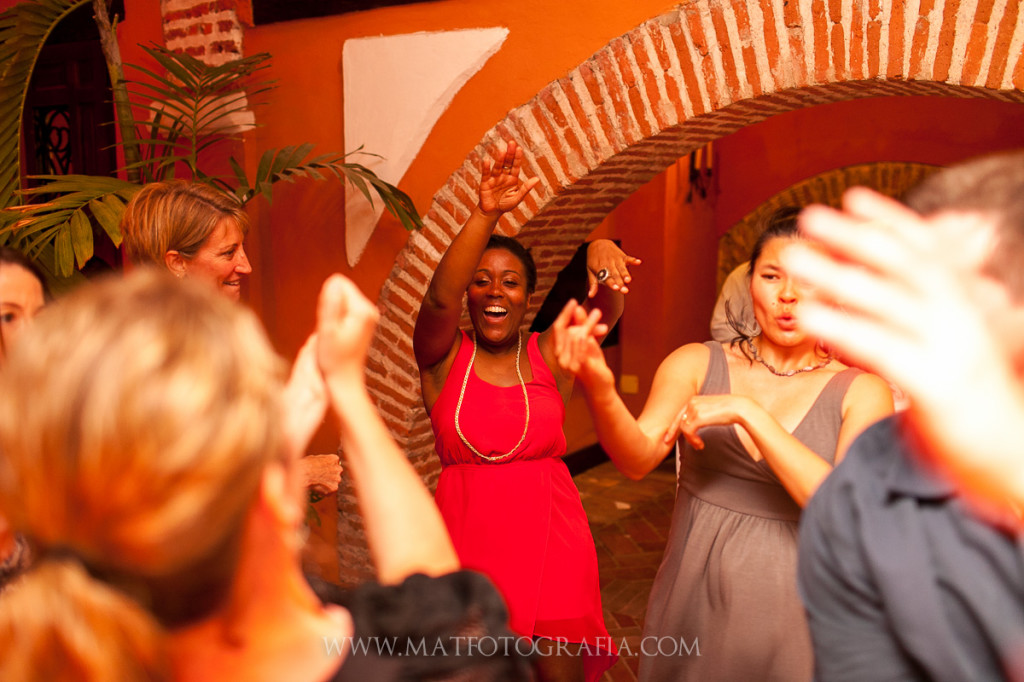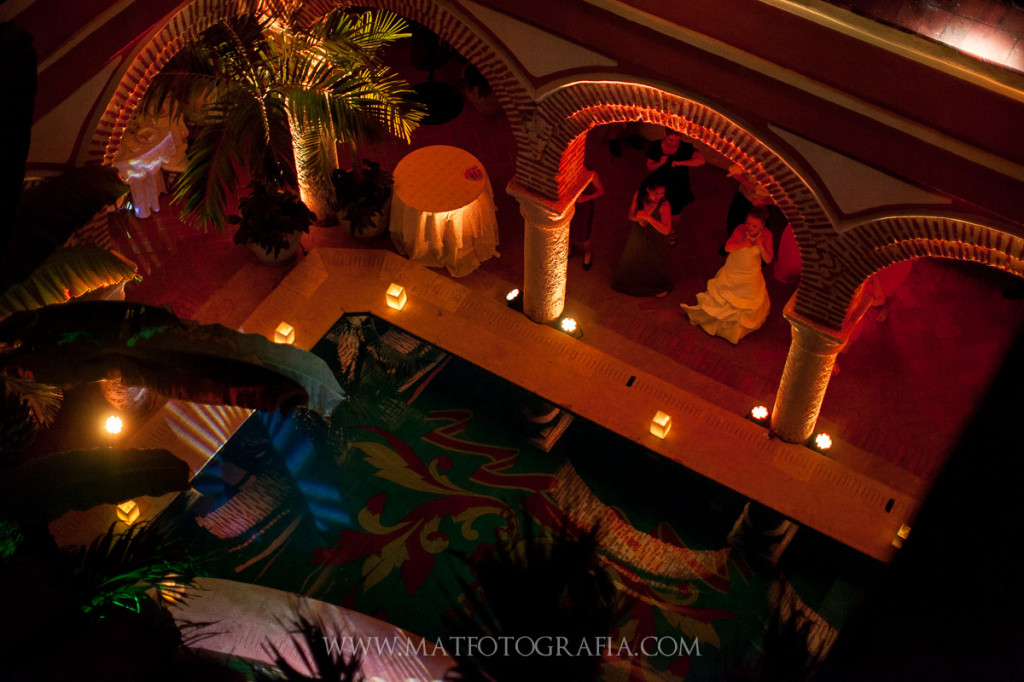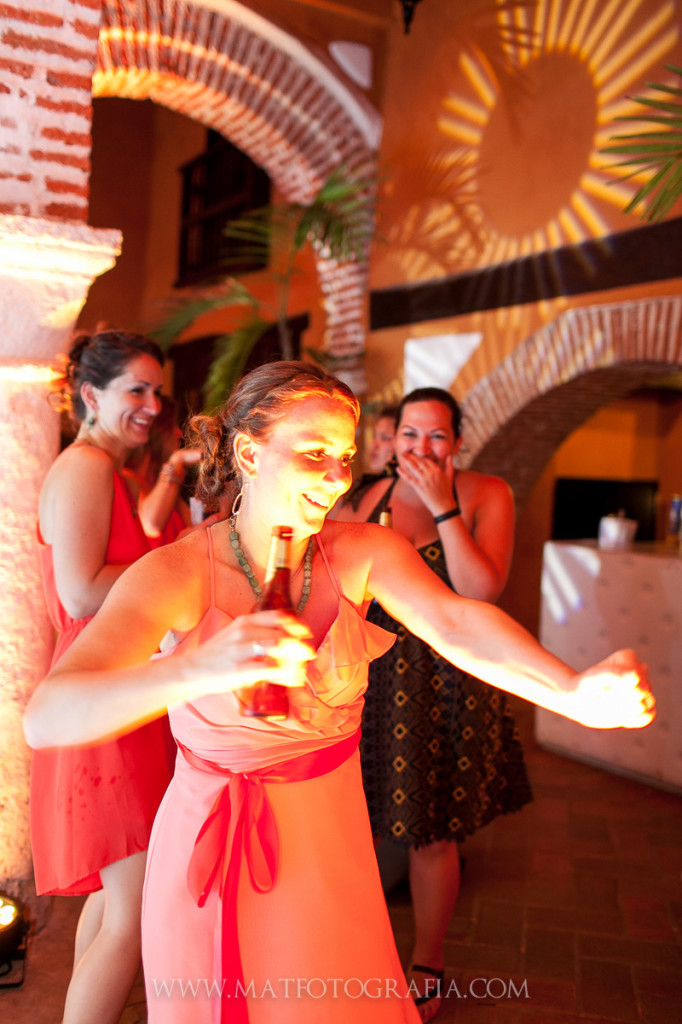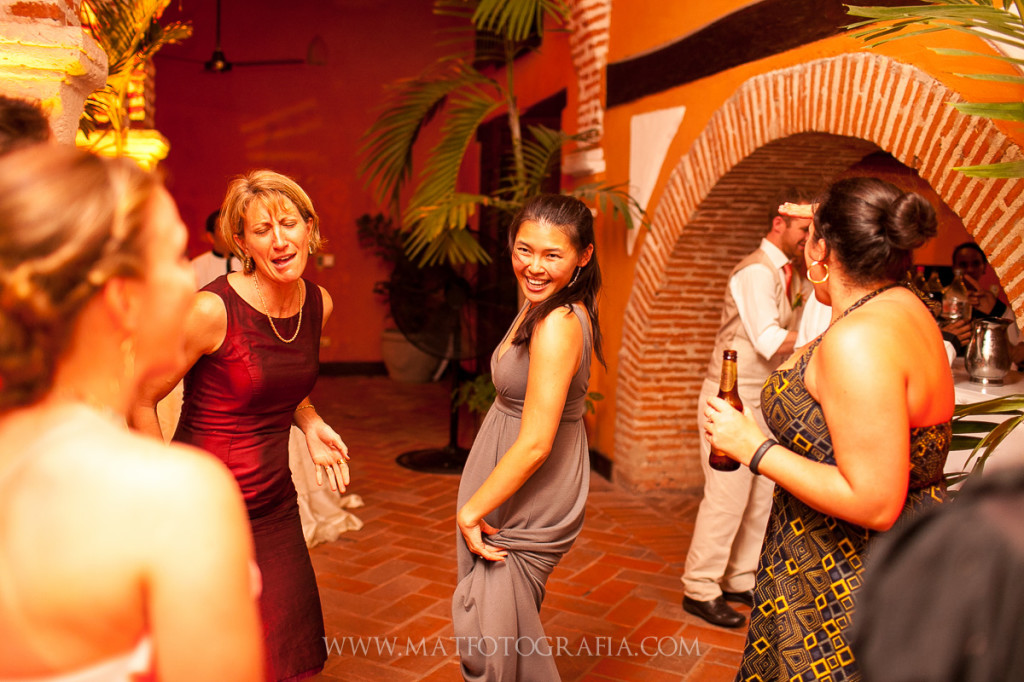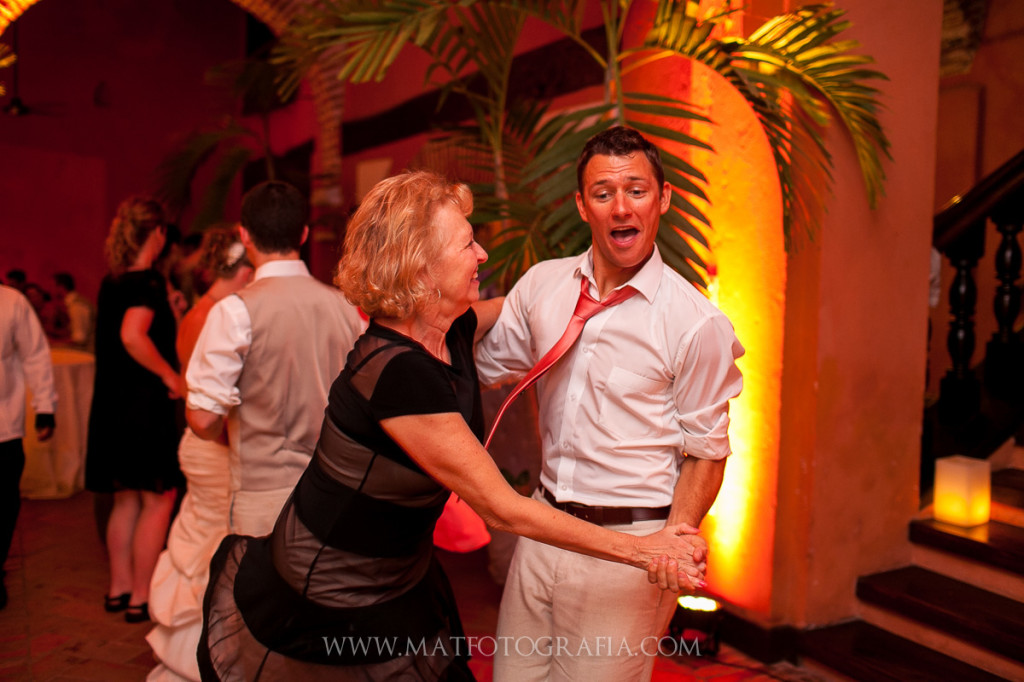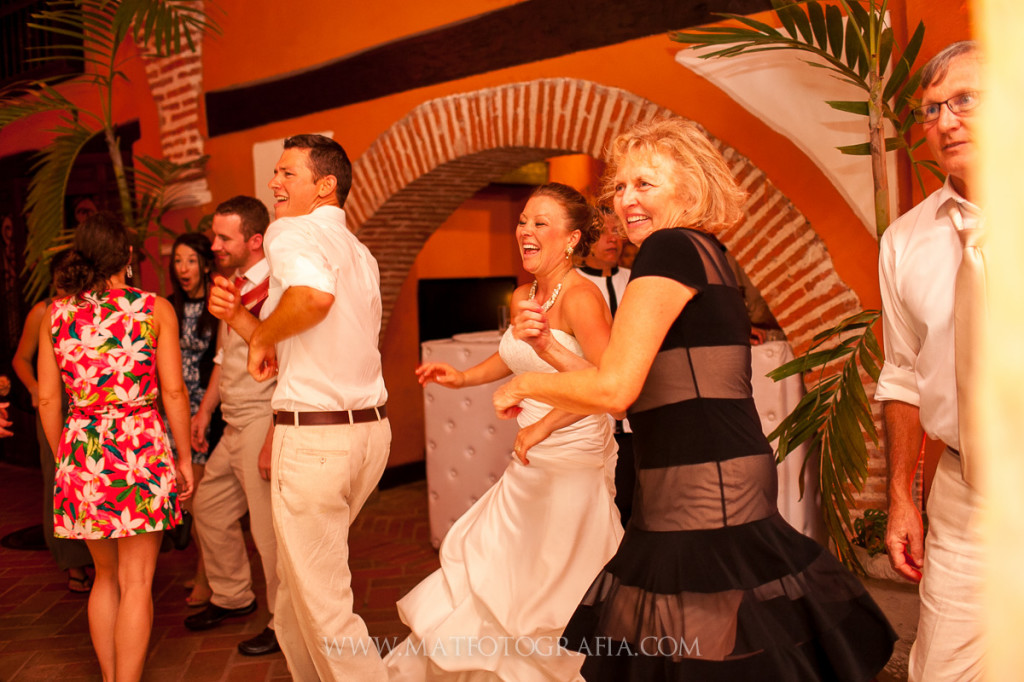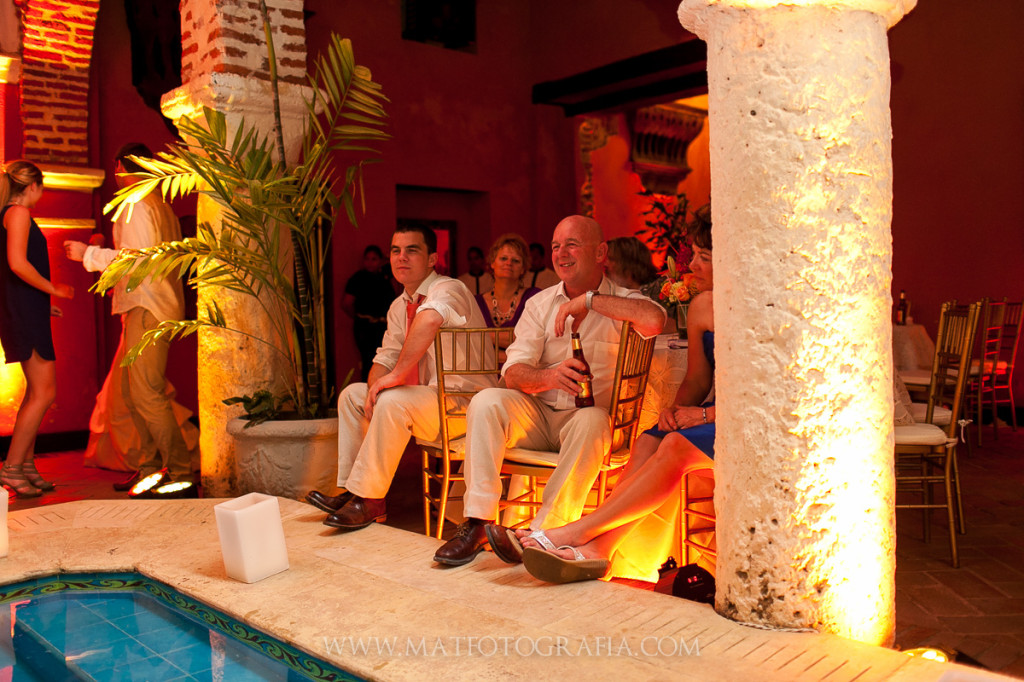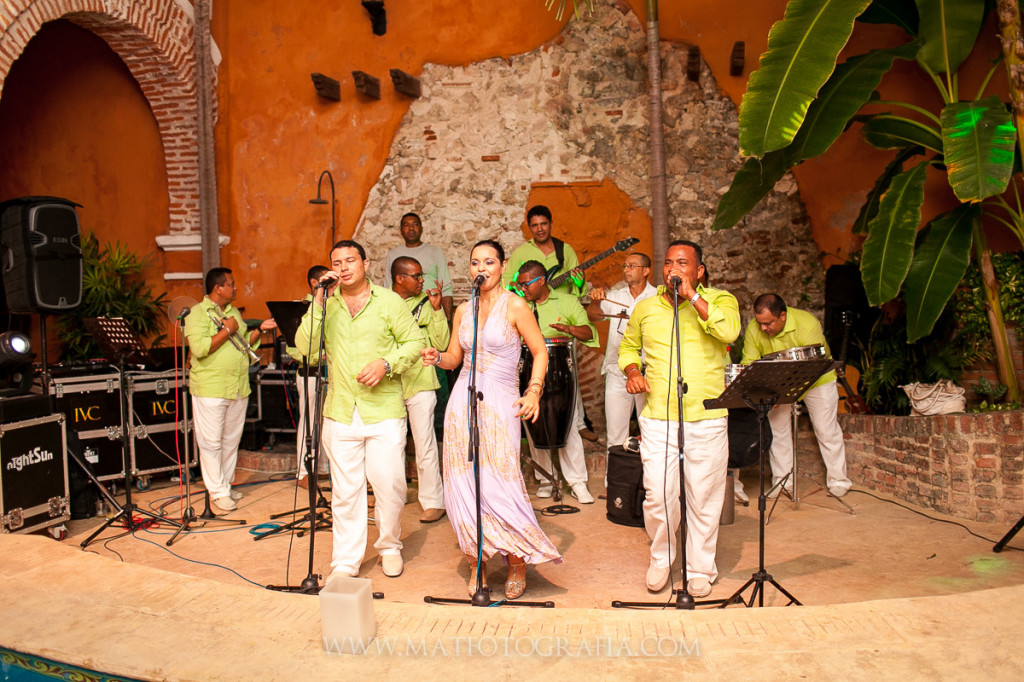 The climax of the night was the Hora Loca, which Pete and I kept as a secret from our guests.  Seeing their faces when a troupe of dancers, in costume, and a new band, banging hard on their drums, surfaced… their looks of "what the hell is going on!"… was priceless!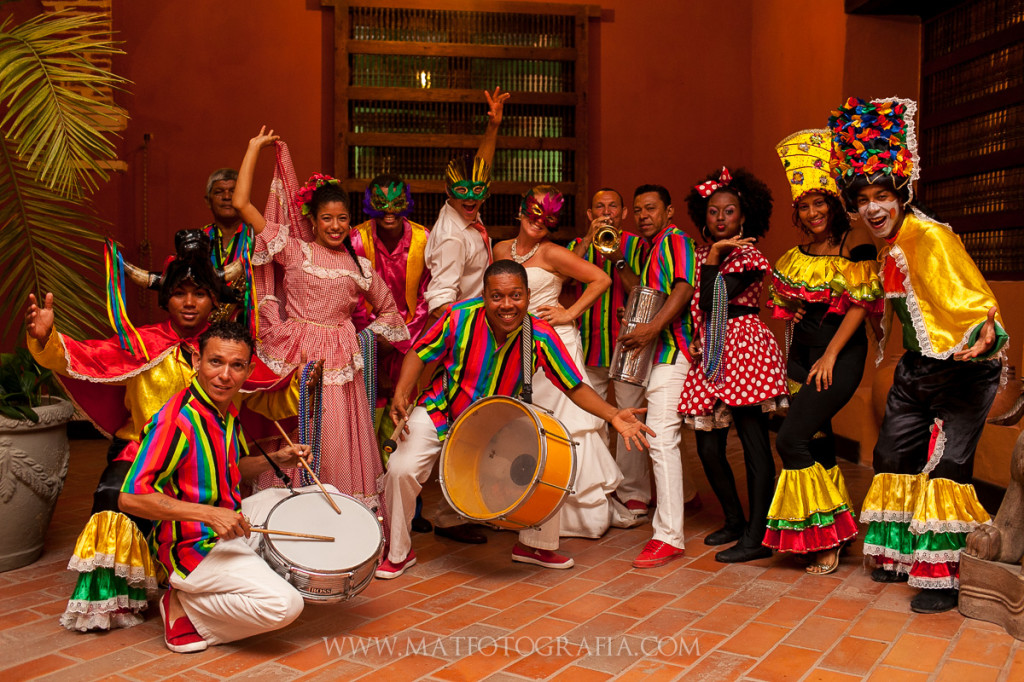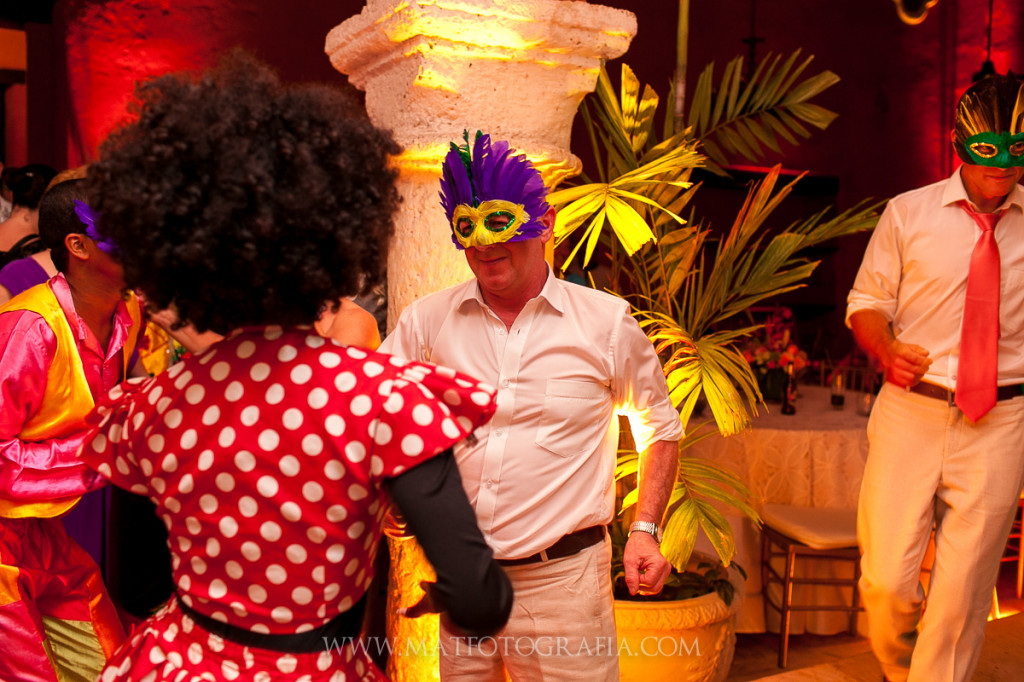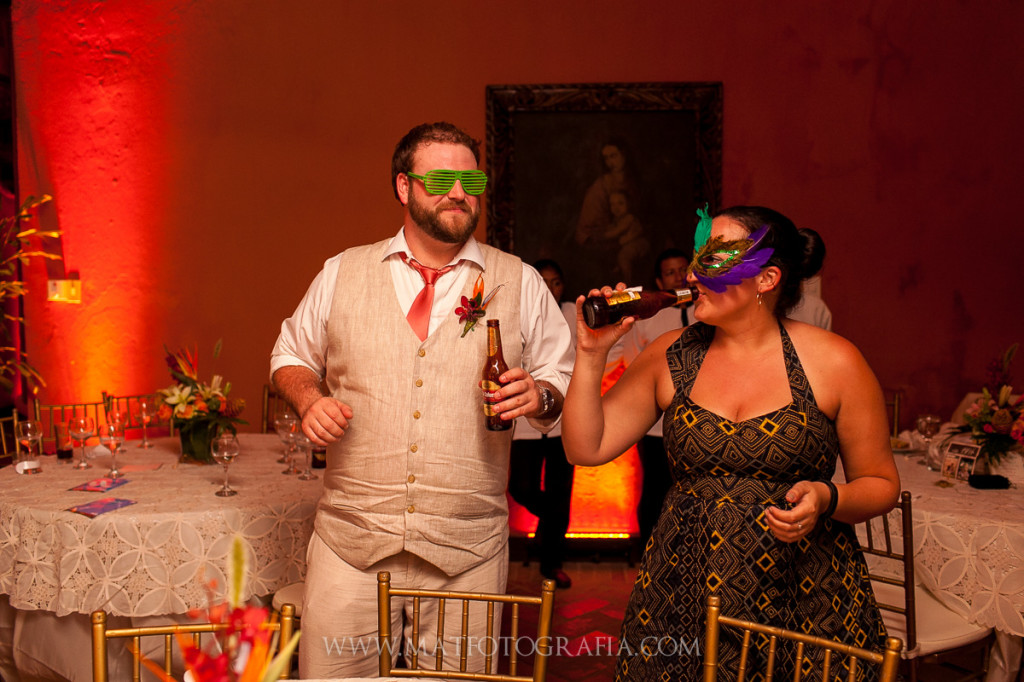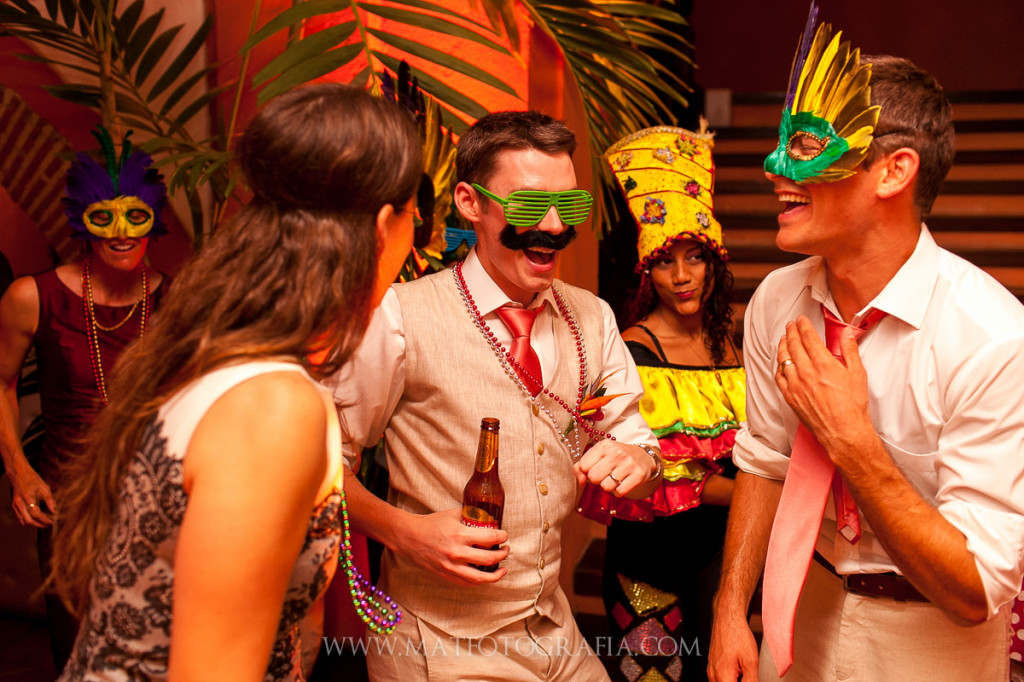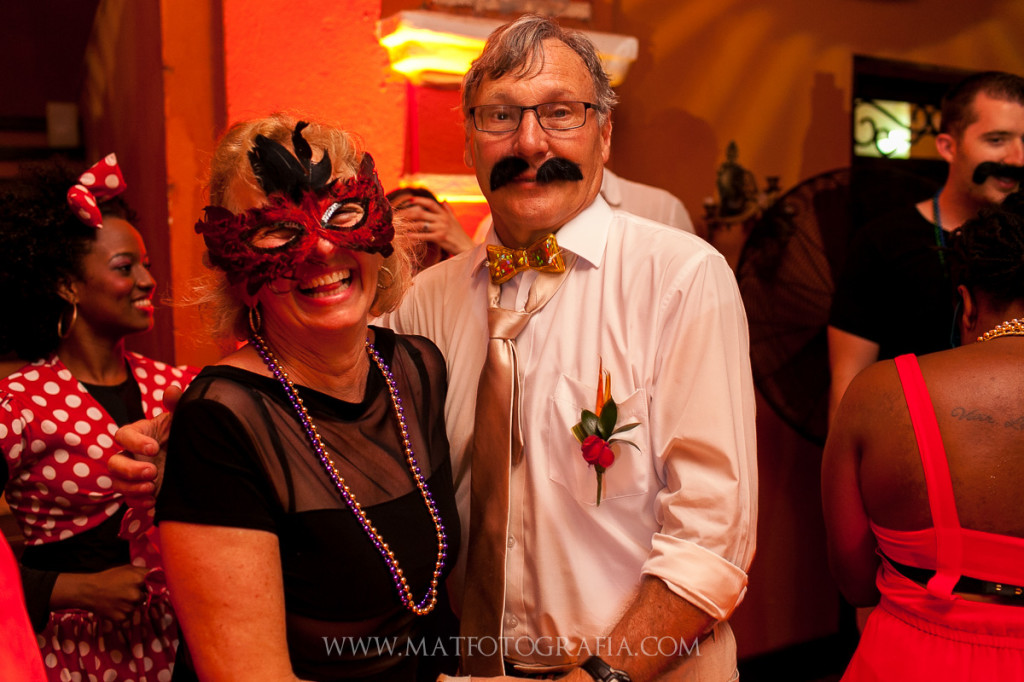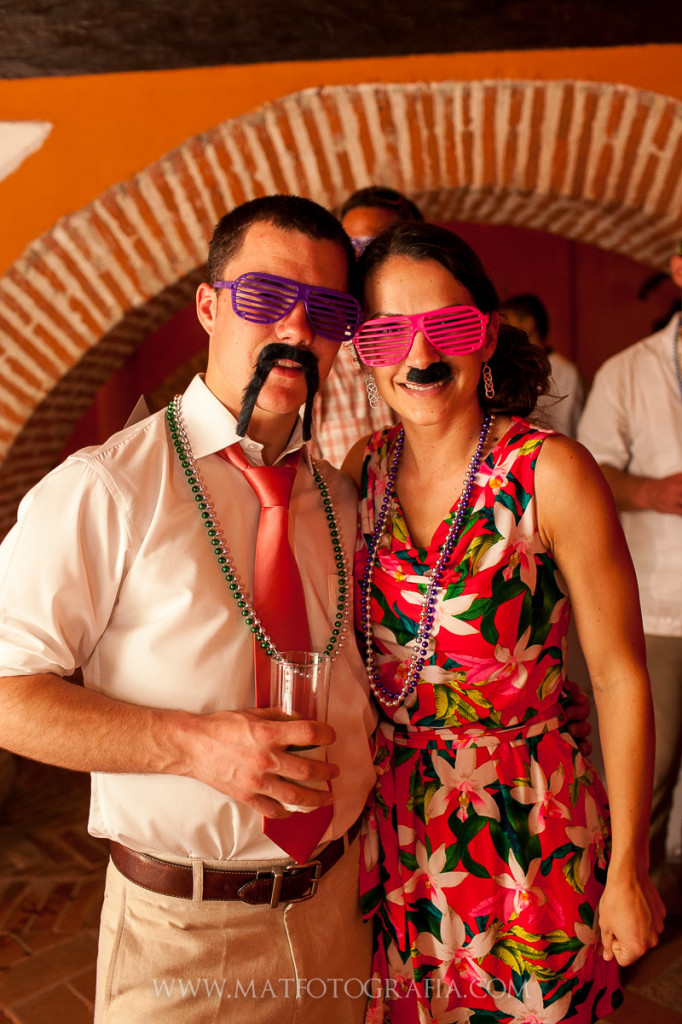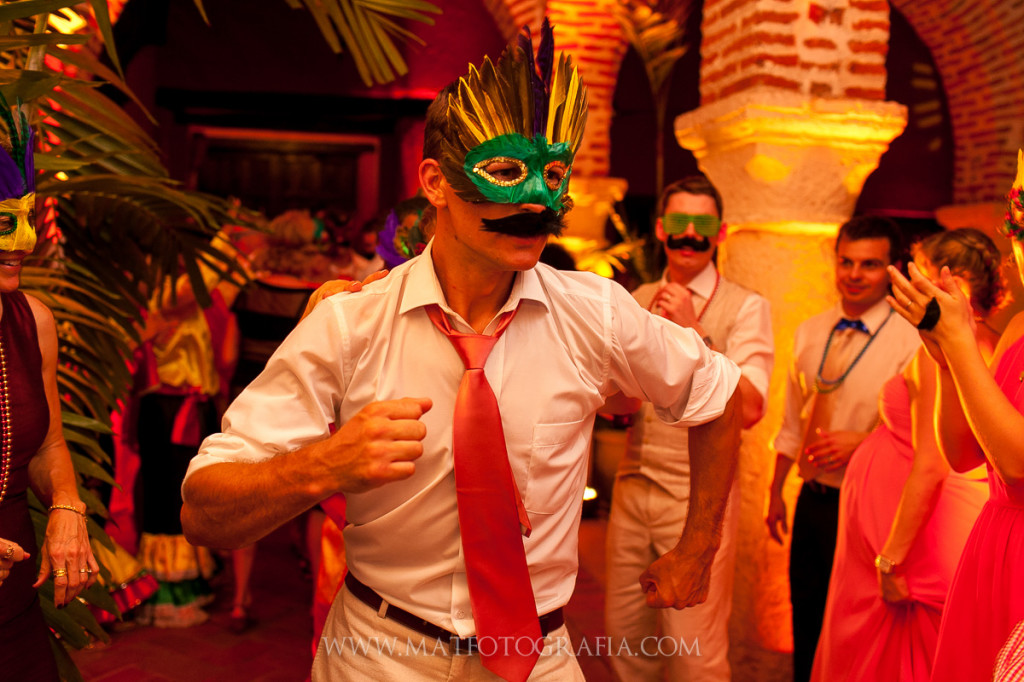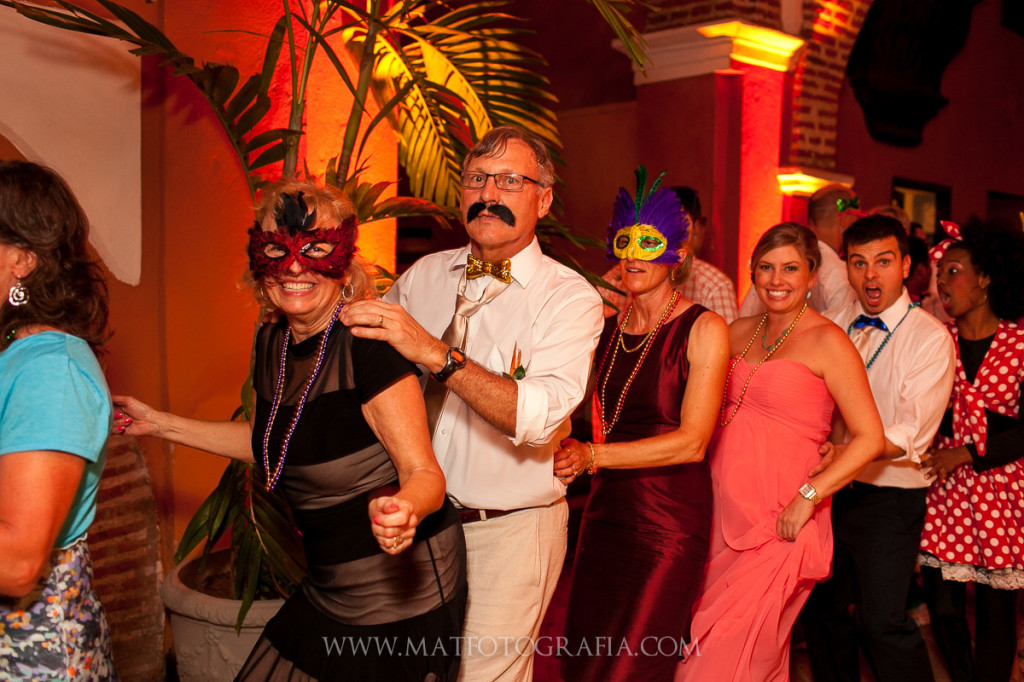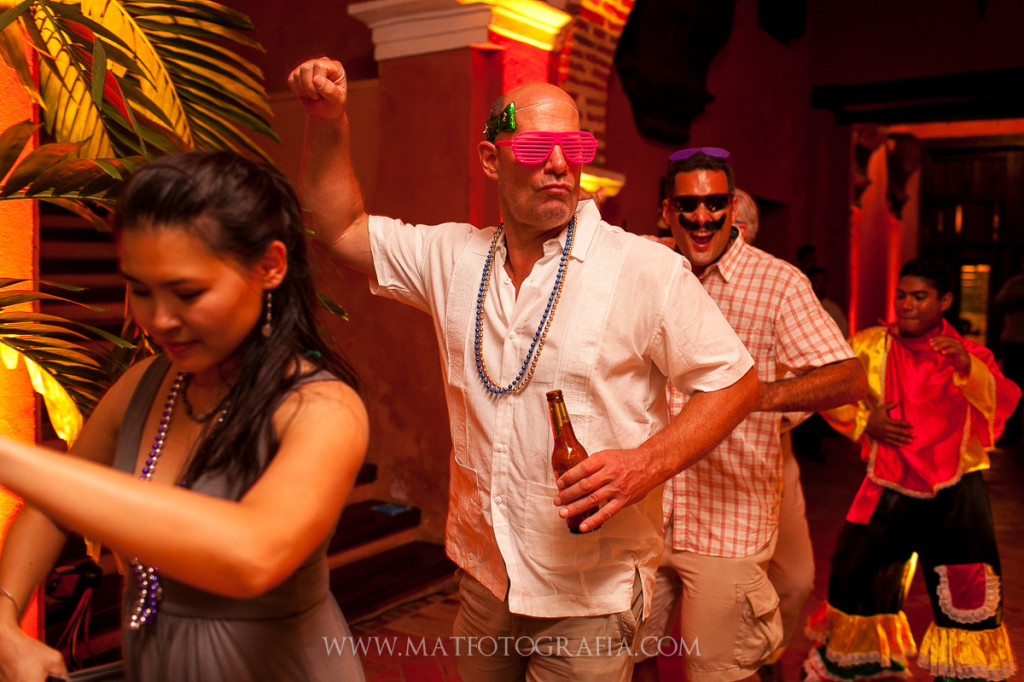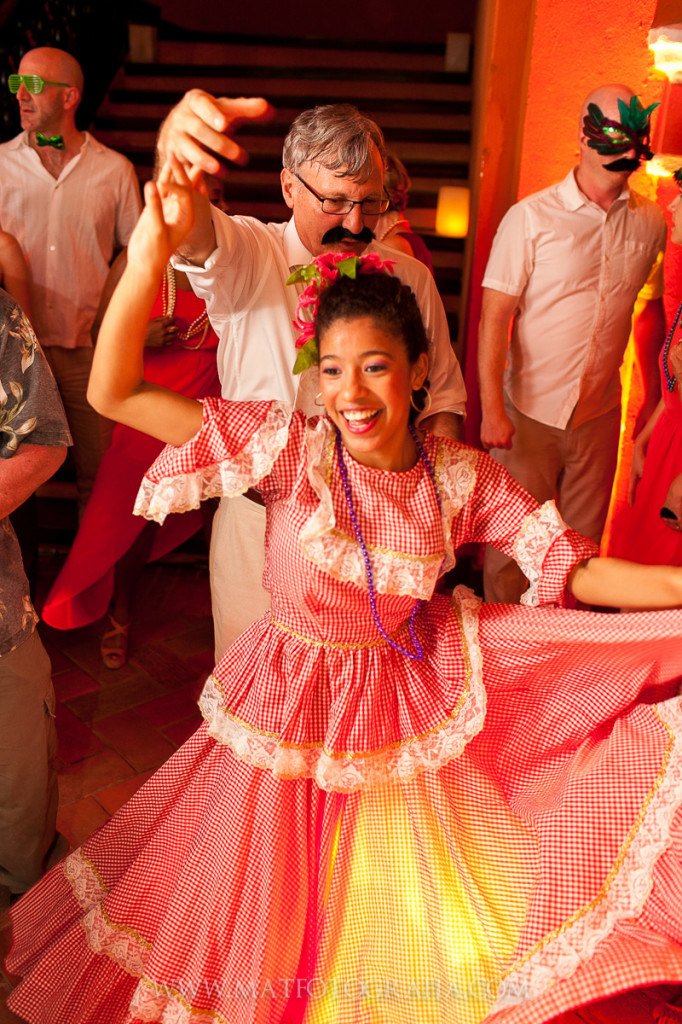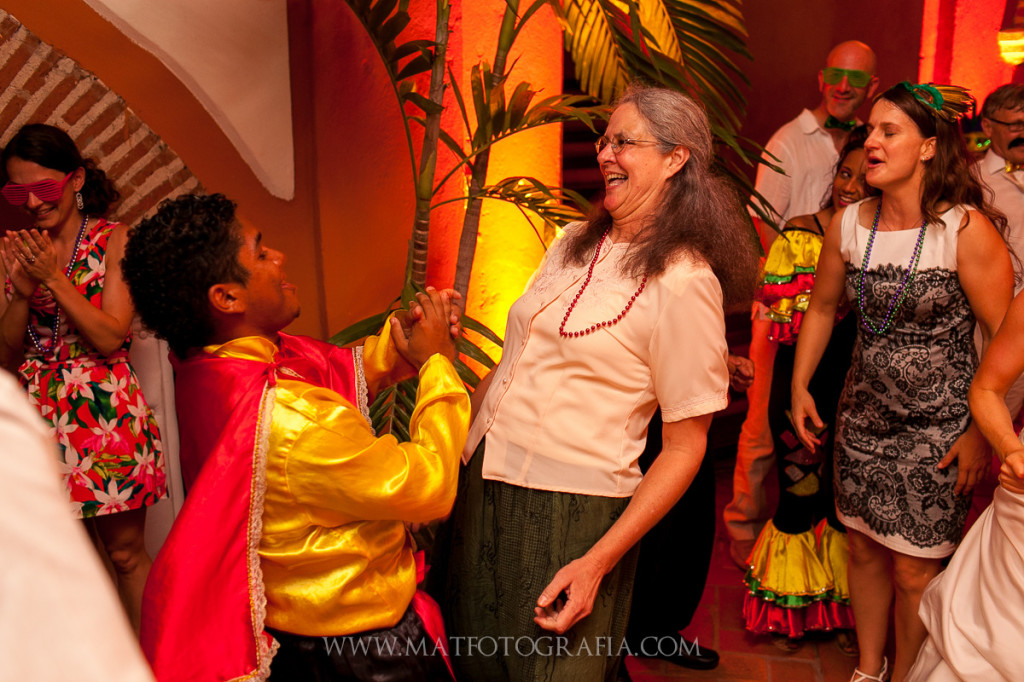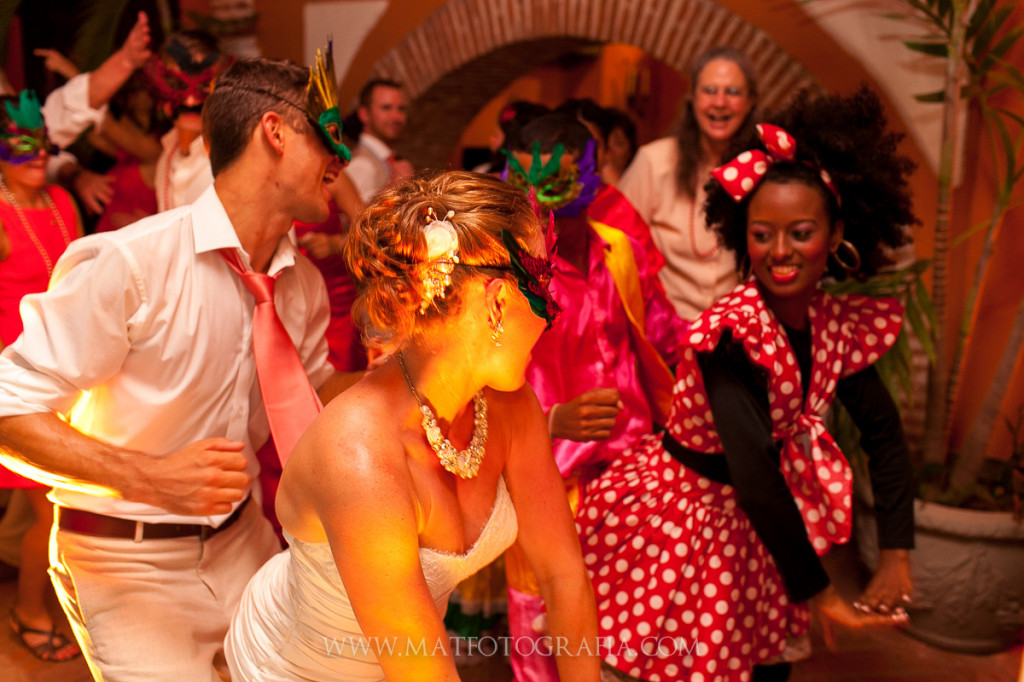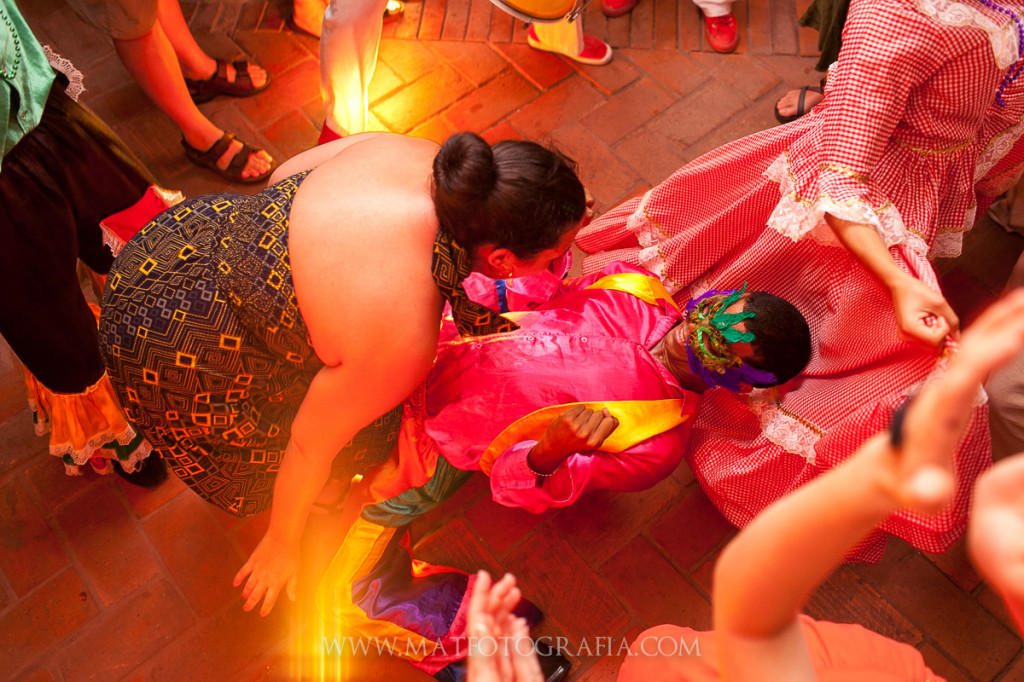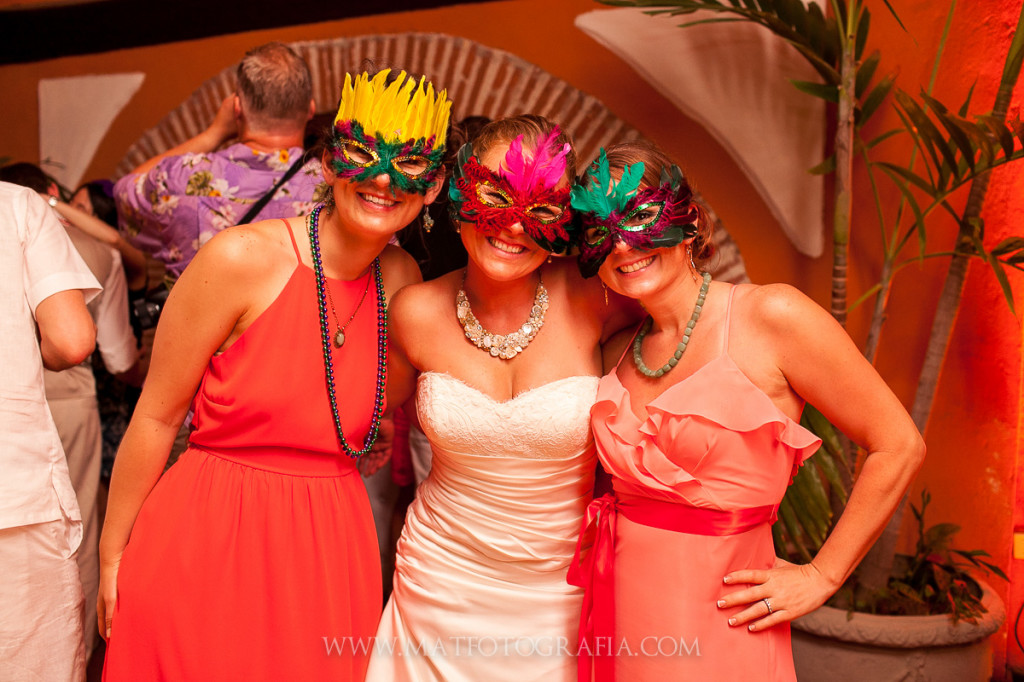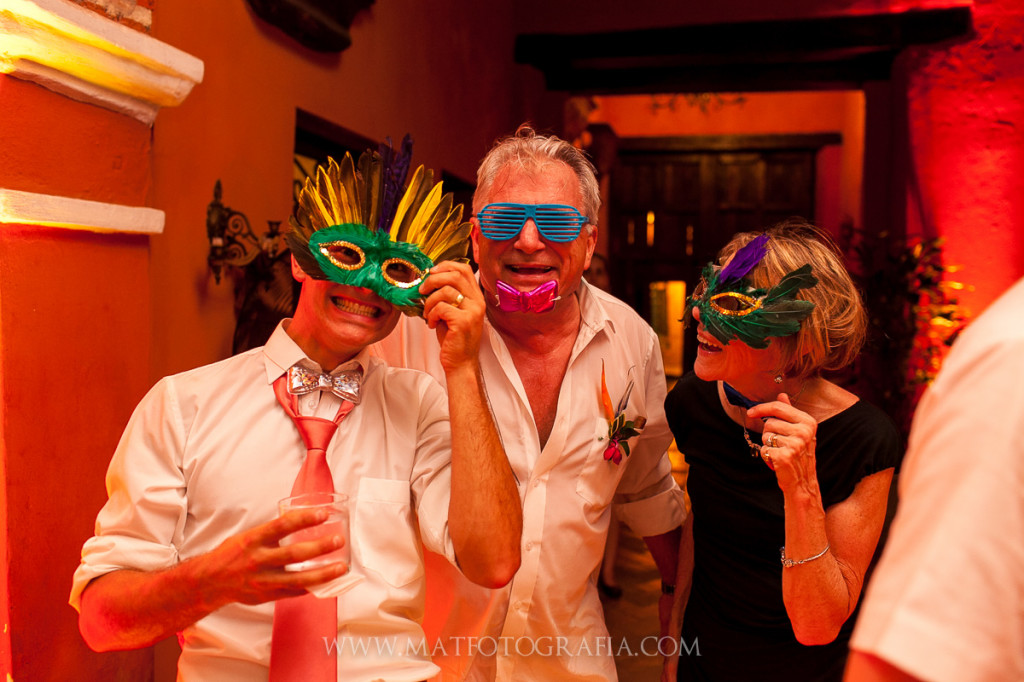 Sunday, our guests came by Casa Estrella to swim in the pool and relax in front of the T.V. to watch the Super Bowl together.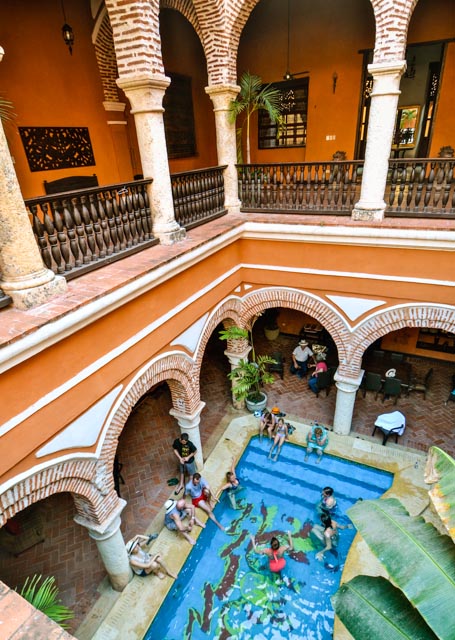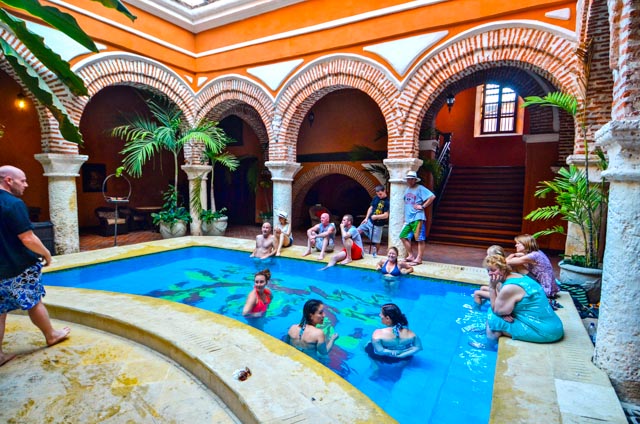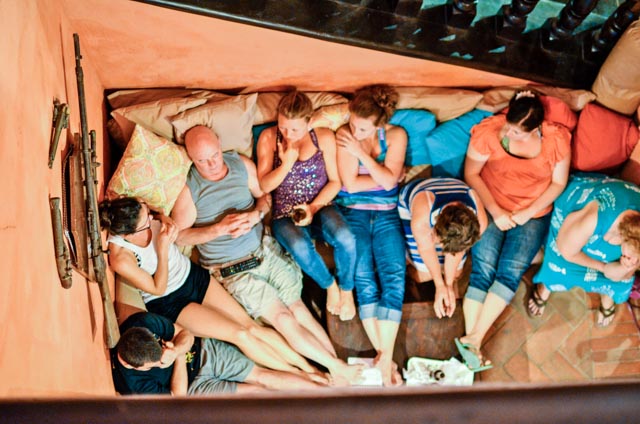 On Monday, we had to check out of Casa Estrella.  Sadness!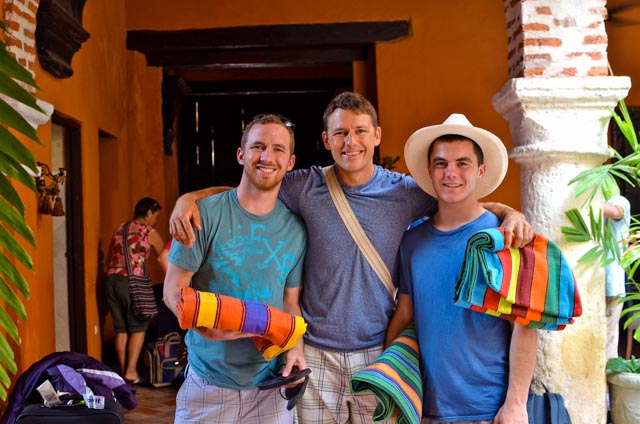 Before leaving the house, the boys made sure to get plenty of time playing with the resident parrot.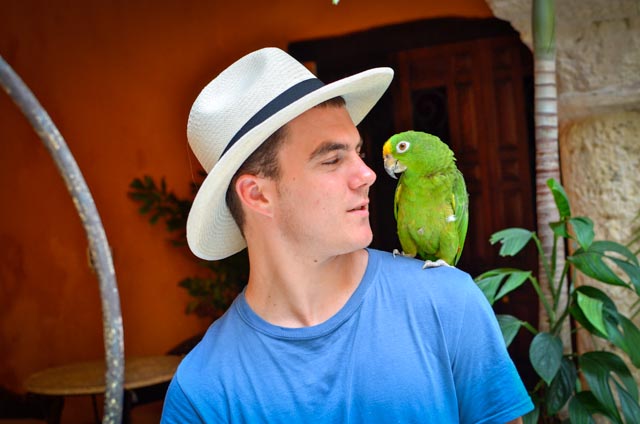 Many guests still found time to head to the beaches of Bocagrande, Zona Norte, or to the Botanical Gardens.  In the evening, we got the whole group together one last time for dinner at San Pedro.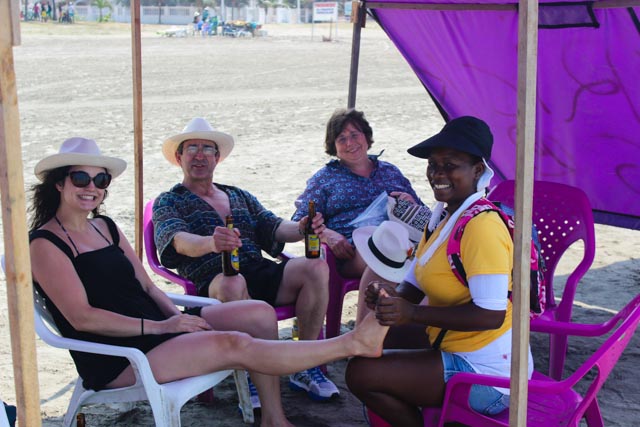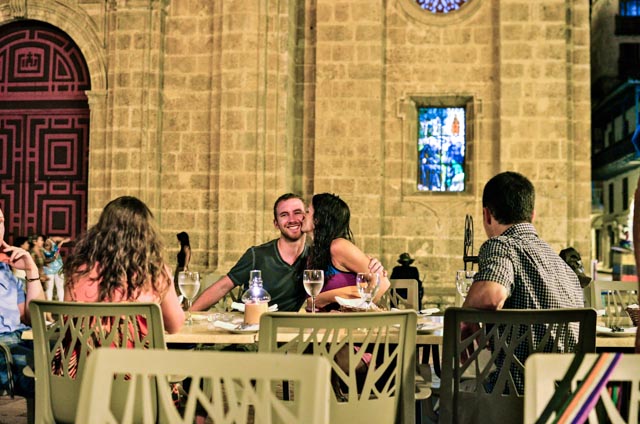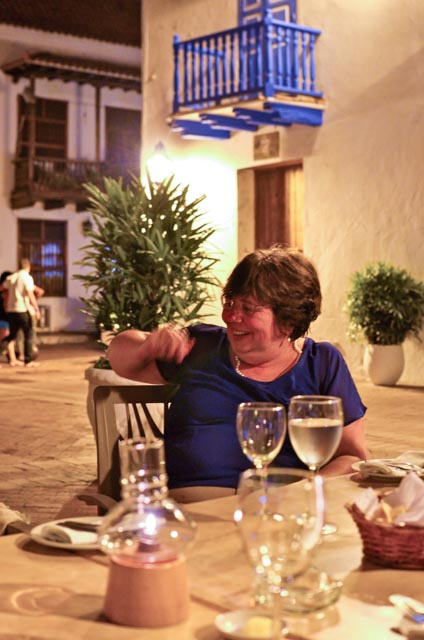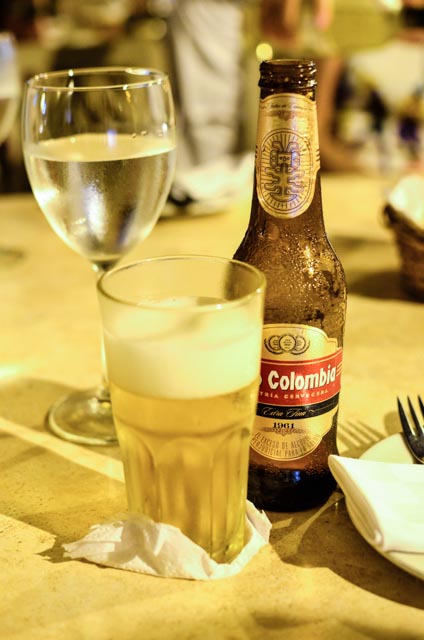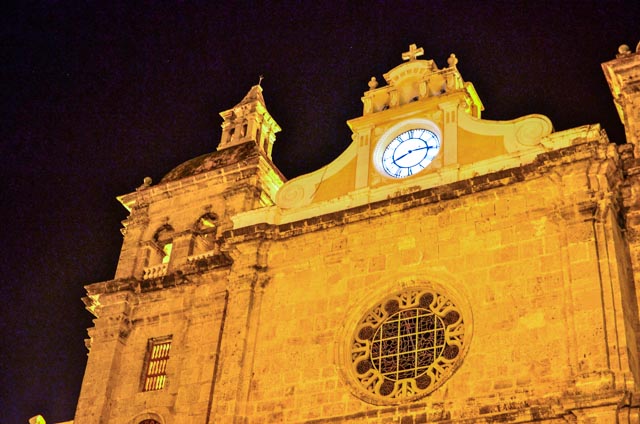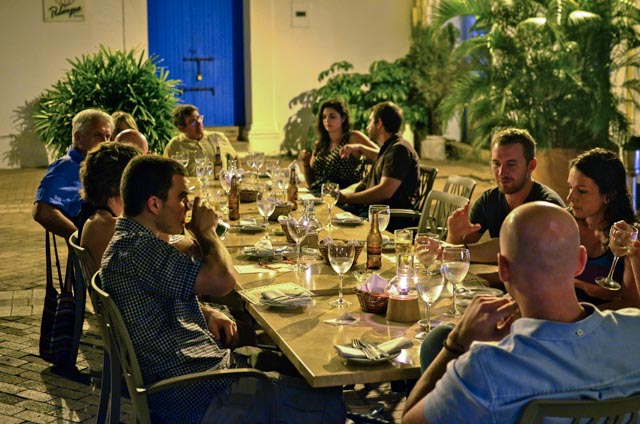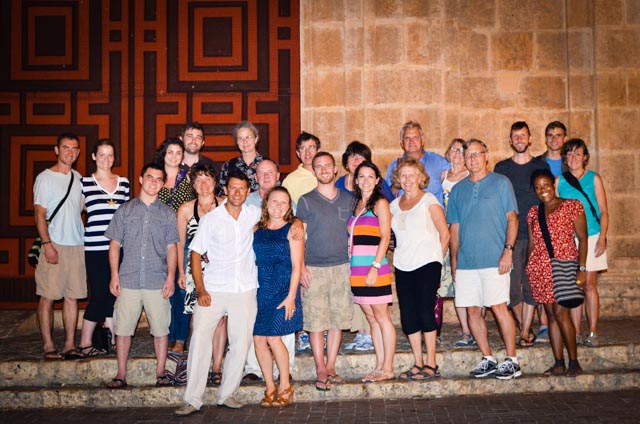 Tuesday was the heart-wrenching day when most of our guests flew back to the states, leaving the tropical dreamland, and heading back to work.
Tuesday, for us, once the smoke cleared, the flights took off, and everything went eerily quite was characterized by three competing emotions: sheer and utter exhaustion, heart filling make-you-want-to explode happiness, and gut-wrenching sadness that it was all over.  A fourth one always snuck in though, and consistently beat out those first three to the top… and that was gratitude.  We could not have been more blessed with a group of folks more fun-loving, gracious, flexible, and caring.  How did we ever get so lucky?  Truly.  Thank you, each and every person, who was there with us (and there in spirit).  We've never felt more love.
Can we please, pretty please, pluuuulezeeee, do it again sometime!  😉
With much love,
Miranda and Pete
for the full set of pictures highlighted by our photographer, click here: Miranda & Pete, Cartagena – Blog Matfotografia